About Eddie Colla
Eddie Colla is an American street artist and designer, whose stickers, stencils and wheatpastes, filled with defiance and socio-political activism, can be seen throughout public spaces in the San Francisco Bay Area, Los Angeles and Miami.
Read More

About 1AM GALLERY San Francisco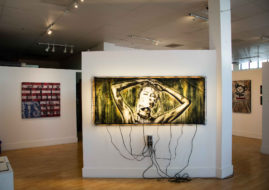 1AM, short for First Amendment, represents the freedom of speech through our urban art exhibitions, public murals, and experiences. Our mission is to progress the graffiti and street art culture by...
Read More