10 Highest Sales at Sotheby's, Christie's and Phillips During Spring Auctions
Month of May was a turbulent one at Christie's, Sotheby's and Phillips. May 13 was a significant day at Christie's since we have seen some surreal results. As previously seen in the article about the top 10 sales for the first four months of this year, some names seem to be repeating again: Gerhard Rihter, Francis Bacon, Cy Twombly and Jean-Michel Basquiat. Two sold artworks by Mark Rothko made it to the top 10, as well as two Francis Bacon's. These ten artworks were sold for insane $441,250,000 altogether, and the most expensive artwork was No.10 by Mark Rothko which was sold for amazing $81,925,000!
Scroll down for a detailed description of all ten pricy artworks, as well as the table of all the pieces that did more than well at three major auction houses!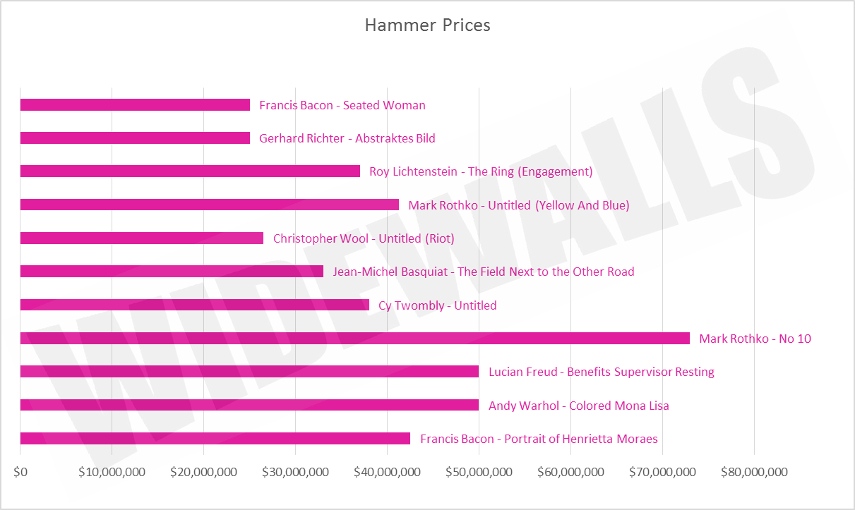 Francis Bacon - Portrait of Henrietta Moraes
Portrait of Henrietta Moraes is one of the seminal Francis Bacon's 1963 oil paintings, created only a year after his breakthrough retrospective at the Tate London in 1962. It depicts his close friend and model Henrietta Moraes, and it is an example of Bacon's perfecting the human nude, a subject he had rarely dared consider in his early career. Francis Bacon commissioned John Deakin, famous photographer, to take photographs of Henrietta Moraes, which will be the inspiration for his painting. This portrait was sold for stunning $42,500,000 although it was estimated at $30 million.
Francis Bacon - Seated Woman
The early 1960's, and for more or less much of the rest of his life, one sees Bacon personalize the body, often painting himself, his lovers and, most prominently, his circle of friends, fellow artists and drinking companions. It is from this select group of friends, executed in 1961 – the year the artist moved to his now famous studio at 7 Reece Mews, where his greatest masterpieces were executed – that Seated Woman (Portrait of Muriel Belcher) comes from. Muriel Belcher and Francis Bacon met in 1948. It is said that she adopted Bacon as her "daughter" the day after she opened the Colony Room on Dean Street in Soho, London and he became her first patron. In the early days of their relationship Belcher paid the artist £10 a week to bring in his friends and rich patrons to the Colony Room. Bacon was allowed to drink for free, at a cost to Belcher of significantly more than the £10 he earned for introductions. The second Francis Bacon artwork from this list, and sold at Phillips New York, changed its owner for $25 million, at the price of low estimate.
Andy Warhol - Colored Mona Lisa
This silkscreen print with graphite from 1963 changed the owner for a staggering $50 million, matching the high estimate value. Warhol took this a brochure image of Renaissance icon and made it his own, making it contemporary. Warhol used exclusively used color for commercial printing process to screen print Mona Lisa in cyan, magenta, yellow and black. Intertwined drama, broken and reconstructed, that leads from left to right emerges a hero in the character of Mona Lisa.
Lucian Freud - Benefits Supervisor Resting
Estimated from $30 million to $50 million, Lucian Freud's Benefits Supervisor Resting had its hammer price at the high estimate value.  This 1994 art piece was sold by an Important American Collection, but buyer's name was not disclosed. The painting is regarded as one of the most remarkable presentations of human figure ever produced. It features Sue Tilley, a local government employee and one of the artists' most celebrated sitter. Big Sue, as she was known, is featured in Freud's artworks recognized as a major contribution to the sum of Western painting of the nude.
Cy Twombly - Untitled
Another Christie's successful sale that made to the top 10 list was achieved with the sale of Cy Twombly's Untitled, surpassing the low estimate for $3 million with a hammer price of $38 million. It was painted in Italy in 1969 and it marks a radical shift in the artist's unique painterly style. In Untitled, Twombly's fascination with the interpretation of Classical mythology collides with 20th century modernity, and it becomes a combination of the ancient and the modern; of the history and traditions.
Jean-Michel Basquiat - The Field Next to the Other Road
In the first four months of the year, two of Basquiat's works had already made to the list of top 10 hammer prices. At Christie's auction his The Field Next To The Other Road was estimated from $25-$35 million dollars and achieved its hammer price at $33 million dollars. This was one of the first Basquiat's monumental canvases and one of the earliest full sized human figure which will later define his career. The Field Next to the Other Road was painted during a crucial year in Basquiat's development as an artist, for in 1981, as his compositions became more sophisticated, his painterly practice became more complex too.
Christopher Wool - Untitled (Riot)
Untitled (Riot) presents the viewer with a formally engaging and intellectually rigorous artistic experience. As one of Wool's earliest and most legendary word paintings, the present work occupies a place in the history of art—it is through works such as this that Wool ultimately advanced the project of painting in the face of postmodern skepticism. Besides from being at our top 10 list, it achieved a great result with a $26,500,000 and surpassing high estimated value by 47.2 percent and 120.8 percent over low estimate.
Gerhard Richter - Abstraktes Bild
After selling a new world record for a work sold by living European artist, another artwork from the oil painting series scored an outstanding result. Abstraktes Bild was sold for $25 million dollars although it was estimated at $30 million dollars. In this 2.6 x 2 meters oil on canvas we can see an example of Richter's abstract cycle characterized by highly-distinctive schemes of surfaces. It possess a unique identity where the total deconstruction of perception – dismantling themes of illusion, communication and representation – becomes a sublime chaos.
Mark Rothko - Untitled (Yellow And Blue)
Mark Rothko's artworks seem to always brings a lot of money to their owners. Two of his artworks made to our list. The first one Untitled (Yellow and Blue) was sold at Sotheby's for nifty $41250000, being the fifth most expensive artwork in the month of May. By the time he painted Untitled (Yellow and Blue) in 1954 Mark Rothko was fifty-one years old and had been working as a painter for thirty years. Rothko executed twenty paintings in 1954, of which seven are today in the permanent collections of prominent museums around the world.
Mark Rothko - No. 10
And last but certainly not the least on our Top 10 list is Mark Rothko's No. 10 sold at Christie's, estimated at $45000000 and sold for $73000000, achieving 62.2 percent over the estimated price. This piece was sold from the private American Collection. Painted in 1958, when the artist was at the height of his artistic and critical achievements, Mark Rothko's No. 10 represents the pinnacle of his alchemical prowess. Using the most basic of artistic materials—canvas, oil and pigment—Rothko is able to create a painting that appears to glow with a supranatural luminescence, the result of a surface that fizzles with painterly energy.
Sign up for My Widewalls today and follow the world's best artworks at auctions!
All images are courtesy of Christie's, Sotheby's and Phillips.