7ways2love Project to Open its Chapter IV with Mr.Thoms!
A unique project in the city of Barcelona, 7 Ways to Love is set out to show the different faces of love in an interactive way.
In order to do that, the project has invited seven different urban artists to give their own interpretation of perhaps the most instinctual and mysterious aspect of the human condition. Undertaking the sweet and complex task of taking you into the maze of Love, each of the artists will create two new murals in the city.
As the first three chapters with three urban artists are completed, the fourth phase of the project is set to go. It is now the turn of Mr. THOMS to show us what love can be.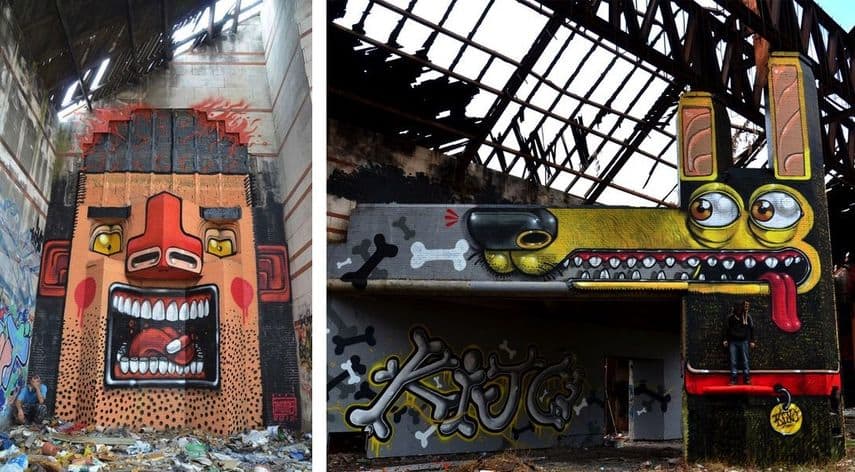 The Practice of Mr. THOMS
A street artist from Italy, Mr. Thoms creates works with vibrant colors and geometric shapes to create movement. Engaging with his creativity at the highest emotional level, he takes sometimes serious objects and transforms them into a funny story, leaving a special and distinct mark in each mural he paints.
A true storyteller following his vision, he has a remarkable skill to grasp the essence of his characters and transcribes it to the walls. Almost appearing as if directed by insanity, his cartoonish characters have a distinct sparkle in their eyes.
Mr. Thoms is best known for his ability to depict movement onto the walls – the viewer can almost feel the dog breathing, hear the musician playing or smell the alien's paint. The world Mr.THOMS has created is whimsical, surreal, insane, satirical, fun, humorous and colorful.
7 Ways to Love
After teaming up in 2016 for the Genesis project, Bizarre and Metric Market have joined once again to create 7 Days to Love – a project tackling the subject that has been preoccupying artists for centuries. Lasting during the period 2017-2018, the project is guided by one rule only – the murals have to be interactive.
With every chapter, the project will also present a new song that will be a result of a collaboration between different musicians. At the end of 7 Days to Love, there will be 7 songs on CD made especially for the project.
The fourth chapter of 7 Ways to Love with Mr.THOMS will take place on February 14th, 2018 at 7 p.m. in the space of Metric Market in Barcelona.
Featured images: Mr. THOMS Murals. All images courtesy of 7 Ways to Love.