8e Avenue Paris - Art Fair Where Contemporary and Urban Art Meet
After the successful premiere in 2015, 8e Avenue Paris is coming back to Champs-Élysées avenue for its second edition, facing the Grand Palais and Art Élysées art fair. From October 20th until 24th, 8e Avenue will celebrate contemporary and urban art, bringing together galleries, artists, collectors and art enthusiasts alike. Founded in 2015, the fair has already positioned itself as an essential event during the Parisian Art Week in October. Focusing on urban and street art, the event will showcase the works of many world-famous creatives working within these movements. As a dynamic place for economic and cultural exchange, 8e Avenue will present 22 international galleries in a rather interesting booth layout. With Franck Le Feuvre from Galerie Le Feuvre in Paris as the creative director for the Urban Art section, 8e Avenue will put this movement on the front line. Bringing a qualitative aspect to the fair, 8e Avenue chooses to present canvas over walls and other trashier materials.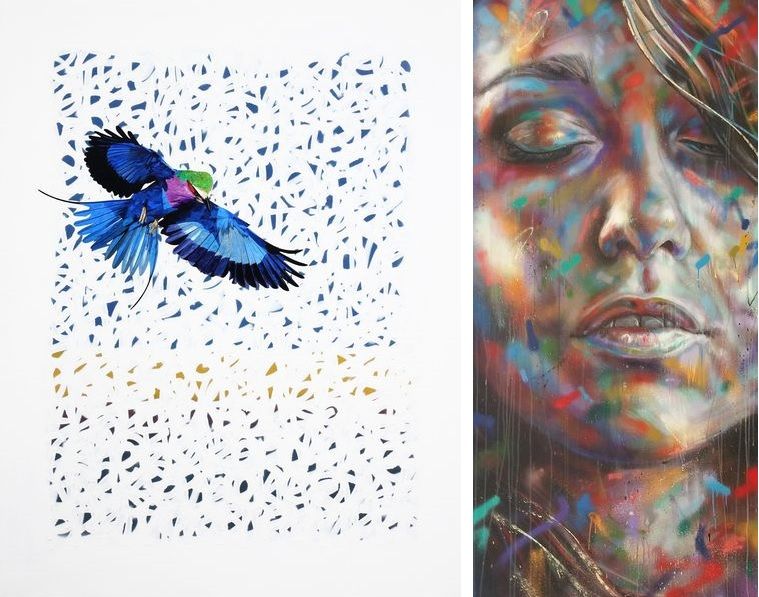 Exhibitors and Highlights
8e Avenue will present a selection of 22 galleries coming from France, Switzerland, Belgium, Germany, Norway, and the United States. Be sure not to miss booths by Galerie Ange Basso from Paris supporting and promoting a selection of both emerging and established contemporary creatives; Galerie Art Jingle from Paris principally oriented towards Urban and Street art, with the support of the French creation as the main axe of the artistic direction; Galerie Brugier-Rigail from Paris focused on both atypical street art and current new realism; David Pluskwa Contemporary Art from Marseille focused on urban art; Galerie Francis-Noël from Sprimont, Belgium specialized in contemporary and urban art; Galerie Le Feuvre from Paris also mainly focused on urban art, both figurative and abstract; Green Flowers Art from Boulogne-Billancourt dedicated to contemporary and urban art; Galerie Neuheisel from Saarbrucken, Germany presenting a variety of contemporary art; Urban Art Gallery from Stuttgart, Germany, a vibrant space for urban art; Galerie Perahia Baudoin from Paris, publishing and distributing many French and foreign urban street artists of international reputation; Baudoin Lebon from Paris also focused on promoting street and urban art; and Lélia Mordoch from Paris and Miami showing works of different media linked with contemporary art such as paintings, glassworks, sculptures, videos, assemblages and works on paper; among others.
The List of Exhibitors
AD GALERIE, Montpellier, France
GALERIE ANGE BASSO, Paris, France
GALERIE ART JINGLE, Paris, France
BAUDOIN LEBON, Paris, France
BEL-AIR FINE ART, Geneva, Switzerland
GALERIE BERTHEAS LES TOURNESOLS, Saint Etienne, Vichy, Paris, France
GALERIE BRUGIER-RIGAIL, Paris, France
DAVID PLUSKWA CONTEMPORARY ART, Marseille, France
JACQUES DEVOS / ESPACE SEVEN, Paris, France
GALERIE FRANCIS NOËL, Sprimont, Belgium
GALERIE LE FEUVRE, Paris, France
GREEN FLOWERS ART, Boulogne-Billancourt, France
JOEL KNAFO ART, Paris, France
MB-XL CONTEMPORARY AND MODERN, Ixelles, Belgium
GALERIE LÉLIA MORDOCH, Paris, France
LÉLIA MORDOCH GALLERY, Miami, USA
GALERIE NEUHEISEL, Saarbrucken, Germany
NUART GALLERY, Stavanger, Norway
GALERIE PERAHIA, Paris, France
GALERIE SALTIEL, Aix-en-Provence, France
THEOBALD & COLLET GALERIE, Paris, France
URBAN ART GALLERY, Stuttgart, Germany
GALERIE W, Paris, France
The Program of 8e Avenue Paris
Aiming to properly honor the urban art movement regarded as the "enfant terrible" of the Contemporary scene, 8e Avenue will offer it quite a special place within its ephemeral pavilion set on the Champs – Élysées Avenue.
Alongside the Urban Art show program, visitors will have an opportunity to discover cultural institutions such as the Musée de poche and Maison Elsa Triolet – Aragon. Another impressive project will involve a 3D technology first time presented in France. With doob creating 3D modelisations, visitors will have a chance to pose and receive their unique figurines within 3 weeks.
In front of the ephemeral pavilion of 8e Avenue, visitors can admire a massive cube, an impressive installation by work of the German artist Marc C. Woehr. Additionally, Galerie W will host a show of a selection of works by the urban art pioneer Raymond Hains.
Practical Information
The 8e Avenue Art Fair will take place at Champs-Élysées avenue Pavilion from place Clemenceau to place de la Concorde from October 20th until 24th, 2016. The preview for press and professionals by invitation only will be organized on Wednesday, October 19th from 2pm until 6pm. The vernissage will be held on October 19th from 6pm to 10pm. The price of the ticket will be 15€.
The Location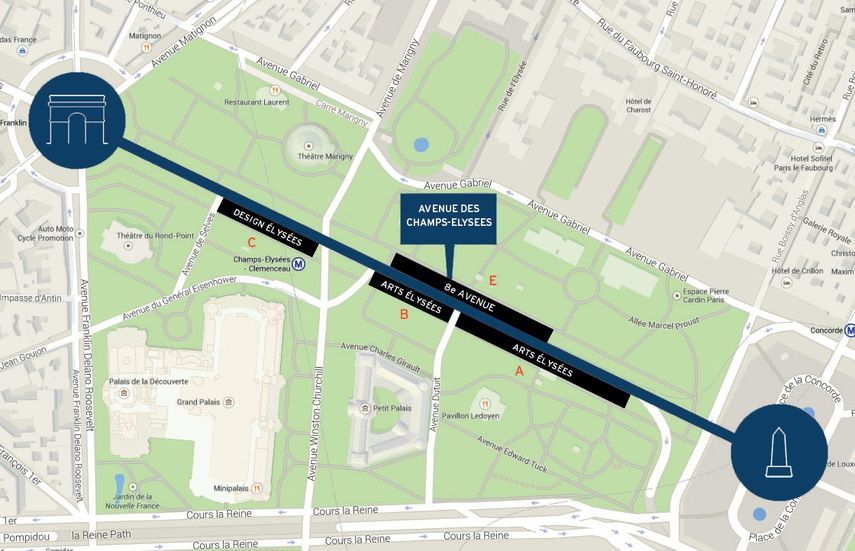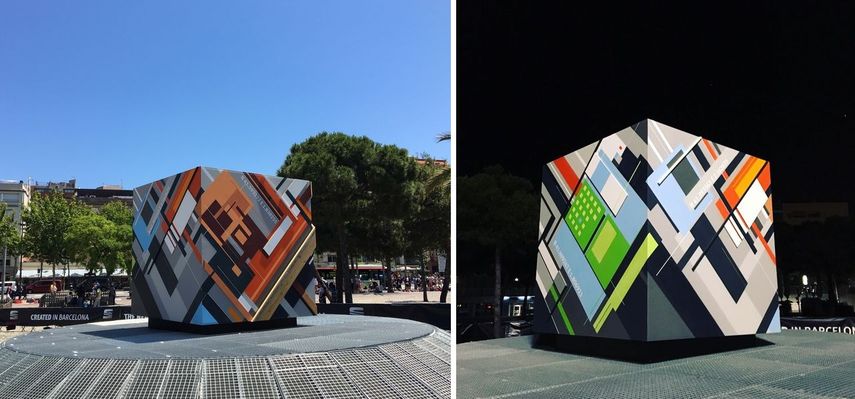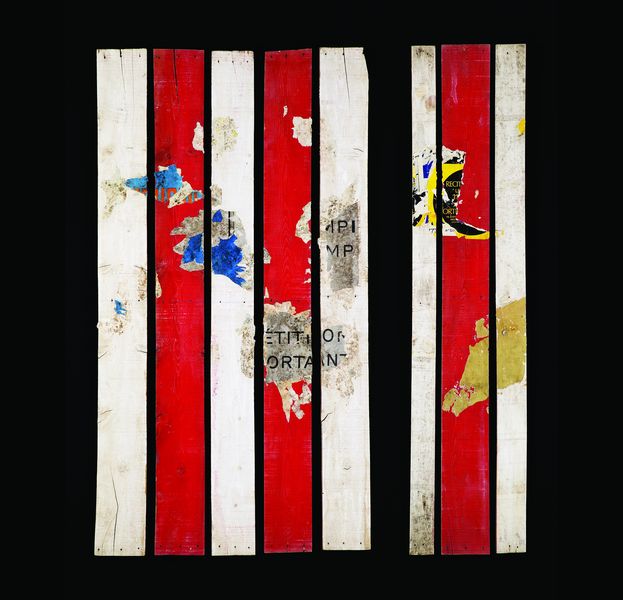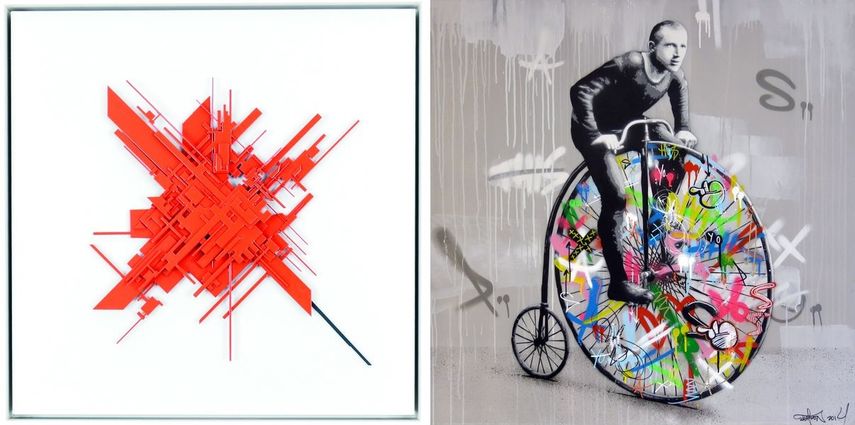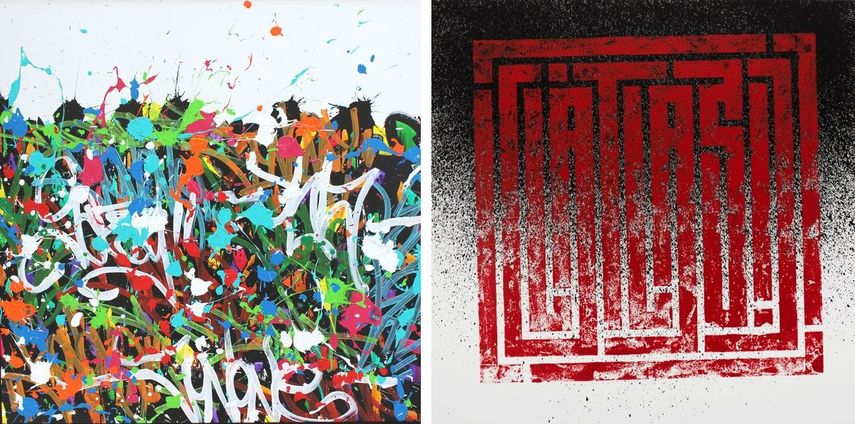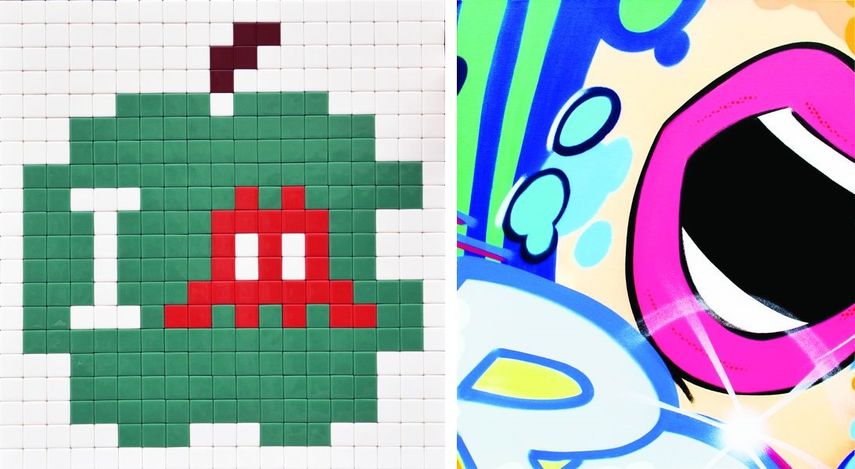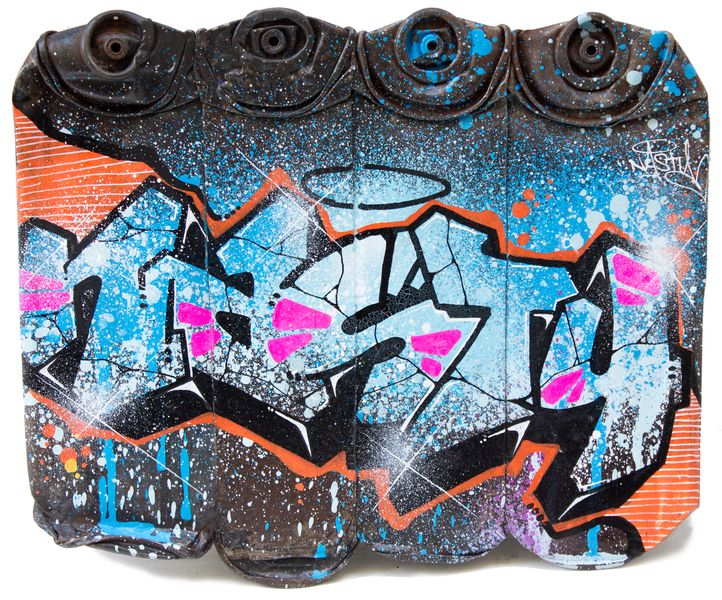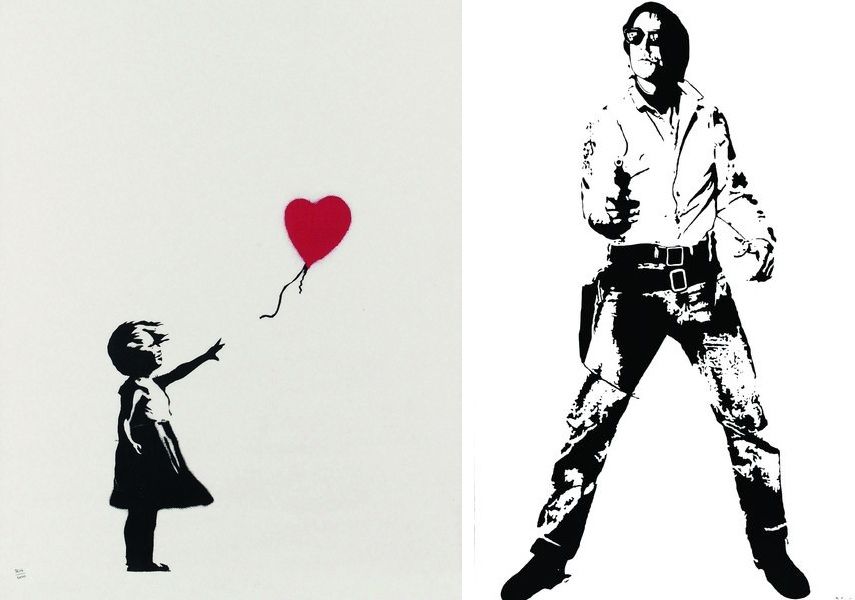 Featured images: Raymond Hains – Pour ceux qui, 1962. Courtesy Galerie W; Tanc Working; Raymond Hains – Ma langue au chat, 2004 Courtesy Galerie W. All image courtesy of 8e Avenue.