Aaron Martin and Jesse R Yu Study of Creatures at Art Whino
Two Los Angeles-based artists are teaming up for an exhibition of their new artworks at the Art Whino Gallery. Aaron Martin and Jesse R Yu are renowned artists, easily recognizable by their astonishing works with designer toys and one-of-a-kind pieces they create through three dimensional mediums and paintings. Having traveled across the globe, both artists found the world of animal kingdom to be quite fascinating, thus comes the inspiration for this show, entitled Unnatural Habitat. The two artists will take you on a journey through the world of fauna with their interpretation of creatures from the animal kingdom and beyond.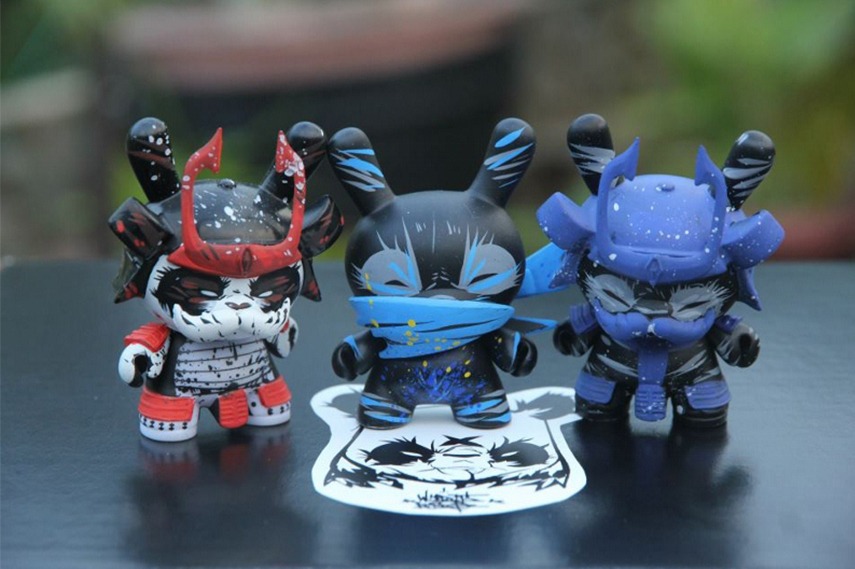 Aaron Martin – Angry Pandas
Aaron Martin, aka Angry Woebots, is a talented artist whose interest in graffiti and art began with hip hop culture, Saturday morning cartoons and comic books. Going back and forth a few times from his birth place of Hawaii to the US, Aaron Martin picked up quite a few artistic influences, specifically a new art movement which involved punk-rock, hip hop, graffiti, skating and toys that mesmerized him, and inspired Martin to continue making his art in such a direction. A near-death experience struck the artist in 1998 when he was involved in a car accident, after which he decided to leave the island of Hawaii once again, arriving to Seattle, Washington where he finally settled for a while, exploring his artistic flow. Another factor of his inspiration was the time he had spent outdoors and in the rain, making him experiment a bit more with different art mediums. As the artist once stated, he had several periods of getting "hooked" on the aerosol style, and painting big is what he likes best, even though it doesn't really pay the bills, it looks dope and everyone can see it. Since his first show in 2002, Angry Woebots has been showcased in galleries across the United States, South Pacific, Europe and Southeast Asia. His designer toys and live works brought collaborations with a lot of renowned companies, such as Kidrobot, Disney/Mindstyle, Converse Red, Samsung and many more. His signature character would be the panda, which he displays in a stressed out, angry and emotional state, probably not the usual emotions we associate pandas with. For the Unnatural Habitat show, these pandas would make a perfect fit, as the artist tends to convey the story of a struggle through them.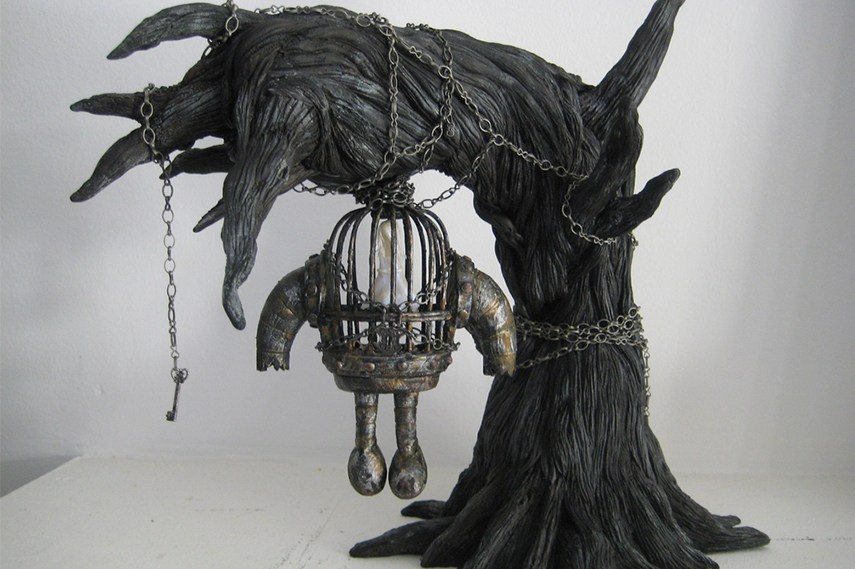 J★RYU Brings the Eery Baroque Style to Unnatural Habitat
The other exhibitor in this show is Jesse R Yu, who mainly goes by the name of J★RYU. The fans usually glorify him for his interpretations of the recurring themes of life and death, and even more so of what remains beyond. Most people need some kind of an outlet for creativity, a way to escape from the quotidian routines in our life, which needn't necessarily be an art form. As a passionate toy collector and enthusiast, Jesse Yu felt it was natural for him to start creating designer toy pieces and collectibles of his own. With a wide array of inspiration, ranging from the works of Tim Burton and Hayao Miyazaki, to baroque architecture and design, his art captures the gothic nature in a unique way. Each piece he creates, tends to cultivate this atmosphere of eeriness and ghost-like presence in his signature narrative. The artist himself said that even though his style is gothic and a bit dark for the mass market, he still hopes to create an emotional connection between an art piece and the person who admires it, believing that is one of the higher goals of art. J★RYU won the Best Toy Customizer category at the Designer Toy Awards in 2012, a very prestigious annual award in the designer toy industry. His style is usually comprised of working in epoxy, polymer clay and resin, alongside of frequent customizations of vinyl art collectibles. Having previously worked in the corporate world for 15 years as a designer for major companies like Marvel, Sony, Columbia Pictures and more, this Los Angeles-based sculptor/artist is surely someone to keep an eye out for, when it comes to designer toys and collectibles. The fans and the audience are looking forward to seeing what J★RYU will bring to the table of Unnatural Habitat.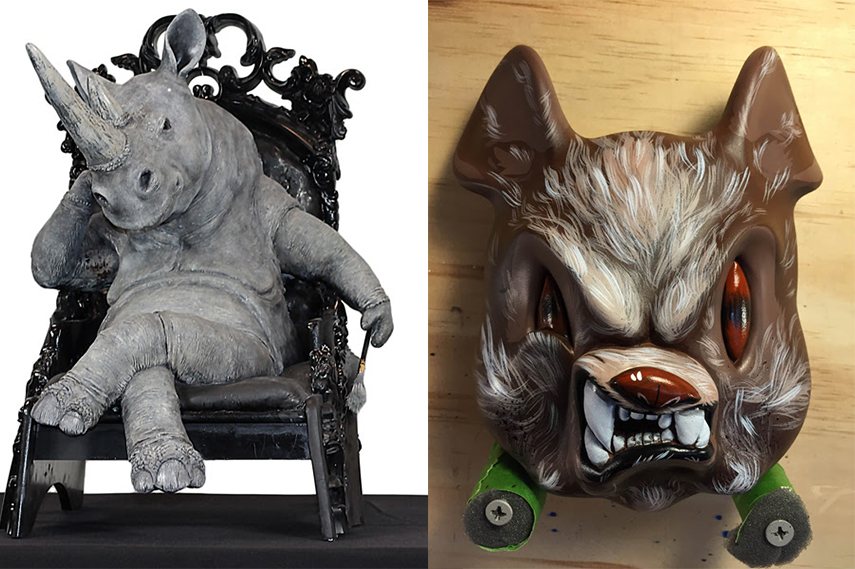 Unnatural Habitat Exhibition at Art Whino Gallery
As both of the artists have done a lot of travelling, and have spread the creative process across the globe in various campaigns, it will be quite interesting to see how they explore the theme of animals in this show. Unnatural Habitat exhibition opens on August 8th, from 8pm – 11pm, at Art Whino Gallery
in National Harbor, Maryland. The entrance is free, and the show will feature DJ Cabezon on the turntables. New works in paintings and 3D mediums of both artists will surely spark your interest, so go ahead and witness the animal kingdom through the art pieces of these talented creators.
Toys aren't just for kids, explore the playground of the art world with a free sign up for My Widewalls!
Images used solely for illustrative purposes