Abstract Neon Art of Meryl Pataky Coming to Stephanie Chefas Gallery
The work of the Oakland-based artist Meryl Pataky mostly revolves around elements found on the periodic table. Following a concept of universal connectedness, she creates abstract sculptures using a variety of materials such as silver, copper, neon, iron or carbon, and all of the noble gases. Her latest abstract neon art will be on view at the gallery Stephanie Chefas projects. Entitled Colorways, this stunning body of work is drawn upon her desire to break new grounds and strengthen her devotion to light. Previously employing text and organic elements to explore the cosmos and our place in it, she has now delved into the realm of abstract, exploring aesthetic through experimentation to astounding effect.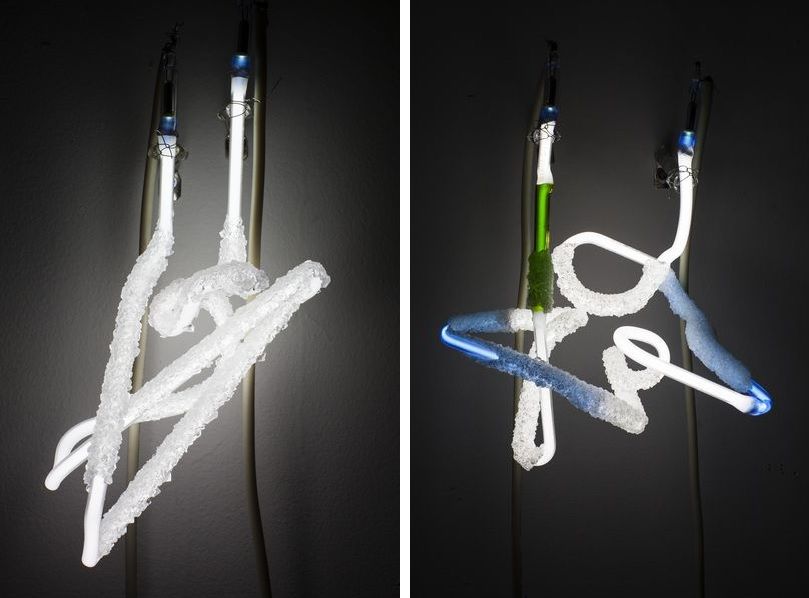 The Attention to Hues
In her practice, Meryl Pataky combines a diverse technical expertise with her own personal narrative. Her complex pieces invite the viewer to think about the process of making, and all the thoughts and experiences that have influenced it. In this latest body of work, she uses vibrant hues of blue, pink and green. Yet, the white color predominates. Regarded as a collection of all colors in color theory, the white color makes a great part of Pataky's work. Carrying information from the world to our eyes and brains, this perplexing phenomenon of light is responsible for our sense of sight. This fascinating science behind it is contained in vessels of these neon sculptures harboring noble gas and electricity. As the artist explains, the complete color theory is present in this neon tube. "Subtractive being the light, phosphor powders (when present) being the additive", she explains the process.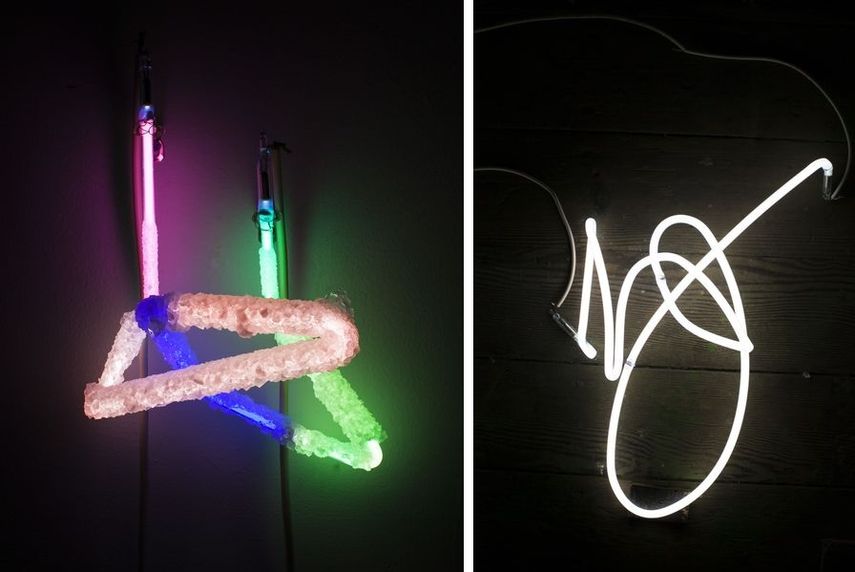 The Science Behind It
Besides drawing a new level of attention towards hue, Pataky also experiments with adding chrome block and borax crystals to these bent tubes in an effort to soften the neon to the background. The face of the neon is sometimes completely obscured, thereby leaving a cast light as the main viewable element. By placing experimentation in the center of her process, she finds the most joy in her medium. Demonstrating the entirety of elements involved and providing a scientific feel to the show, she avoids hiding wires and power sources, but rather highlights their presence even more. This remarkable body of work definitely solidifies Meryl's stance in the neon art world.
Neon Abstract Art at Stephanie Chefas Projects
Located in Portland, Stephanie Chefas Projects is dedicated to presenting cutting-edge and often challenging work that demands attention. Highlighting a diverse blend of contemporary artists from around the world, the gallery features monthly exhibitions with an emphasis on cultivating new talent and encouraging risk and evolution among established visionaries. The exhibition Colorways will be on view from October 14th until November 5th, 2016. The opening reception will be held on Friday, October 14th from 6 to 9pm.
Featured images: Meryl Pataky Installations; Maryl Pataky Working. All images courtesy of Stephanie Chefas Projects.