Acid Reflux
Only few months ago we wrote about a young American artist Zach Johnsen who, after graduating in 2001 with BFA in Illustration, began making a career in art. When he met Andrew Silverman, the two started the t-shirt and apparel company called Tank Theory. Johnsen became the main graphic designer as well as art director for ten years. The experience he gained at this position helped him to grow artistically and to promote his own artwork. As Tank Theory grew, so did his art and soon he began exhibiting in group shows and later solo shows. After a number of projects, collaborations and exhibitions, Johnsen's going back to one of his favorite galleries in Los Angeles for the fantastic show entitled "Acid Reflux".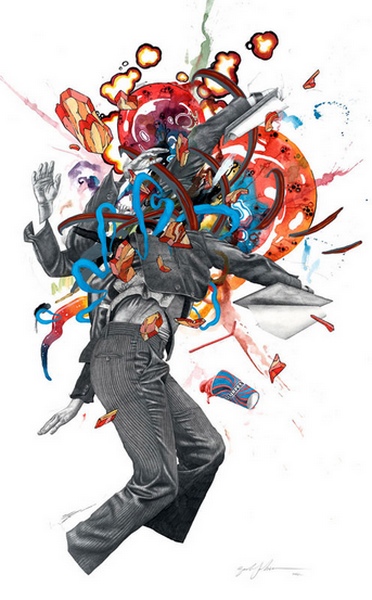 Acid Series
Johnsen first became notices by the wider audience thanks to his "Acid" works – depicting technically complex, monochromatic suited figures, frozen in motion, surrounded by candy colored explosions. This amazing series is packed with fantastic graphic sensibility. The graphite figures are almost life-size and the dynamic expressiveness of each piece is incredibly captivating. Not only that Johnsen focuses on what most people see, but he also pays attention to the hidden details.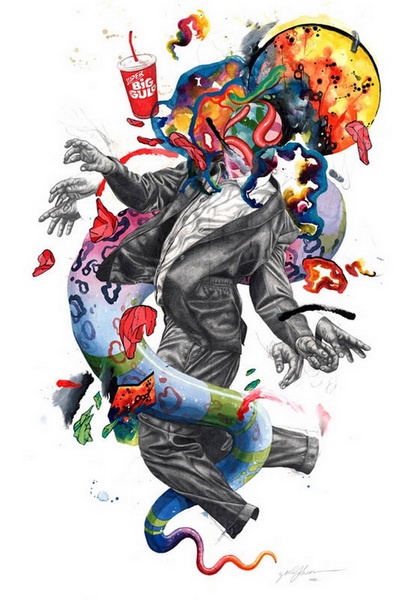 Acid Reflux
After showing his works to audiences across the US, Japan, Canada, Australia, London and Copenhagen, Johnsen comes back to the US. For his fourth exhibition at C.A.V.E. Gallery in Los Angeles entitled "Acid Reflux", Zach Johnsen has prepared works from his most famous Acid series. The opening reception started November 8th in the gallery space and will be on view until November 16, 2014.
If you want to know more about the emerging artists like Johnsen, sign up for My Widewalls today!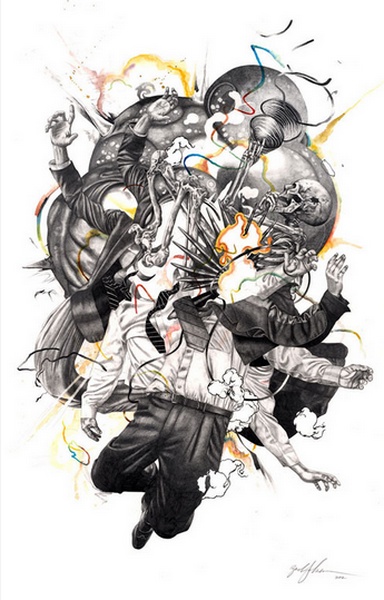 [mc4wp_form]