Adele Performs within Yayoi Kusama's Infinity Mirrored Room at Broad Museum
One of the finest pieces of installation art Yayoi Kusama's Infinity Mirrored Room that's currently on display at Broad Museum served as a background for a unique performance of celebrated singer Adele. British pop star found out about the installation through her friend's and college's Katy Perry's Instagram page. She was immediately struck by the artwork and decided to incorporate it in one of her appearances. Adele filmed herself while singing one of her hit songs When we were young inside the installation and the footage was used as a background when she performed the same tune at this year's Brit Awards on February 24th.
Adele's Performance at Brit Awards
Infinity Mirrored Room as the Background of Adele's Brit Awards Performance
In a short video filmed by the Broad, Adel explained why she chose the artwork for her performance and why she sang this particular song. "I decided that I would love for this to be a part of my When we were young performance at the Brit Awards in the UK because you kind of see different versions of yourself from every angle, and When We Were Young is kind of based on my life from childhood up to now". Her appearance at Brit Awards was a huge success that many saw as a magnificent comeback after the rather awkward Grammy performance when a microphone malfunction caused the singer to falter.
Adele Explains her Fascination with the Infinity Mirrored Room Installation
Infinity Mirrored Room by Yayoi Kusama
Infinity Mirrored Room is an outstanding mirror-lined chamber installation composed of sparkly and seemingly endless LED light displays. The installation was made by the prominent Japanese visual artist Yayoi Kusama and it is currently on view as part of a recently opened Broad Museum's inaugural exhibition. Because the artwork is made like a room and has limited capacity, only one visitor is allowed to enter at a time and the viewers can only spend up to one minute in the installation. Of course, Adele got a special permission from Yayoi Kusama to use the artwork and had a special treatment that allowed her to stay longer in order to film her performance.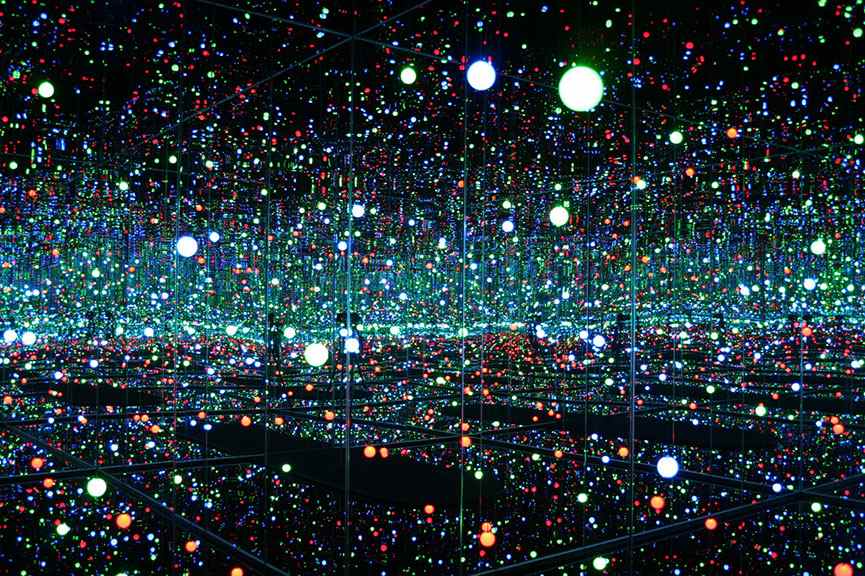 Visual Artists and Pop Stars Collaborations
Collaboration between visual artists and pop stars have become quite common in the past few years. Back in 2014, Marina Abramovic and Jay-Z collaborated on a six hours performance named Picasso Baby. Inspired by the artist's acclaimed performance The Artist is Present, Jay-Z rapped one of his songs for six hours continuously. Needless to say, both participants enjoyed huge benefits and gained quite a few admirers from the event. In the same year, Pharell Williams worked with urban artist Kaws on the creation of the design of his first fragrance entitled GIRL. Of course, we must not forget Rihanna and Justin Bieber whose latest album covers were created by notable artists Roy Nachum and Retna. Considering most of the collaborations were done to the mutual benefit of the artists and the celebrities it's very likely that we'll see more of them in the days to come.
Tell us what you think about Adele's Infinity Mirrored Room performance on our Facebook page
Featured image : Adele in the Infinity Mirrored Room via Adele's twitter account
Editors' Tip: Infinity Net: The Autobiography of Yayoi Kusama
Before she began to inspire pop stars and other art lovers around the globe, Yayoi Kusama was just a poverty-stricken artist heading to the Big Apple and trying to make a name for herself. This striking autobiography currently available on Amazon.com powerfully portrays the artist's career path, starting from her beginnings in Japan to becoming one of the doyennes of the alternative art scene in New York and back to an asylum in Tokyo. Yayoi Kusama has been suffering from hallucinations since childhood, which is why she admitted herself to a mental institution where she currently resides. Every day the artist goes to her studio across the street and continues to create works that make her one of the best and most popular artists of today. Make sure to read this refreshingly sincere autobiography and explore the mind of the artist who uses her fears and phobias to create magical, otherworldly works of art.