Ai Weiwei's Controversial "Fences" Erected in New York
He covered a concert house in life jackets, recreated an image of a dead boy and installed a giant inflatable lifeboat. Now, Ai Weiwei is once again drawing our attention towards the refugee crisis with his latest controversial project launched across the city of New York this week. Good Fences Make Good Neighbors is an exhibition organized in collaboration with Public Art Fund, and it features some 300 pieces which comment on the rise of anti-immigrant nationalism and the influence of politics on the divisiveness of people. With the topic as sensitive as this one, Ai Weiwei was bound to meet criticism and deprecation, and the reasons for this vary.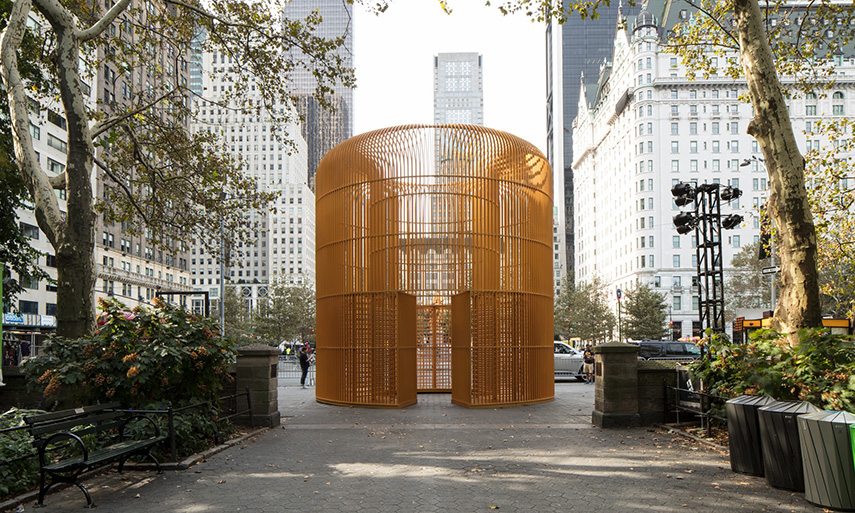 Ai Weiwei – Good Fences Make Good Neighbors
Conceived over the past two years and celebrating Public Art Fund's 40th anniversary, Ai Weiwei's Good Fences Make Good Neighbors project places his artworks around the Big Apple, at locations likely to be frequented by a large number of people. The artist incorporated dozens of large-scale fences onto sidewalks, inviting passersby to interact with them without impending the traffic itself. Among these, there are Gilded Cage, installed in Doris C. Freedman Plaza in Central Park, which transformed the fence into "an abstract, golden cage-like sculpture", and Circle Fence in Flushing Meadows Corona Park in Queens, which is meant to emphasize the Unisphere's form and symbolic meaning. Also a part of the initiative is Human Flow, a series of 100 posters placed in advertising spots and depicting documentary images, poetry and statistics images about the refugee crisis.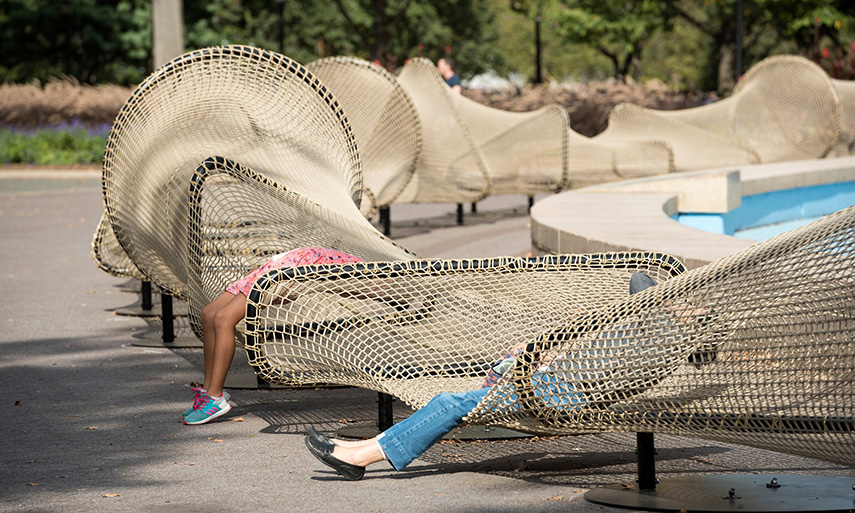 The Controversy
However, perhaps the most notable piece in the show is Arch, placed right underneath the Washington Square Park Arch. Here, we see a large silver cage made of stainless steel, with the silhouettes of two people being cut out. This image refers to Marcel Duchamp and his 1937 entryway glass door, created for the surrealist art gallery Gradiva which André Breton opened in Paris that same year. The work as such did not go well with the Washington Square Association, which posted a public letter to the Public Art Fund earlier this year, stating that "the monumental Arch is a work of art in itself" and that "it does not need to be politicized with the proposed installation." But Ai Weiwei felt this particular location was exactly where the fence should be. "When I lived in New York in the 1980s, I spent much of my time in Washington Square Park," he said in a statement. "This area was one of New York's most vibrant and diverse neighborhoods, a home to immigrants of all backgrounds."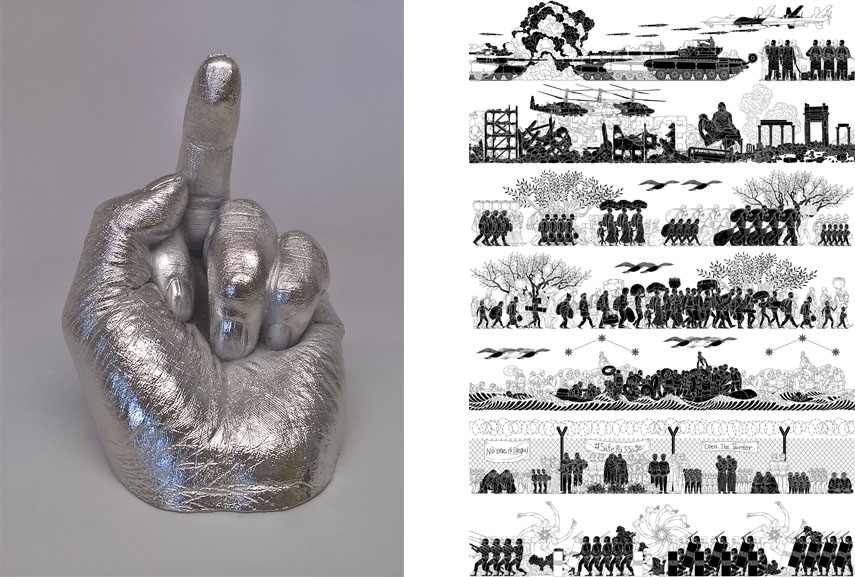 Special Edition Artworks Exclusively Available on eBay
From October 17th through 27th, 2017, two special edition artworks by Ai Weiwei, created for Public Art Fund on the occasion of Good Fences Make Good Neighbors exhibition, will be for sale exclusively on eBay! The first, Odyssey, is a 24 x 36 in print depicting the global refugee crisis in classic Greco-Roman style, and is available for $100 in an edition of 1,000. The second, Artist's Hand, is a rhodium-plated sculpture of the artist's hand, reminiscing his Study of Perspective series featuring the "flipping of the bird". Also in an edition of 1,000, this artwork is sold for $675. You can view and purchase the artworks here, and all proceeds will benefit the show.
Make sure you see the official page of the exhibition on Public Art Fund's website for more information. Good Fences Make Good Neighbors will stay on view until February 11th, 2018.
Featured images: Ai Weiwei's Good Fences Make Good Neighbors art project in Washington Square Park. Photograph by Jason Wyche; Harlem Shelter 1, 2017. Courtesy of the artist. Photo by Ai Weiwei Studio; Circle Fence, 2017. Courtesy of the artist. Photo by Timothy Schneck; Banner 112, 2017. Courtesy of the artist. Photo by Jason Wyche. All images courtesy Courtesy Public Art Fund, NY.