Heart – Earth – Words – Forest
Japanese artist Ai Yamaguchi will be presenting her recent work at Joshua Liner Gallery next month. The exhibition title, shinchishirin, is a combination of several different words taken from the early Heian Period anthology. Yamaguchi often uses self-coined words in titling her works, making them seem more impressionistic and intangible. Shin means "heart", chi means "earth," shi means "words," and rin means "forest." As a poem, shinchishirin expresses how the seeds of your heart get planted into the ground and grow into a forest of poetry. shinchishirin runs from May 8 till June 7. It will be Yamaguchi's first exhibition with the gallery and her first New York solo show since 2002.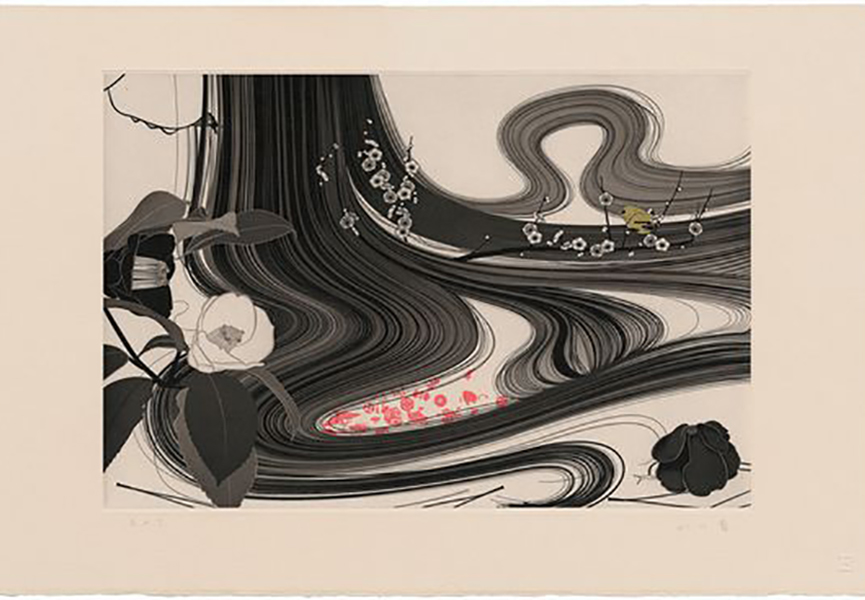 Modern and Pop
Yamaguchi's art is deeply rooted in traditional Japanese themes and values. Her artistic vision is often inspired by Japanese art from the early 16th century to the late Edo period. Yet, Yamaguchi's art is undeniably modern and pop. Yamaguchi's style has also been said to combine "flatness," regarded as a particularly characteristic feature of traditional Japanese art, with trends in Japanese subculture. This means that the patterns found in Yamaguchi's paintings are often directly influenced by anime and manga, which imbues her works with a strong sense of the contemporary. Turning to Japanese comics as a source of inspiration is probably something she adopted from Japanese heir to Warhol, Takashi Murakami. Yamaguchi trained under Murakami, who is well-known for his colorful anime-esque aesthetic, before she went her own way.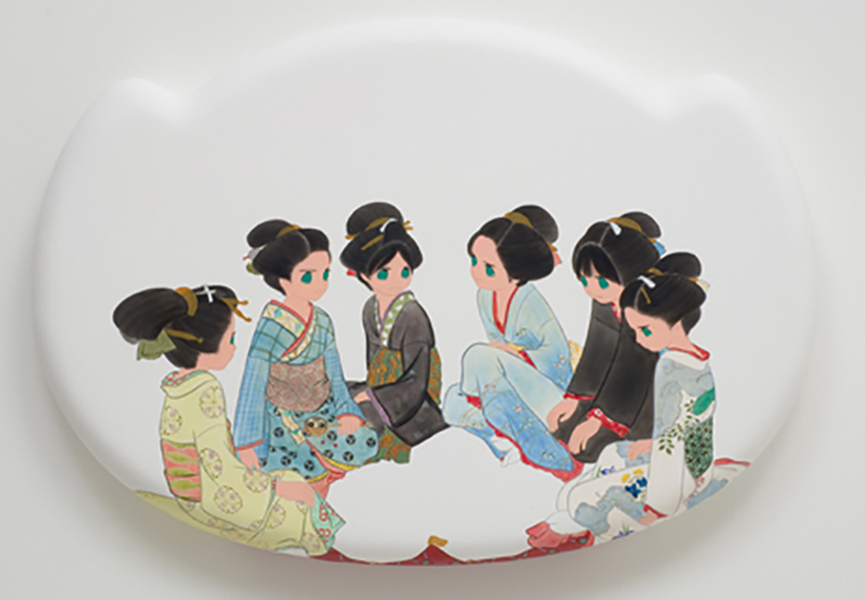 Beauty
Feminine beauty is the main theme in all of Yamaguchi's work. At a time in Japan that was completely dominated by men, Yamaguchi depicts the untold lives of women. Though the artist does not draw men, this does not mean they do not exist in the world of the girls she portrays. As with many other cultures, hair is an important symbol of beauty in Japan. In the medieval Japan, the only physical attribute of interest of Heian gentleman was a woman's hair, which had to be thick and longer than she was tall. Yamaguchi often depicts girls' hair as part of the scenery—these rivers and mountains of long black hair mimic brush strokes and traditional Japanese calligraphy.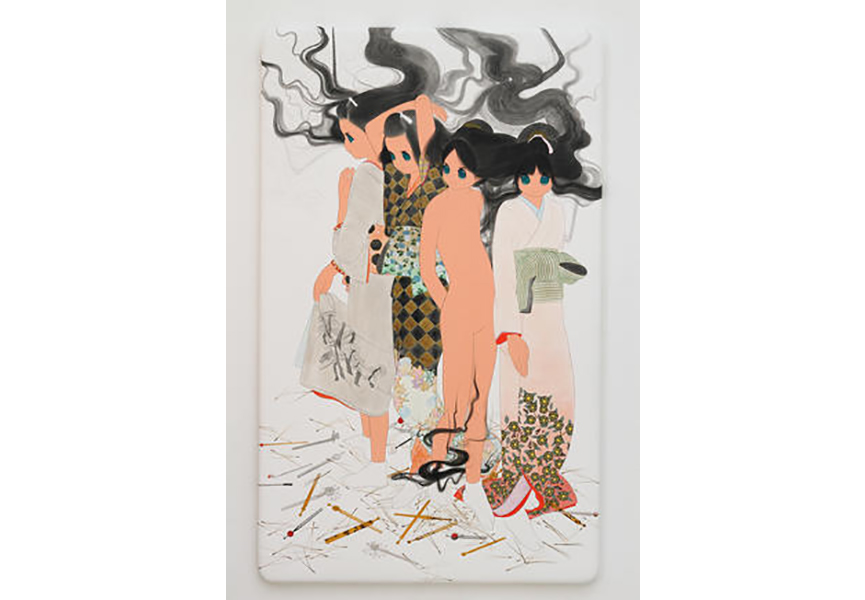 Geisha's Life
Yamaguchi's characters are often blended into design that is flat in perspective yet decorative. She utilizes a unique combination of delicately drawn lines and celluloid picture-like expression to vividly portray the lives of her geishas. Yamaguchi renders her pieces extremely two-dimensional, intentionally emphasizing the line and vibrant colors. This two dimensional anime-like quality of her characters is further achieved with a unique blanket-canvas style that she developed. For this exhibition Yamaguchi also experiments with blanket-canvases, layered in multiple planes—similar to the Japanese wooden doll art of kimekomi ningyo – luring the viewer into the narrative of the canvas.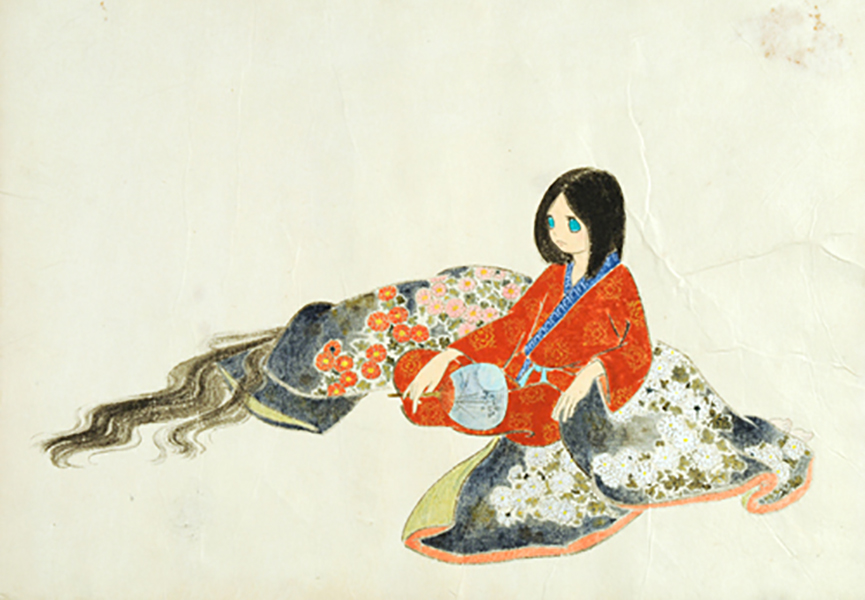 About Ai Yamaguchi
Born 1977, Ai Yamaguchi currently lives and works in Tokyo, Japan. Yamaguchi trained under Takashi Murakami. She was one of his girls in the Tokyo Girls Bravo exhibition back in 1999.  Yamaguchi worked as an assistant at Kaikai Kiki for many years while forging her own studio practice. Selected solo exhibitions include: hoshi at Mizuma Art Gallery, Tokyo, Japan, ashita mata at 10 Chancery Lane Gallery, Hong Kong, China, yorokobi at NADiff modern, Tokyo, Japan (2012); kumogakure at Aki Gallery, Taipei, Taiwan (2011); hogara hogara at NADiff Gallery, Tokyo, Japan, kiyu at Mizuma Art Gallery, Tokyo, Japan (2010); hana wa no ni aruyouni / flowers as they are in the field at Roberts & Tilton, Los Angeles, CA (2008). Selected group exhibitions: 20 Years Art x Mags Exhibition at Giant Robot, Los Angeles, CA (2014); Ukiyo-e POP Culture from Edo to Today at Shizuoka City Tokaido Hiroshige Museum of Art, Japan (2013).
About Joshua Liner Gallery
In an eclectic range of mediums and approaches, Joshua Liner Gallery presents an exciting roster of established and emerging artists from the U.S and abroad. Founded in 2008 in New York City's Chelsea Arts District, gallery artists reveal disparate influences but all share an affinity for pushing the boundaries of discipline and presentation.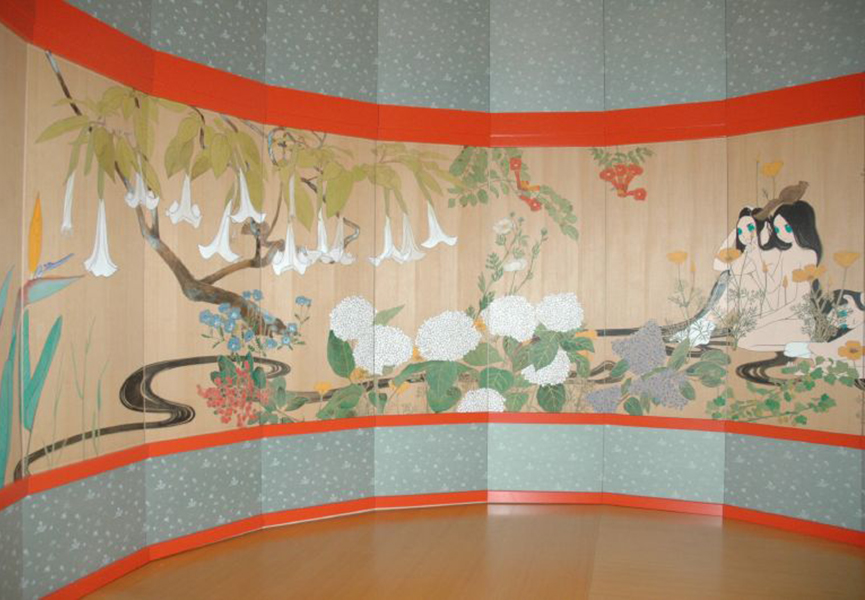 Follow These Galleries
Paris, France

London, United Kingdom