Alaniz Exhibition with Open Walls Gallery – Street is only a Mirror Image of Life
If someone wants to talk about contemporary Berlin's urban art scene, it's simply impossible not to mention Alaniz's street art work (don't forget to check out our latest street update). This Argentinian-born and Berlin–based artist has been part of the urban art scene of one of the most vibrant cities in the world for more than four years (be sure to read our Berlin art travel special). His murals and art pieces have become a significant element of Berlin's urban landscape, and Open Walls Gallery is organizing his first solo show in Germany's capital (Alaniz lives in Berlin, but was born in Argentina. Check out our list of ten street art destinations in South America you need to see). Entitled La Calle es un Espejo (which means The street is a mirror), the exhibition of Alaniz is a perfect opportunity for all true street art lovers to see the artist's work in a gallery space.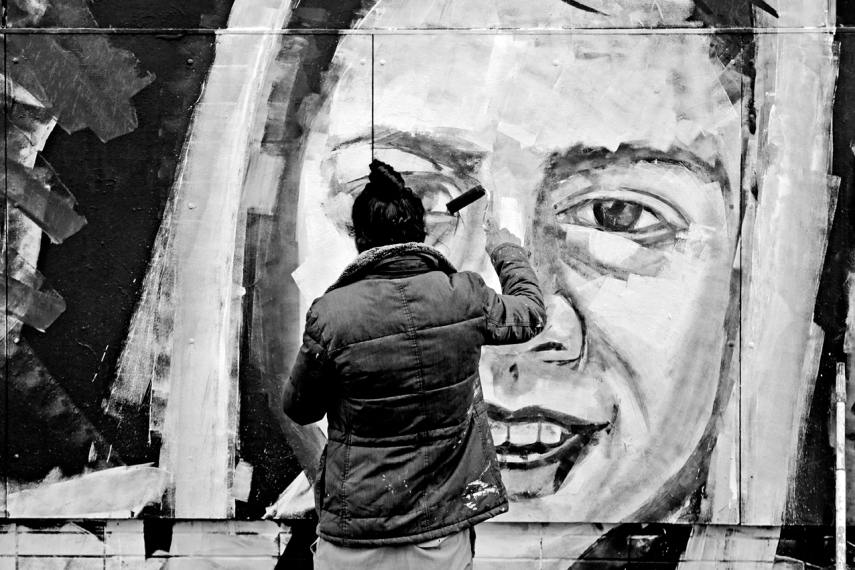 Alaniz Street Art
Although street art of Alaniz does not directly deal with political or social issues, the way how he understands his art and public intervention is at the very core of political and societal engagement that street art (willingly or not) transmits. Alaniz believes that art (street art particularly) should be designed in a form of a dialogue – a dialogue between the artist and the public. However, this strict division between the artist and the public cannot been identified in Alaniz's street art. His public interventions could be understood as an open call to the "public" to form a community (or public space for discussion), where all the problems and societies' imperfections could be freely addressed. As Alaniz puts it: If you want to paint in the streets, it's pretty much essential to actually know the streets. Then you should at least have an idea about who you're talking to, and what you want to communicate. It shouldn't be a monolog. And if you just carefully look and listen, you'll learn something new immediately… Therefore, his art is deeply rooted in humanism. And even Alaniz's pieces may seem profane on first impression, they are pretty much a profound truth of our days and ages.
A Teaser Video for Alaniz exhibition at Open Walls Gallery
ALANIZ – LA CALLE ES UN ESPEJO from OPEN WALLS Gallery on Vimeo.
The Street is a Mirror
During the Alaniz's exhibition at Open Walls Gallery, the visitors will have an opportunity to see intimate portraits on canvas captured with oil paint (instead of big murals and his trademark style of roller bombing). The visual aspect of the show puts the focus on the invisible people – protagonists and their stories that live outside the margins of what could be called as a normal life. Based on photographs Alaniz took of the many chance acquaintanceships during his travels and while living in Berlin, his show might have a social conscious at heart but it isn't preachy, as it offers the audience the opportunity to either just lose itself in the beauty and complexity of his paintings or additionally listen to the connected stories via an accompanying sound installation in order to get the bigger picture.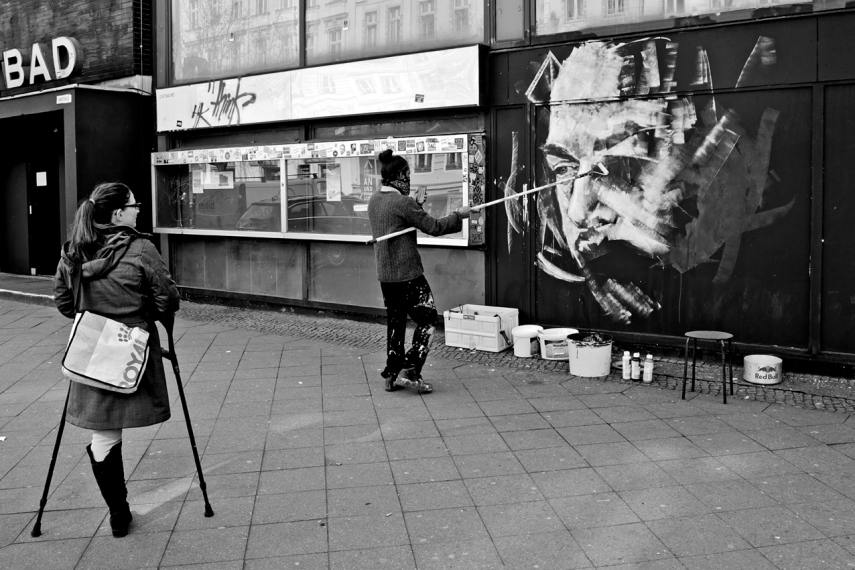 Alaniz at Open Walls Gallery
Alaniz's exhibition at Open Walls Gallery is an experimental and challenging experience both for the artist and the public (as we got used to see him working on the streets). The show is entitled La Calle es un Espejo (The Street is a Mirror), which is actually a bow to a song of the same name by a deceased friend of Alaniz. The show will be on view from September 10 until October 3, 2015, at Open Walls Gallery in Berlin. The opening ceremony is scheduled for September 10, at 6pm.
Featured Images: Alaniz – The Street is a Mirror exhibition
All Images courtesy of Open Walls Gallery.