Aleksandar Todorovic - A Painter of Tomorrow, Today
Looking at intricately detailed works of Aleksandar Todorovic, one cannot feel at ease. There is this, super-politician, eating away our reality, destroying everything that's good, laughing about it and enjoying his ultimate malice. He's everywhere, as the main character, or the key player in Aleksandar's representations of ideologies that have marked or still govern our world. He is the demasker of evil, the meticulous draughtsman of what lies beneath every seemingly benevolent through in a highly commercialized world. A teller of a grim fortune, this Serbian artist does not stop believing in visual expressions, engaging himself in creative process religiously. Aleksandar Todorovic is marked as one of the 100 Painters of Tomorrow, and his work Iconostasis of Capitalism is currently on view at Beers Contemporary in London. His name was included in the monograph edition with 99 other young creatives, hopefully signifying a start of his international career.
Todorovic is the child of the Serbian 90's, meaning he has been exposed to a dramatic collapse of major moral and cultural values, along with the break-up of Yugoslav republic and the unfortunate war-colored years after. This period proves to be crucial in the formation of the artist's visual language, as his learned impulse is that politicians equal evil. His style has been influenced by comics and pop culture, video games, and illustration, through which the artist endeavors in depicting the modern reality, such as it is – complex, crooked and festered with greed and ill will. There's little optimism in Aleksandar's work. But he himself does not emit gloom. Visiting his studio, or rather, the room in his girlfriend's apartment serving as a studio, he gives out an impression of a friendly guy, nice host, eager to spread his message in art. He is finishing up a series of 7 small scale paintings in acrylic, representing his signature negative cliches of various typified societal roles.
In an exclusive interview Aleksandar Todorovic gave to Widewalls, he told us of his initial painting escapades, his inspirations and his plans, as well as of his engagement in the 100 Painters of Tomorrow monograph and exhibition.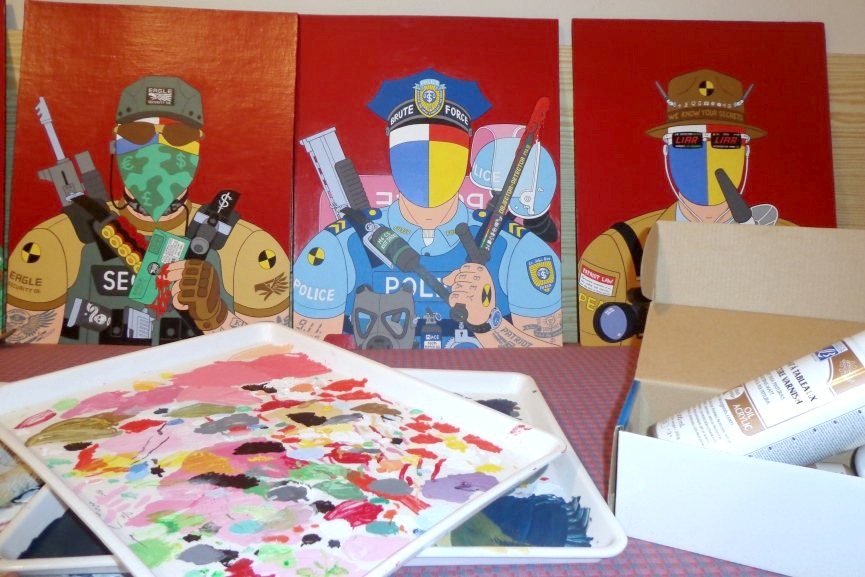 Who is Aleksandar Todorovic?
Widewalls: Hi Aleksandar, can you please give us a small introduction to your work?Aleksandar Todorovic: Often people characterize my work as illustration, but that is not so. Perhaps, I have that note because I started from the love for comics. I was reading Alan Ford and that's how I learned to read as a kid. So, as I was moving towards the Art Academy, which was natural for me, because I was drawing all of my life, as a child and afterwards. In the academy, I stepped away from the narrative painting, but now I'm returning to it, since the Iconostasis phase.
Widewalls: What guides your narratives? Where did they start and where are they now?AT: Evil intrigues me. I've always depicted parts with politicians, who represent the embodiment of evil for me. Once I accidentally bought a set of thin boards off of a friend, but I didn't know what will I do with them. So I started doing something like icons, they're on boards, and it seemed like a good fit. That's how I started doing iconostasis, which I painted all throughout the final year of academy [2008]. I wanted to make fancy framing, gilded and detailed, but it didn't work. Since then, I switched to drawing, but now I'm painting again.
Widewalls: You were mentioning it's not exactly illustration?AT: What differs the iconostasis from illustration is the context – evil that connects every system, the evil that stands behind it. It does not have the commercial value of an illustration, but it's illustrative in the sense that it depicts the abstract notion of evil. Stylistically, it leans on frescoes and icons in churches, which also had illustrative purpose in the middle ages.
Widewalls: And how did your politician come to be exactly? You have him in your drawings as well.AT: He is an archetypal representation of a politician. I've seen some similar works in our Museum of Contemporary Art before it was closed, by Milan Blanusa[Serbian artist], and I liked them. This is how I got the inspiration to do something similar myself. But my politician is the one I imagine, the one who devours everything, through frustration, often sexual, as you can see in many phallic symbols. I've started developing the character while still at the Academy, through sketches, it simmered for a long time in the back of my mind, until it exploded. For me, hierarchy of a religion or a political system is one and the same. They both imply and require worship, of either individuals or ideas. And capitalism is an almighty winner among these ideologies. Look at China – it is the oddest hybrid of communism and capitalism, one of the most inhumane systems, in my opinion. Evil is everywhere, people are minions, and if you don't worship properly – you are in big trouble.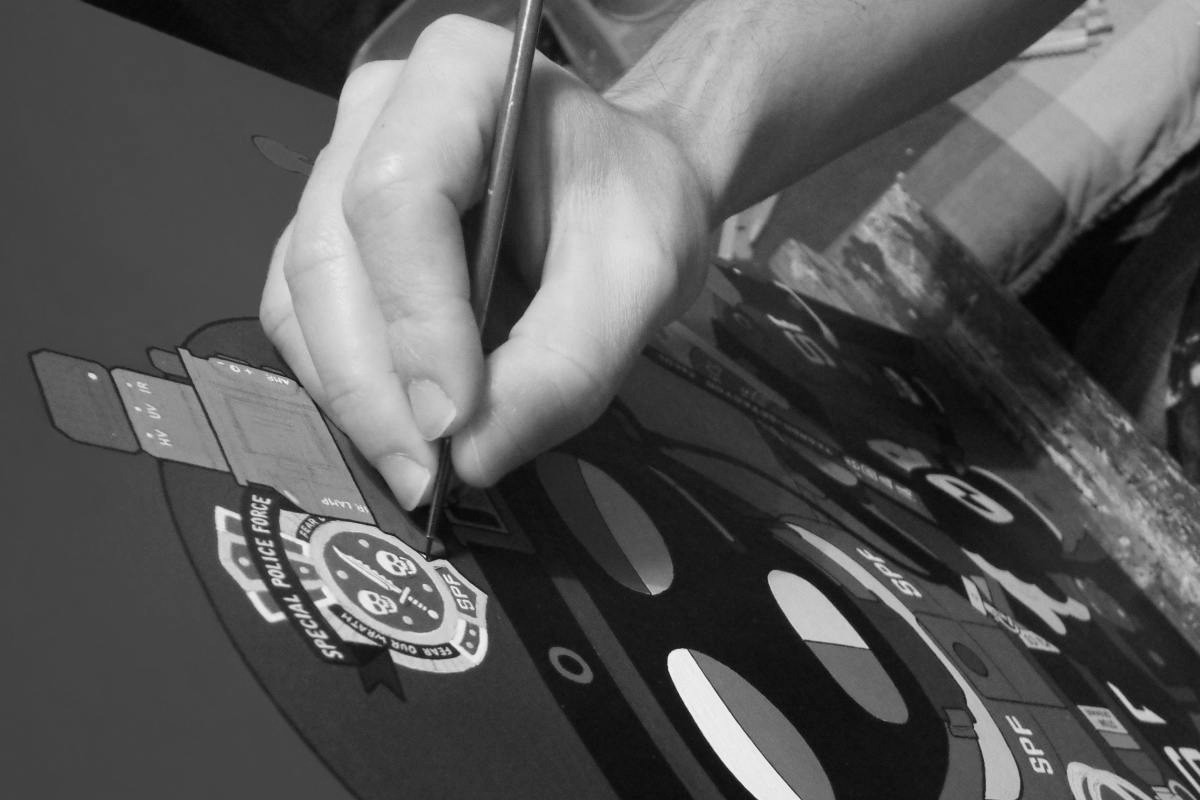 On Art, Politics and Techniques
Widewalls: How much would you say is your art engaged?AT: As much as art can be. I'm not an open activist like, say, Ai Weiwei, I don't have so much power. I would like to join some kind of protest if it existed in Serbian society, but not as a leader. Our society is largely apathetic, and sometimes I get the urge to march the streets alone… But my work – I just render topics that intrigue me. And I am not afraid of anything, although people get sensitive to certain topics sometimes, especially the religious ones.
Widewalls: What are your main techniques? It's very hard to distinguish by just looking at your paintings.AT: I've mainly adjusted to my working conditions so far, because I don't have a studio. That's how I got sick of oil paint, because turpentine is actually poison, it has a very sharp smell. I started doing the iconostasis on paper first, but then I chose watercolor – acrylic was drying too fast, so this was the only option. I treated the watercolor as if it were oil, and the result was great – people can almost never tell it's watercolor.
Widewalls: And these last series, also watercolor?AT: No, it's acrylic. I adjust and change media, so I won't get bored. I'd like to do oils again, but sculpture as well, relief. I have a long-term plan for a series of dioramas, but that can be stretched through decades, since my work is slow, but constant.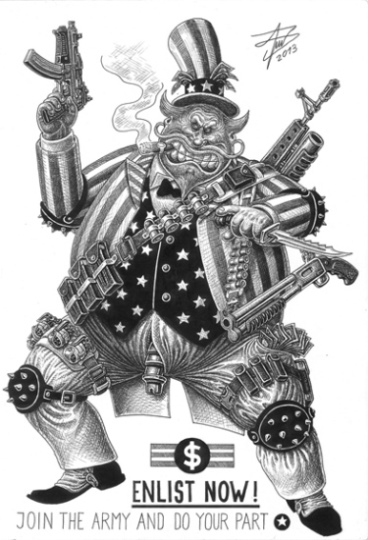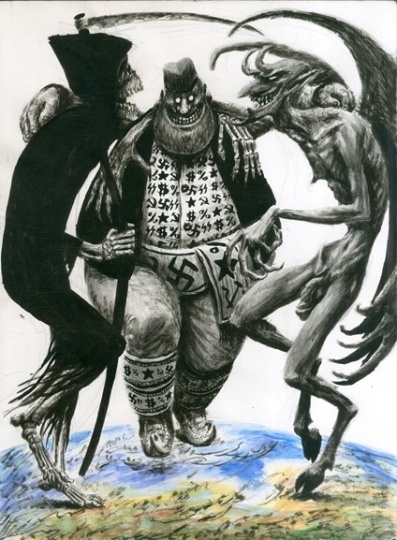 C4 Art Group
Widewalls: Can you also tell us a few words on C4 art group? You are one of the founders?Yes, it's a group I founded with a colleague of mine. It emerged out of an informal previous group of artists, and we gather people who share a more politically conscious expression. We want to make group exhibitions, and to exhibit abroad as much as possible. We also want to collaborate with other artists, but we'll see. We all have our individual practices and different sensibilities, but we want to restart the activity soon, after this pause of several months.Widewalls: How many shows did you have so far?AT: There have been four shows, first on the Drama Academy as a part of Fist Festival, one in Southern Serbia town of Vranje's National museum. We had a show last March in the Art Center gallery of the University Library in Belgrade. And our last show was in an alternative cultural space Inex, also in Belgrade.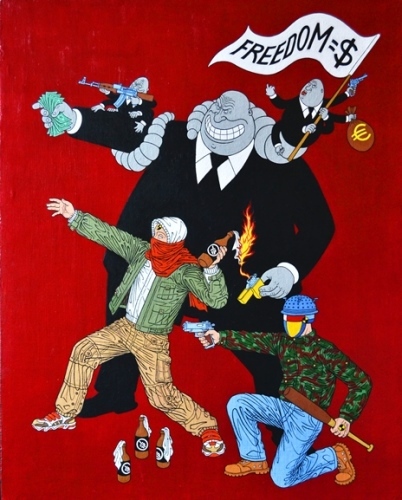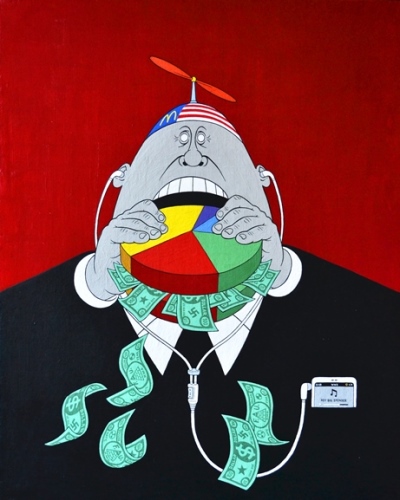 100 Painters of Tomorrow
Widewalls: How did you enter the 100 Painters of Tomorrow adventure?AT: There was a competition, but a long time ago, and I entered it with a friend. I didn't think anything of it, even whan they told me I passed the first round of selection process in 2013. I was awarded the Emerging art award for painting for 2013 as well, but this is the first public exhibition at Beers. They announced the complete list of 100 artists last August and my name was in. Then I heard my work is selected for the exhibition at Beers Contemporary and here I am. Unfortunately, due to visa problems and cost, I was unable to get to London.Widewalls: What work of yours can be seen at Beers Contemporary?AT: Iconostasis of Capitalism is exhibited, but they have two other pieces in the gallery, for people who wish to see more.
Widewalls: After Beers, what are your plans in, say, next six months?AT: My plan is to work as much as possible. I already entered some competitions, and let's see what happens. I'm hoping that being among 100 Painters of Tomorrow will open some new doors for me, and I would like to find a gallerist abroad, but let's see. I've been invited to exhibit at the Night of the Museums in the Museum of Contemporary Art of Vojvodina, but I would like to exhibit outside of Serbia, to make my art known to a wider audience.
Widewalls: Finally, is there anyone that you likes in particular among the 100 painters of tomorrow?AT: Well, all of them are good, and it has a lot to do with personal taste. I can say I liked the figuration of Eva Juskiewicz, by Andrew Salgado as well, but there are many artists, it's very hard to name more by heart.
Returning to the conversation with Aleksandar, it's hard to ignore such a strong will to work and to tell the story 'as is', without any embellishments from the artist's part. Hard life, tough working conditions and an uncertain future of the local art scene is pushing this young man out, but his message is already out there.
100 Painters of Tomorrow exhibition is currently on view at Beers Contemporary in London, remaining on show through January 15, 2015. Do not miss it!
All images courtesy of the artist and Widewalls.
Sign up for My Widewalls and read all the interviews as soon as they're published!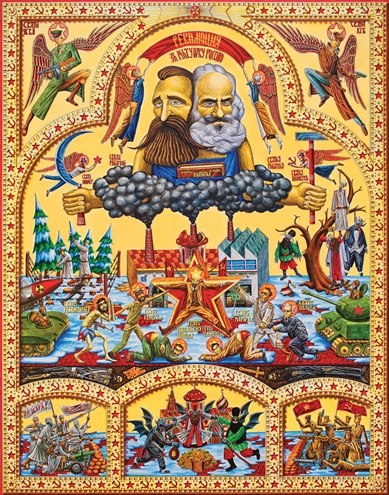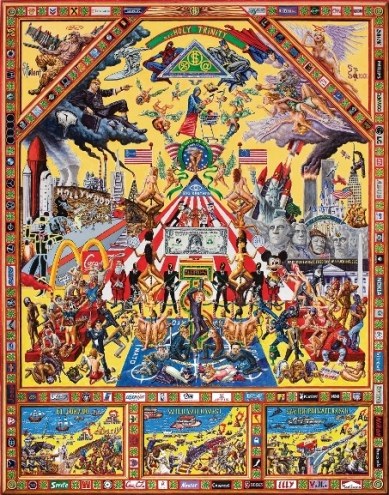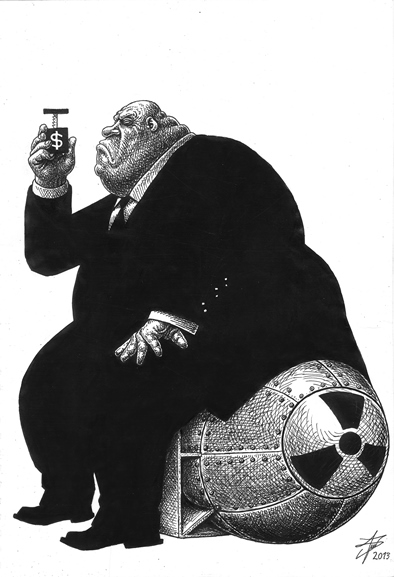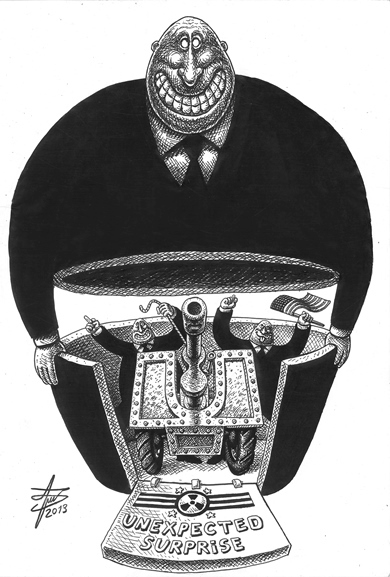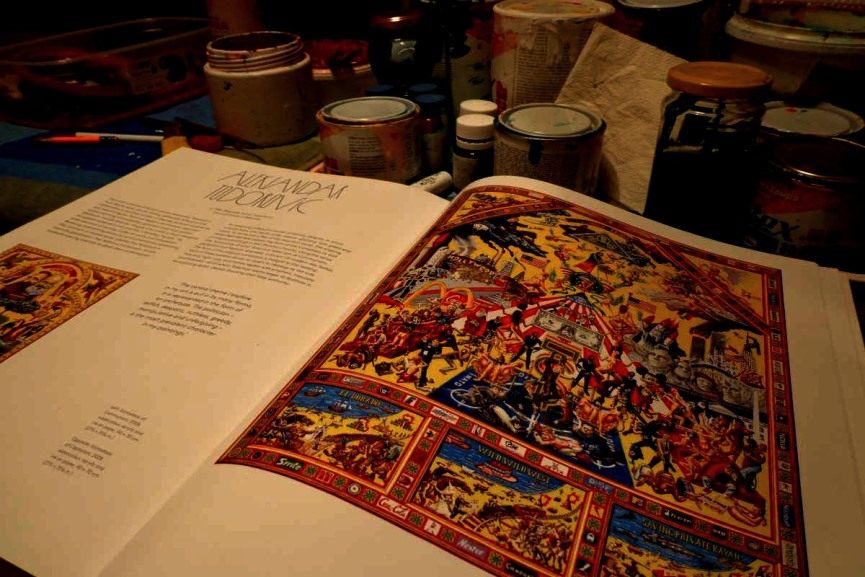 [mc4wp_form]