New Alex Gross Art at Corey Helford Gallery Explores the Antisocial Network
It has been over a decade since the most renewed New Contemporary pop surrealist, Alex Gross showcased his art to an eager Los Angeles public. Proudly presenting his exhibition Antisocial Network, Corey Helford Gallery is delighted to showcase Alex Gross art exhibition in its main gallery space. For the occasion of his first presentation in Los Angeles in over a decade, Gross created a fresh series of oil paintings, drawings, and mixed media cabinet card paintings.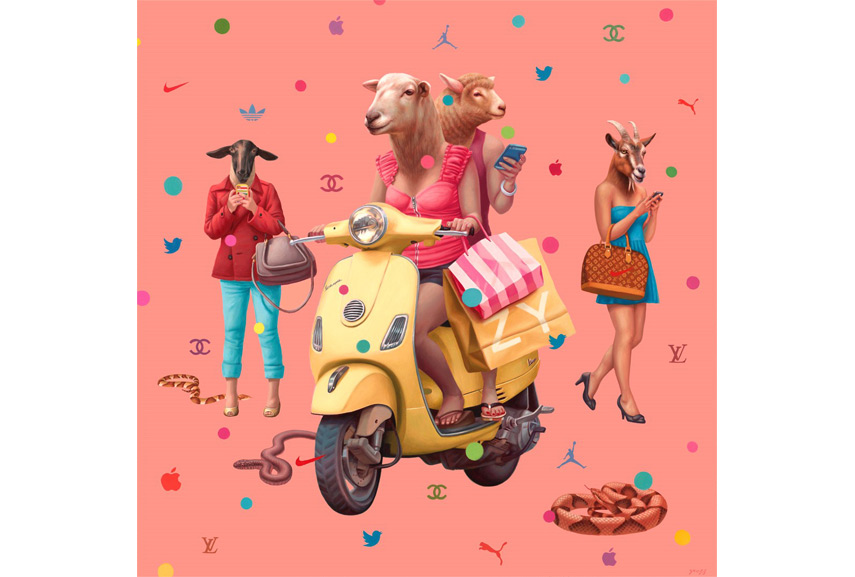 Alex Gross' Art
Known for his gallery work, Alex Gross' pop surrealist figurative painting focuses on globalization, advertising, consumerism, and the passage of time. Always focused on provoking his public to reflect upon the influence of branding on their decision making and their lives, Gross' latest exhibition Antisocial Network follows a similar path. Although modern technology appears in only about half of the works, the multiple readings of show's title apply to every piece of the show. One of the most interesting interpretations gathered from the featured works, is that social networks, both real and online, are eroding our connections with one another, resulting in isolation, loneliness, and the inability to exist in the present.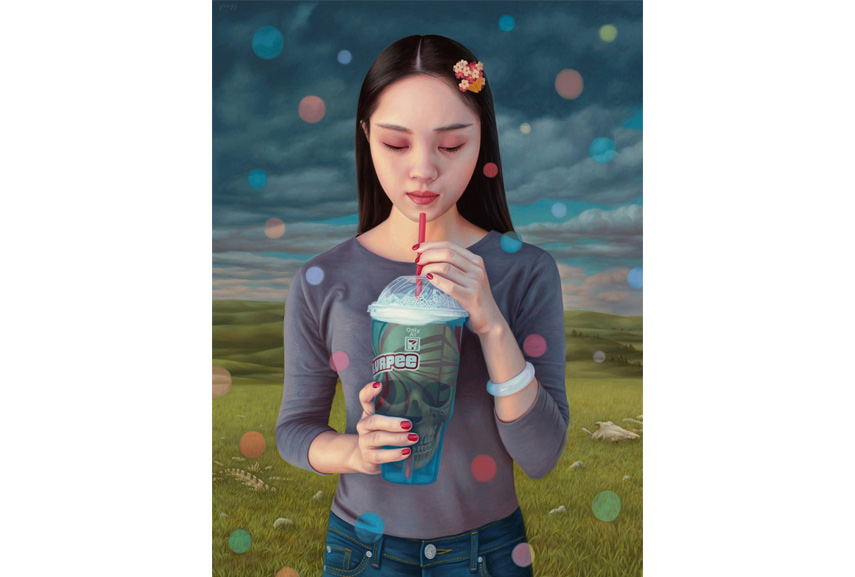 The Intimate Portrait of the Modern World
The latest series of Gross' artworks seems to exist in the line between surreal dreamscape and incisive social commentary. More intimate and personal than the author's previous exhibitions, several of his figures Gross decided to showcase as lost in thought, distracted by not only a phone or VR headsets, but their own inner reflections. In one of his pieces, a young lady seems to contemplate her own mortality with a giant slurpee, while another floats aimlessly, lost in thought in the bath, alone but for a few rubber ducks. Questioning what will the future hold for us as a species, and what will be the nature of our relationship to Nature, Gross' powerful images should be read as an intimate portrait of the modern condition in 2017.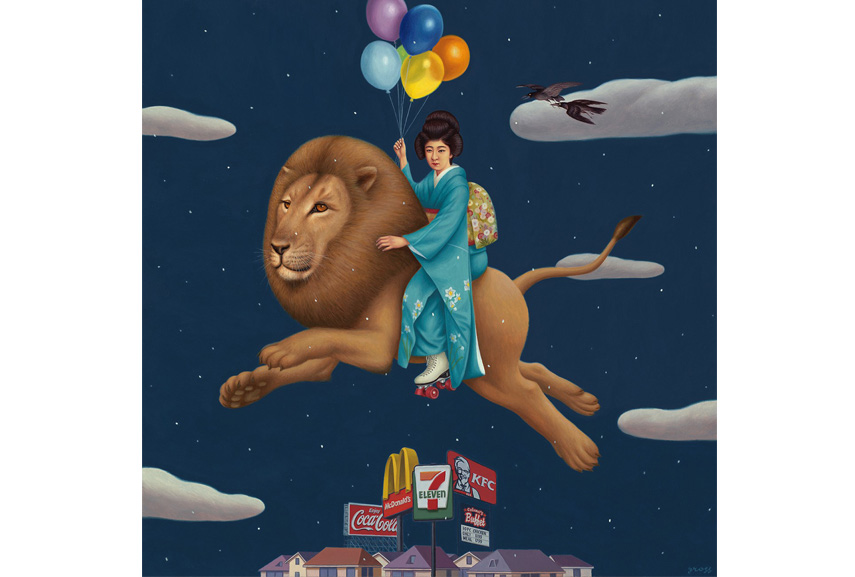 Alex Gross Art Exhibition at Corey Helford Gallery
Praising its program and representation as one of the most diverse, Corey Helford Gallery in Los Angeles is thrilled to present Alex Gross painting exhibition Antisocial Network. Following with his interest for both figurative paintings, and the ancient Japanese woodblocks, Gross' images are recognized for their vibrant color choice, but more importantly for their social commentary.Antisocial Network is Gross' first exhibition with Corey Helford Gallery and the first time he has shown in Los Angeles in over a decade. The exhibition will contain about twenty full-size paintings, several drawings, and over a dozen new cabinet card paintings. The opening reception will be hosted Saturday, February 25th, 2017 from 7-11pm at the main gallery of CHG. The reception is open to the public and the exhibition is on view through March 25th, 2017.
All images courtesy of Corey Helford Gallery. Featured image in slider: Alex Gross – Monogatari, detail; Alex Gross -In process, Shot of Mirror (after Tooker)
Follow These Galleries
Los Angeles, United States