Interview - Alex Lukas on Prints & Photographs; Copies & Concrete
Breeze Block Gallery of Portland, Oregon is opening a new exhibition on January 9 by an emerging urban artist based in Chicago, Alex Lukas. Titled Prints & Photographs; Copies & Concrete, this exhibit promises a wide range of new works executed in different media, as its principal subject will explore the significance of printmaking within the artist's current creative approach and contemplation on the contemporary cityscape. In an interview given to Arrested Motion, Alex Lukas discloses the reasons behind his recent relocation from Philadelphia to Chicago, his experiences in artistic residencies in the American Midwest, explains the concept of his drawings and talks about the upcoming exhibition at Breeze Block, explaining the concept and the structure of the show.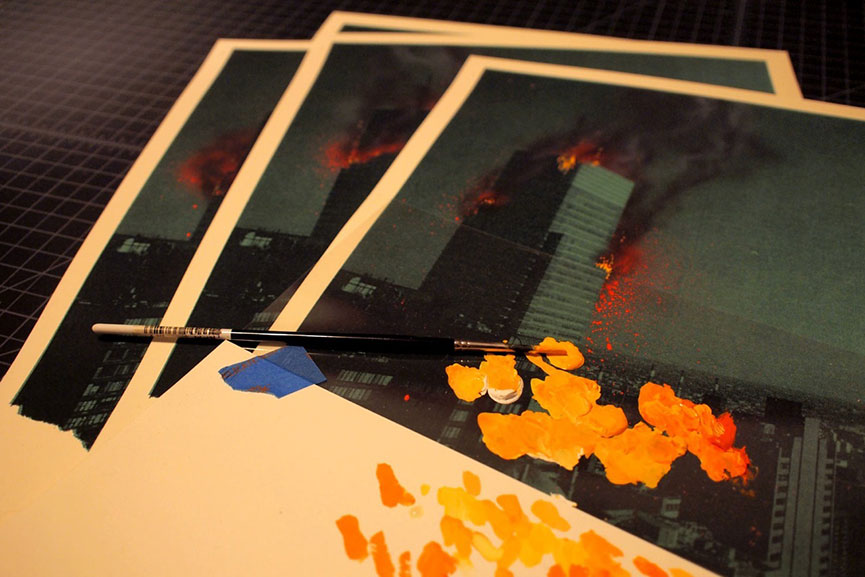 Prints & Photographs: Copies and Concrete
Alex Lukas: For Prints & Photographs; Copies & Concrete, I'm presenting a bunch of new work that I'm describing as "print-centric." I've made a 12-part print portfolio in a small edition of 15 that shares a title with the show; it contains various offset lithographs, screen prints over photocopies, a few pieces that have hand-worked elements, a diazotype, digital c-prints, and a unique photocopy that is passed through the machine multiple times.
He said, adding that larger offset lithographs will also be displayed. About the presence of concrete at the show, the artist reveals his new path in terms of media:
Alex Lukas: Finally, I'm showing some new monotype-on-concrete sculptures. These forms are inspired by the detritus and disused structural remnants I see often in vacant areas. These sculptures involve pouring concrete onto painted surfaces so it transfers as the mixture dries, admitting that this type of sculpture was something he was experimenting during his residency at the Bemis center, but this occasion will be their inaugural exhibit.
The Art
There is something brutal and devastating within Alex Lukas' works on paper and his elaborate fan-zines, something eerie in the urban landscape of the future, diluted by subtle optimistic references to nature and revival. He intervenes on the found and his own prints, photographs and representations of contemporary cities, depicting different apocalyptic occurrences such as floods or massive fires, or post-apocalyptic scenes of urban areas overgrown with vegetation. Although he denies connections to the graffiti art himself, street art is often featured throughout his artwork, as he admits being fascinated, not with the artistic, but with the essentially ephemeral nature of the writing action. The imagined landscapes of Alex Lukas are narratively suggestive, but vague, leaving the conclusion on the meaning for the observer to reach.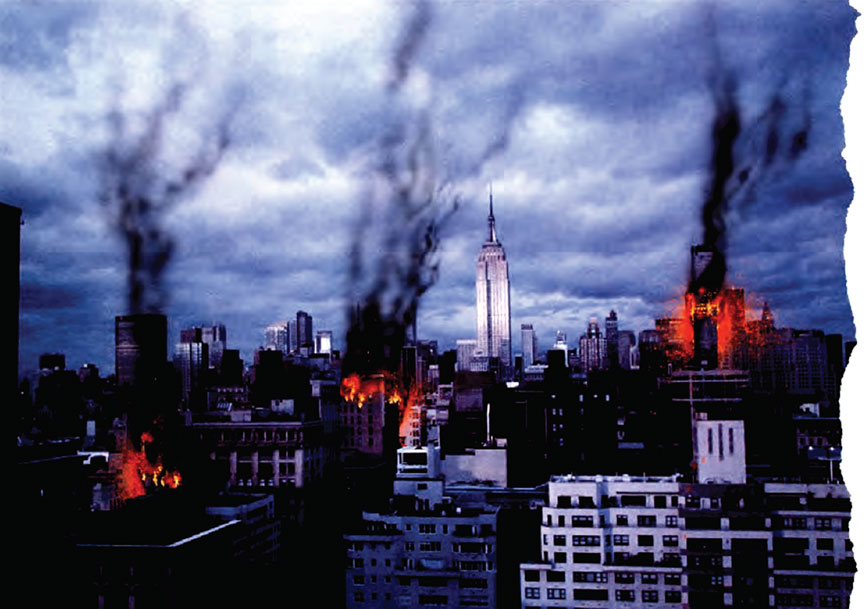 Production
All of the works made by this promising artist disclose an intensive labor invested in their production, as well as a wide range of skills and knowledge of different techniques. Lukas uses photocopies, diazotypes, offset lithographs, intervenes on printed materials, casts concrete… In the mentioned interview, he talks about his relationship with the production of art, declining that prints that he makes are mere copies. Made by his hand, they are all original, as the creative process lasts even through the act of operating the press:
Alex Lukas: I think it is important for an image to be specific to its medium. None of the works in this show – or any of my prints – are just reproductions of my drawings. There are no giclee prints. I think people sometimes underestimate the amount of work that goes into an edition. It is a very different set of problems than a unique work because the piece needs to be designed for production. Each medium provides a different set of problems and possibilities. Offset lithography produces a beautiful line, amazing tone and can be done in high quantities very quickly, but the inks are very transparent and the presses require a lot of experience to use. Screen printing can involve opaque or transparent inks and can be done fairly easily but is much more labor intensive than offset. I also approach my prints with a lot more freedom to continue to make decisions well into the process of printing. If an image needs more depth or compositional changes it is possible to continue to add and add.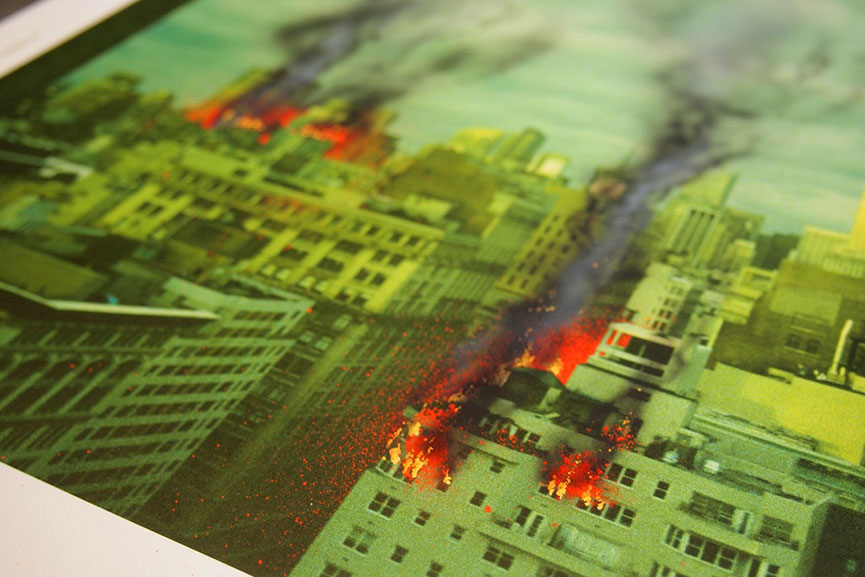 Publishing
Alex Lukas exudes a vast range of cleverly rendered influences throughout his body of work, whether it be painting, drawings, 'zines, prints or installations. At the age of 32, he already exhibited nationally and internationally, and his artwork was featured in a number of influential magazines, such as Megawords, Swindle Quarterly, Proximity Magazine, Dwell Magazine, Juxtapoz, Art New England and The New York Times Book Review. He published over forty small artist books, or 'zines as they are commonly referred, with Cantlab Publishing, and he has been lecturing at several art schools throughout the US.
Pictures retrieved from: Breeze Block & Arrested Motion