Analog Y at 886 Geary
Urban and contemporary art hub based in San Francisco, the 886 Geary Gallery brings together six international contemporary urban artists at a group exhibition Analog Y. It features works of Arnaud Liard (France), Blo, Cekas, Optimist, Pro 176, and Vogue. The founder of Graffuturism Movement and 886 Geary's main curator Poesia aims to bring artists from around the world to San Francisco and establish the gallery as the premiere destination for urban and contemporary art in the San Francisco Bay Area. The upcoming show Analog Y is in accordance with this aspiration.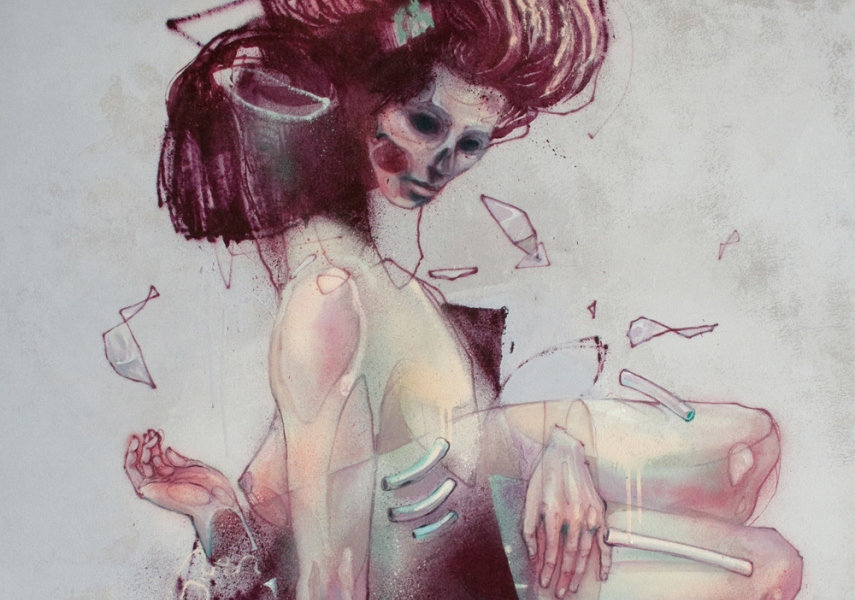 Analog Y: Urban Artists Take On Painting
The latest exhibition Analog Y at 886 Geary Gallery shows a group of artists who work within the scope of analog painting referencing the analogical representational elements of work that could be seen as figurative or representational at times. This new generation of emerging painters transforms and filters reality through their personal diagram as urban contemporary artists.
Six artists in this exhibition come from different countries and backgrounds, but they all share a common interest in urban and street culture. What they also have in common is that, despite starting as street and graffiti artists they went further to expand their creative forces and experiment successfully with a more conventional way of visual expression –on a scale and in form of a painting that can be hung on a gallery wall. Their works however could not be called conventional, they are authentic expressions of each artist's visual language and sensibility.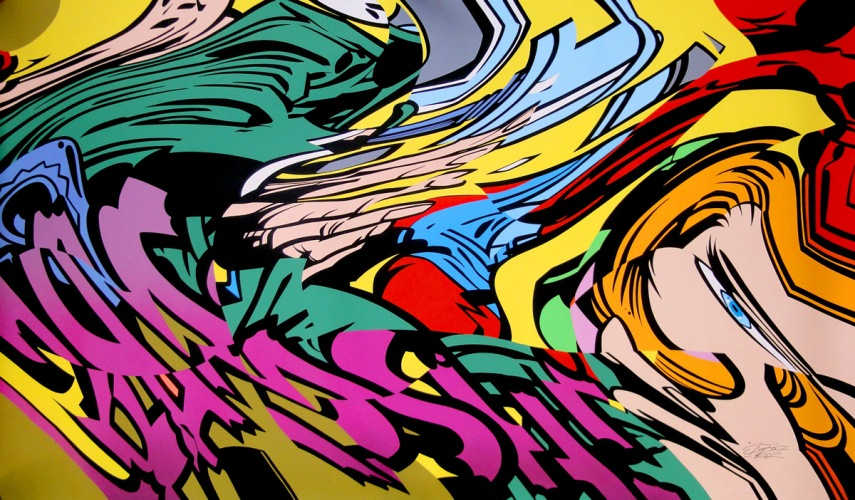 The Artists of Analog Y
Growing up in Parisian suburbs Arnaud Liard developed his unique style along the Parisian train tracks and underground stations in the 1990s. In his studio work Liard has a desire to incorporate the so-called "street" aesthetics on canvas, so he applies cement on his canvases to recompose the appearance of the walls he draws on. Last year he teamed up with fellow artists Lek and Sowat to complete two murals in Marrakech.BLO questions, inverts and perverts aspects of daily life. His current work has become more figurative, drawing from religious imagery, sex, death, and classical painting. The body, specifically the sexualized female form, harks back to aspect of the male gaze, where the influence of Egon Schiele is seen in the use of truncated bodies, loose lines and sexual confrontation. Cekas is one of the emerging artists in the flourishing urban art culture scene in Poland. He most known for large scale murals on the streets of Gdansk and Lodz, but also creates paintings that echoes details of his street art works and sculpture in which he plays with his own artistic signature.
The Bay area street artist and in his own words a hoarder, Optimist uses transport tickets, airplane baggage claim stickers, lists of stuff to do and other paper trail of transportation or representations of time as backgrounds of his paintings. His art is made of his collections. His works are installations made of pieces, like of a puzzle, that tell stories of various memories. The show also features PRO 176 with his signature renderings of new and classical themes correlated to sci-fi and comic thematics. His paintings are packed with unknown galaxies, heroes, villains and robotic characters. Intense dynamics of the recent paintings leads them towards abstraction, although they are based on the representational world of narrative drawing. Vogue is a member of TDK, a group of aerosol artists based in the East Bay, Oakland California. TDK are known for both their mural projects. For the past three years they have been working with property owners, who repeatedly have their building vandalized, by offering to paint murals on their building. The series of murals produced represent Oakland's rich history, diversity, and resiliency.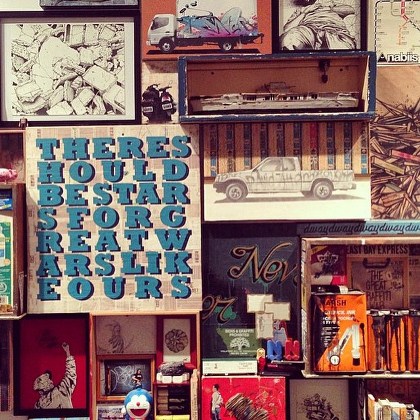 The Analog Artists at 886 Geary Gallery
Poesia, main curator of 886 Geary Gallery, has worked as an artist for over 2 decades in the San Francisco Bay Area and over the past 5 years curated multiple exhibitions internationally. He has now focused his attention to curating and bringing emerging artists to San Francisco. The latest exhibition of works by Arnaud Liard, Blo, Cekas, Optimist, Pro 176, and Vogue is a move in that direction.
The opening reception for Analog Y is on April 11th and the exhibition is open to the public for viewing through May 2nd, 2015.
Stay informed about all exciting artists and shows by signing up to My Widewalls!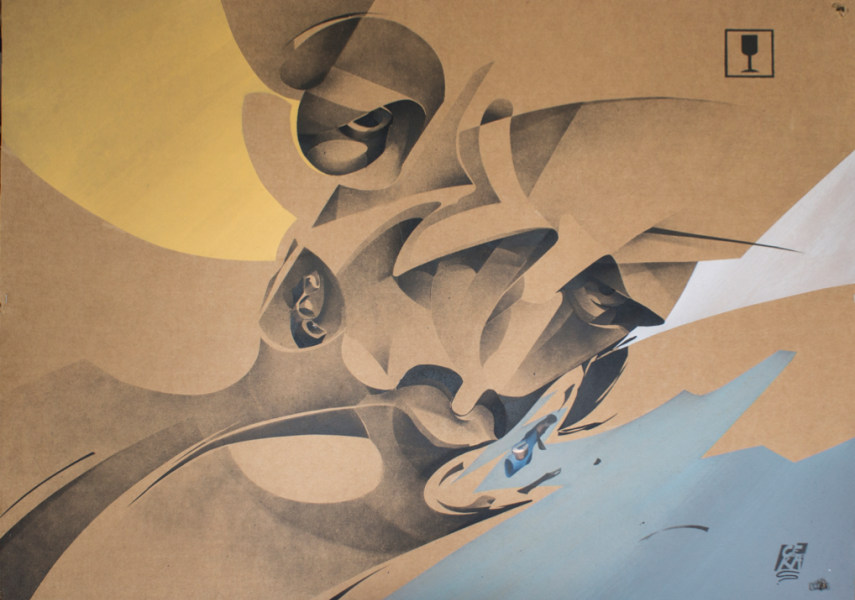 Featured Image – Arnaud Liard, Out of the wall 2015, 81x126cm, Acrylic resin and concrete on canvas. All images courtesy of 886 Geary Gallery. [mc4wp_form]