Andy Warhol's Shadows - The Exhibition
What's your first association for 'Warhol'? Mine is Marilyn. And wig. Perhaps Elvis Presley? Some may think of The Factory, Edie Sedgwick, Velvet Underground or Basquiat. But underneath all the pop art icons Warhol single handedly elevated into the divine realm, lies cleverly hidden intellectual nature of the celebrated superficialist.
If you want to know all about Andy Warhol, just look at the surface of my paintings and films and me and there I am
There's nothing behind it, his complex artistic personality would occasionally slip out of the pop construct and birth experimental and contemplative series only possible because of his brilliant mind. Remembering Oxidations (often called Piss-Paintings), Rorschach or Camouflage series, we uncover multiplicity of layers pressing on the foundation of Warhol's thought, dressing it in fabulous robe of modernity.
One of the more philosophical series that followed are his Shadow paintings, executed in 1978-79, which together make a monumental piece composed of 102 parts. MOCA Los Angeles and Dia Art Foundation joined efforts in organizing and presenting Andy Warhol's Shadows at the West Coast for the first time ever and for the second time in history as a complete series.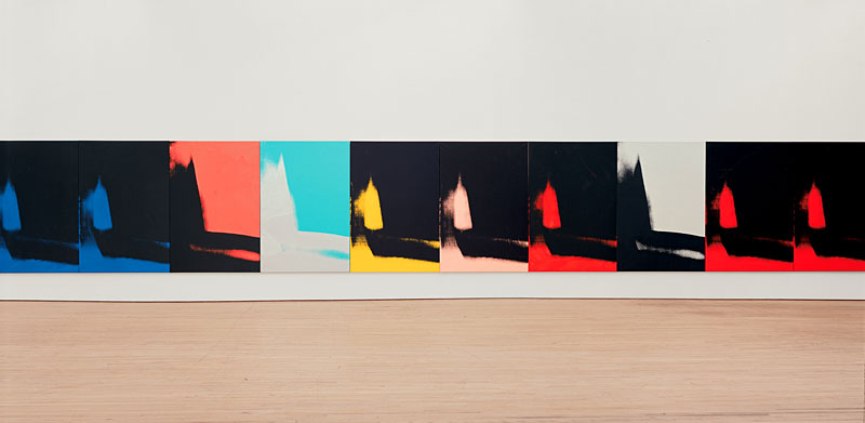 The abstract art in Andy Warhol's work Shadows
Shadows are a large-scale polyptych, assembled of series of different silkscreened and then painted canvases, which feature only two compositional variations in a wide nuance spectrum, from the cold, piercing greens, over screaming blood reds, to dull auburns. The imagery is simple, though profoundly symbolic, as the shadows are gathered from shade photographs taken in The Factory, the infamous hub of Warholian clique. The paintings alternate between positive and negative shadow imprints, each flaunting peak-like black formation if it's a positive, or an oddly cap-shaped color field lingering above the monochrome, usually dark, background of a negative.
Delving deeper than the instantly associative imagery of pop art, Shadows represent Warhols interest in serial production and repetition, much related to his fascination with consumeristic production, a concept he already had bitten into with the previous abstract, but figurative painting series as well. Even though Warhol referred to his abstractions as disco décor, the Shadows series displayed together makes a much more philosophical, spatially aware collection that goes beyond sheer aesthetics.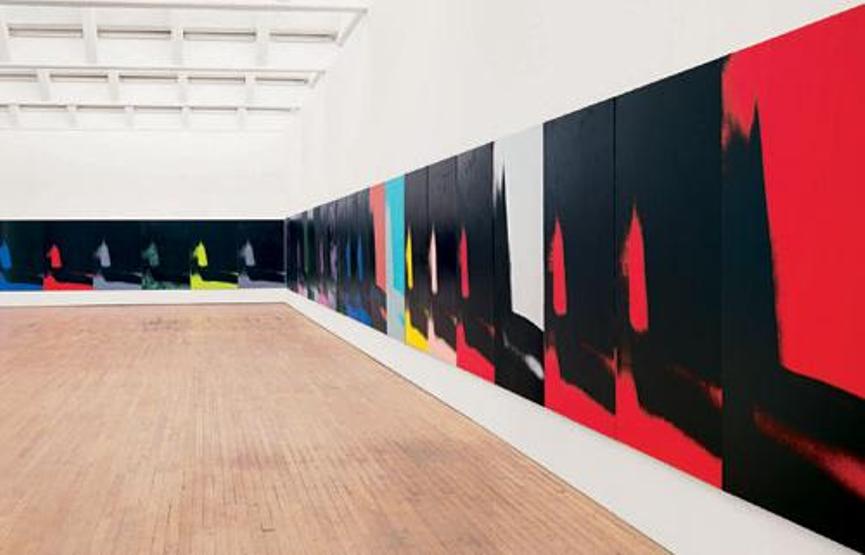 What is so interesting about Andy Warhol: Shadows – The Exhibition?
Mystery of the Shadows lies in the continuous recurrence of the same imagery, creating a specific rhythm, on an abstract plane akin to the aloof psychedelia of Velvet Underground songs. The fact the masterpiece will be exhibited at MOCA in its entirety signifies a very special occasion to experience it, perhaps the only one in the next three-and-a-half decades. First exhibited integrally in January 1979, Shadows were purchased by Lone Star Foundation, now Dia Art Foundation almost instantly.
The original installation consisted of 83 panels, 67 shown publicly and 16 displayed in the back room of the gallery at 393 West Broadway in New York. A body of 19 additional canvases was also created, but it wasn't on show, while a minor number of similar pieces are today in private ownership. Individual canvases are quite sizeable, measuring 76 x 52 inches each, making the complete installation of the series difficult and always limited by the physical boundaries of the exhibition space. The vast MOCA halls will be only the second space ever to house this immense collection.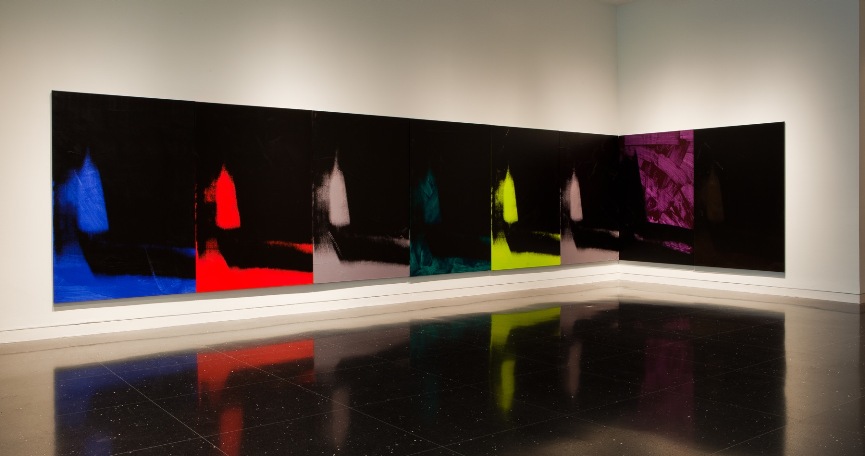 I like boring things

Andy Warhol
Intentionally vague, Andy Warhol's Shadows ooze all the glamour and the doom of the disco back room, revealing the Pop Master as a deep thinker, invoking allusions and transe within the observer. A seemingly neverending strip of photography-based works evokes his experimental film-pictures, polaroid series and relentless duplication of the most recognizable iconography. They represent Warhol's visual meditation, the true state of his isolated mind.
Andy Warhol: Shadows is the full title of the exhibition that is currently on view at MOCA Los Angeles, organized by Dia Art Foundation and MOCA Senior Curator Bennett Simpson. This unique show of one of the most important artists of the 20th century will remain on view through February 2, 2015.