Out of the Box: Warhol's Time Capsules
It's a curiosity, if not common knowledge for all admirers of Andy Warhol, that the great artist stored Time Capsules for years. He was generally an eager collector of art, and all kinds of items and trinkets he saw interesting and pertinent to his daily life.  It all started in 1974 and lasted until time he died. Andy would collect the most significant personal and some general ephemera, press clippings, business cards, letters, photographs and put it away in a cardboard box. This immense project began once the famous artist's Factory was moving from 33 Union Square to the new location on Broadway, as he was inspired by his assistants carrying all the cardboard boxes. The collection of 612 of mostly untouched boxes belong to the Andy Warhol Museum in Pittsburgh today, an institution recently renovated for its two-decade anniversary.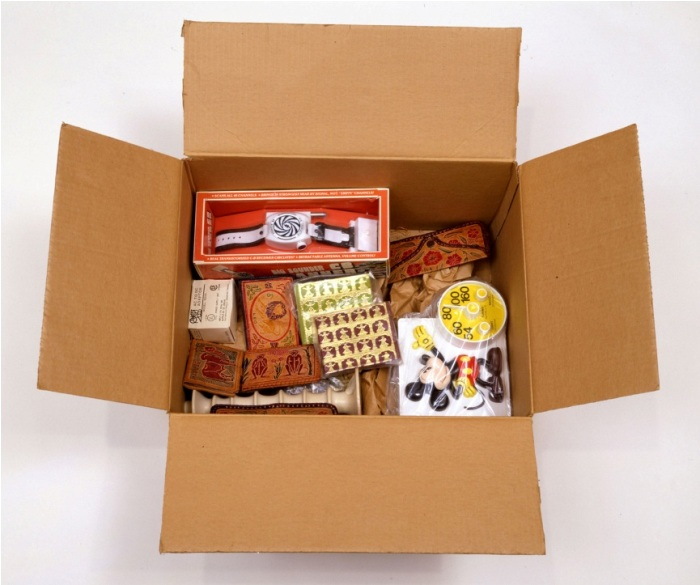 Archived Warhol History
As counted by the museum, the capsules contain "art supplies and materials used by Warhol; posters publicizing his exhibitions and films; about 4,000 audio tapes of conversations between Warhol and his associates; thousands of documentary photographs; a nearly complete run of Interview magazine, which Warhol co-founded in 1969; his extensive library; hundreds of decorative art objects; many personal items such as clothing, and over thirty of the silver-white wigs that became one of Warhol's defining physical features."
May 30, 2014 was a significant day for all enthusiasts and especially for those who research the work of Andy Warhol, as the museum crew commenced opening of Warhol's Time Capsules, with the very significant presence of once artist's assistant Benjamin Liu, who shared his recollection on these seemingly equal boxes. These Time Capsules provide insight into more than the artist's life – they are also perceptive pictures of their era.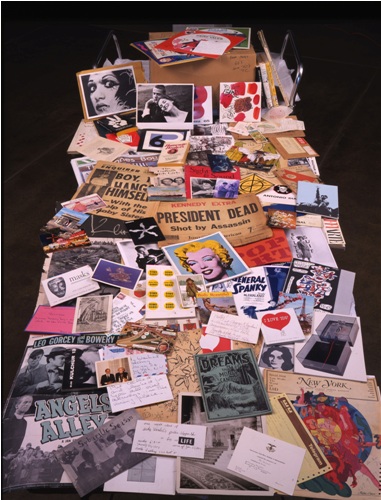 The Warhol Assistant
Benjamin Liu was a personal and studio assistant to Warhol and a co-author of the book, Unseen Warhol. In his statement, he told how he and the pop art master met, over the joint scavenging adventure at a friend's cottage in Long Island. Later, he started working for Warhol, learning that the artist was indeed – a hoarder. According to Liu, Warhol saw artistic or monetary potential in everything that has been touched by celebrity. He was the one responsible for packing, sealing and dating all the Time Capsules.
The feeling gotten from opening these boxes must be beyond exciting. Taking a small glimpse into Andy's world, what he wished for, what he did, what he saw as important, other from what we know from all the books and catalogues. The fortunate ones had the chance to take part in this sacred process, while the rest of us can console in the fact that Time Capsules of pop art will be digitized and put online.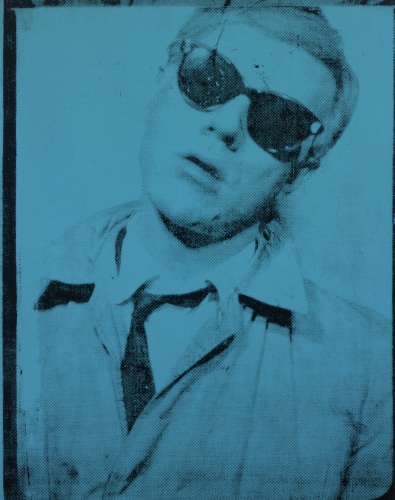 Time Capsule 21
For now, we are happy to carefully examine his Time Capsule 21, opened, archived and explained by the Warhol Museum team. Small collection of precious items includes photographs, correspondence, some newspaper articles torn from the pages, items related to the artist's mother, celebrity photos, self-portraits. Interesting are his financial keeps, since it was known that Warhol was obsessed with keeping bills in order. He would religiously keep track of every penny spent, and this is where some of those receipts ended up.
Other intriguing trinkets are in relation to his own work, such as Dick Tracy print or the slipper postcard, all of which later ended up among Warhol's masterpieces.