Anish Kapoor Twists our Perception for the First Time at Lisson Gallery
It is probably safe to say that there is no bigger fan of stainless steel than Anish Kapoor. The legendary artist has truly mastered the art of this material, using its characteristics to exalt the significance of reflection through a highly polished surface. While we're very familiar with his public sculptures of a grand scale, what's perhaps less known are his smaller pieces, and the audience in Milan will now have the opportunity to see fourteen of them in a single Anish Kapoor exhibition, the artist's first at Lisson Gallery. In addition to these, staying true to the grandeur is one larger "twist" artwork, which will be located on the gallery's terrace.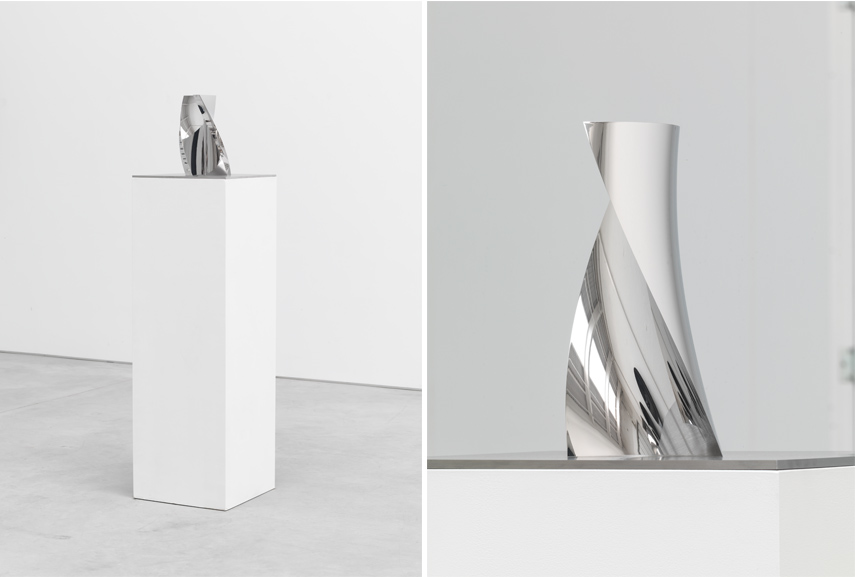 Twists of Reflections
Measuring no more than 30 centimetres, of one foot, in height, Anish Kapoor's small-scale sculptures are all twisted – quite literally – through an unspecified number of degrees that never goes over a quarter of a turn, or 90°. Minimalist and abstract at the same time, each piece contains a different, recognisable "footprint", ranging from an L-shape, a W-shape and an oval, to a crescent moon, an equilateral triangle and a figure-8, for instance. Mounted on plinths and scattered across the gallery space, the artworks form a dialogue among themselves, inviting the viewer to go beyond their intriguing shapes and shiny surfaces, in order to explore the reflection they come to encounter – for behind each of these twists lies a symbolic, scientific or spiritual meaning, expressed through fluidity and distortion of the familiar.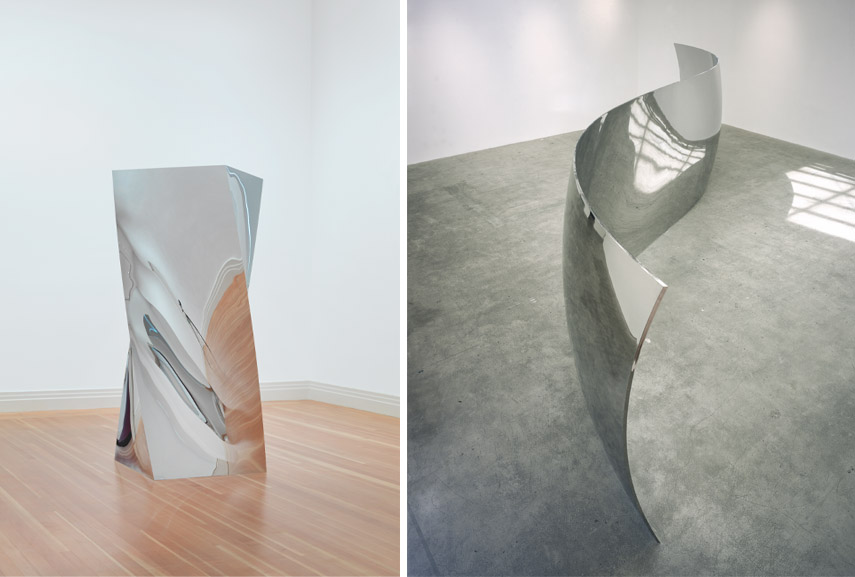 The Revelations within the Curves
In his practice, Anish Kapoor often focuses on the physical and metaphysical notions of the curve, its endless dualities and flowing tendencies. Arguably, the most famous example of such investigation could be his 2004 Cloud Gate, installed in Chicago's Millennium Park, or the 2007 C-Curve at the Chateau de Versailles, in which the world is turned upside down and is revealing itself in a whole new light. With the smaller sculptures, however, Anish Kapoor manages to create an uneasy kind of tension, by "suspending" their twists mid-way, held at just the optimum moment, acting as a lens for seeing the universe as it really is. Although everything is inverted, it is still somehow crystal clear, perhaps even more than before…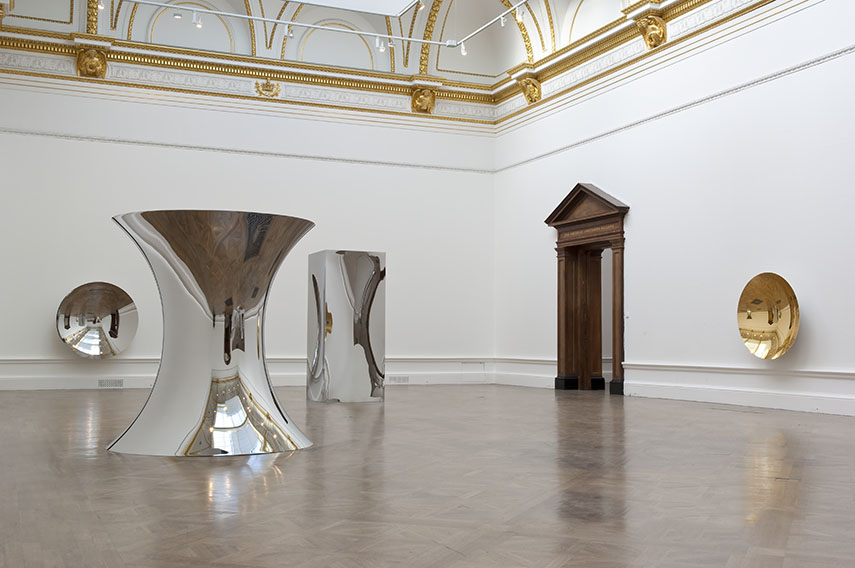 Anish Kapoor Exhibition at Lisson Gallery Milan
One of the most versatile sculptors working today, Anish Kapoor knows no limits in creativity or materiality of his art. Whether it's the immense PVC skins, recesses carved in stone or masses of blood-red wax, his pieces provoke their viewers' imagination in a remarkable way, combining the mythologies of the ancient world with modern times both within gallery spaces and under the blue skies across the world. The exhibition of new stainless steel sculptures by Anish Kapoor will be on view at Lisson Gallery in Milan, Italy, from May 13 through July 22, 2016.
  Editors' Tip: Anish Kapoor: Unconformity and Entropy
This book explores the way Anish Kapoor merged sculpture and architecture in many of his works throughout his extensive artistic career. Now, in a world designed using CAD programs, Kapoor argues that the next logical step in integrating design with production is to move from virtual models to 3D-printed buildings. In Unconformity and Entropy, a number of finished architectural works are fleshed out with preparatory studies and extracts from the artist's extensive technical research, illustrating his investigation of the fluid and plastic qualities of cement. Central to the project is the conceit of the use of a purpose-built machine to generate forms through which Kapoor would explore the intersection of idea and event. Extensively illustrated with original drawings, sketches and color photographs, and superbly designed, Unconformity and Entropy also includes several illuminating introductory essays.
Featured images in slider: Anish Kapoor – Non-Object (Oval Twist), 2013. 250 x 128 x 150 cm; Non-Object (Door), 2008. 281.3 x 118.1 x 118.1 cm; Non Object (Square Twist), 2013. 250 x 144 x 100 cm. Stainless Steel. © Anish Kapoor; Courtesy of Lisson Gallery. Photography by Dave Morgan; Anish Kapoor – Tall Tree & The Eye, 2009. Stainless Steel, 1300 x 500 x 500 cm. © Anish Kapoor; Courtesy of Lisson Gallery. Photography by Kim Hyun-Soo; Anish Kapoor – Sky Mirror, 2006. Stainless steel, Diameter 1000 cm. © Anish Kapoor; Courtesy of Lisson Gallery. Photography by Tim Mitchell; Anish Kapoor – Non-Object (Spire), 2007. Stainless steel, 302.3 x 300 x 300 cm. © Anish Kapoor; Courtesy of Lisson Gallery. Photography by Tim Mitchell; Anish Kapoor – C-Curve, 2007. Stainless steel, 220 x 770 x 300 cm. © Anish Kapoor; Courtesy of Lisson Gallery. Photography by Dave Morgan.
Follow These Galleries
Milan, Italy

Tokyo, Japan