Why Anne Brigman Photography is Now As Relevant as Ever
Bold and revolutionary in every way, the practice of Anne Brigman challenged the norms of her time. Critically acclaimed pictorial photographer in 1900's America, but also a poet, critic and mountaineer, she made nature her studio, photographing female nudes in California's spectacular and still relatively remote Sierra Nevada Mountains. The Anne Brigman photography was largely influenced by European Symbolism but also drew on pagan mythology, Romanticism and her childhood exposure to the native beliefs of the Hawaiian people.
The work of this pioneering artist will soon be the subject of a major photo retrospective at the Nevada Museum of Art. Titled Anne Brigman: Visionary in Modern Photography, the exhibition will bring together 250 photographs drawn from public and private collections. Encompassing the entirety of her career, the selection will include her iconic work, early photographic explorations, as well as never before seen images, correspondence and archival materials.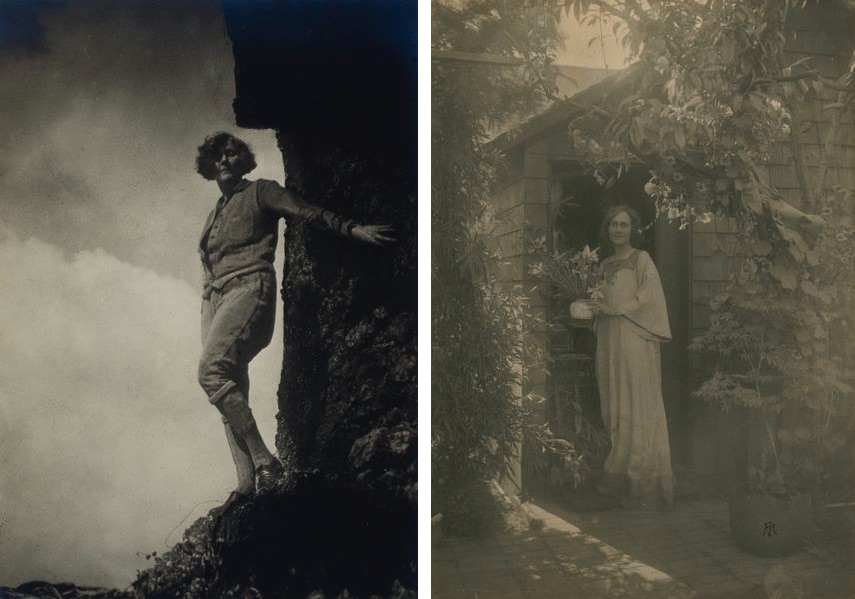 Photographs Set in the Wilderness
Born in Hawaii in 1869, where she developed a deep appreciation for the natural world, Anne Brigman moved to California at the age of 16, married a sea captain at 25, and built an artistic career by taking her camera to the mountains and photographing herself and her friends in the nude in settings of spectacular natural beauty.
Initially trained as a painter, she turned to photography in 1902. At the time, the photography epicenter was in Europe, extending to a dedicated but small group of practitioners on the Northeast coast of the United States. Within a few years, she was invited to join Alfred Stieglitz's Photo Secession movement which aimed to elevate photography to a medium of individual expression equal to the traditional art forms of the time. Being elected a Fellow of the Photo Secession movement in 1906, she was the sole photographer west of the Mississippi to be so designated. Because of her distance from the other members in New York, this recognition is a significant indicator of her artistic status
Characterized by a free-spirited nature, she challenged the customs of her Victorian upbringing and broke the rules of propriety for her time. Her shooting style and choice of subjects and models diverged from the ordinary. Returning to her love for nature, she began to stage her nudes in the wilderness of the Sierra Nevada, California. She once wrote:
In all of my years of work with the lens, I've dreamed of and loved to work with the human figure – to embody it in rocks and trees, to make it part of the elements, not apart from them.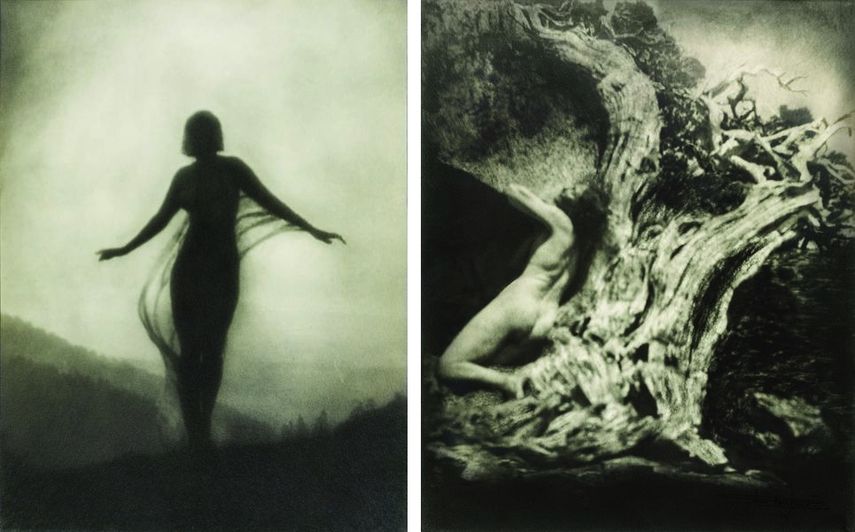 The Style of Anne Brigman
Brigman's background in painting was particularly evident in her early work where she employed extensive post-processing, editing her negatives using pencils, paints and superimposition. Throughout her career, she has developed a unique relationship with Sierra Nevada mountains, which were still relatively remote and inaccessible.
She would hike into the mountains alone or with friends, bringing supplies and gear for a stay which took anywhere from two weeks to two months. She would photograph her subjects, often in nude, in this natural setting, making them integral to it. Her preparations for the scene were meticulous, tidying up around tree's roots, removing unattractive stones and pebbles, making the process as important as the final result.
This approach was informed by her fascination with paganism and ancient mythologies, portraying her subjects as other-worldly, ethereal beings placed in the realm of the unusual, the beautiful and the surreal. She once described her work as "the partially realized fancies" which flourished "in a wild part of the Sierras where gnomes and elves and spirits of the trees reveal themselves under certain mystical incantations." In her work, she reflected the power of nature, striping her subjects of all signs of modernity and disrupting the dominant narrative of the man's dominance over nature. Brigman also published several poetry books.
In later years, she became intrigued by patterns created in the sand by wind and surf, creating more introspective and more abstract works. However, these works was never as popular as her earlier style of dramatic pictorialism.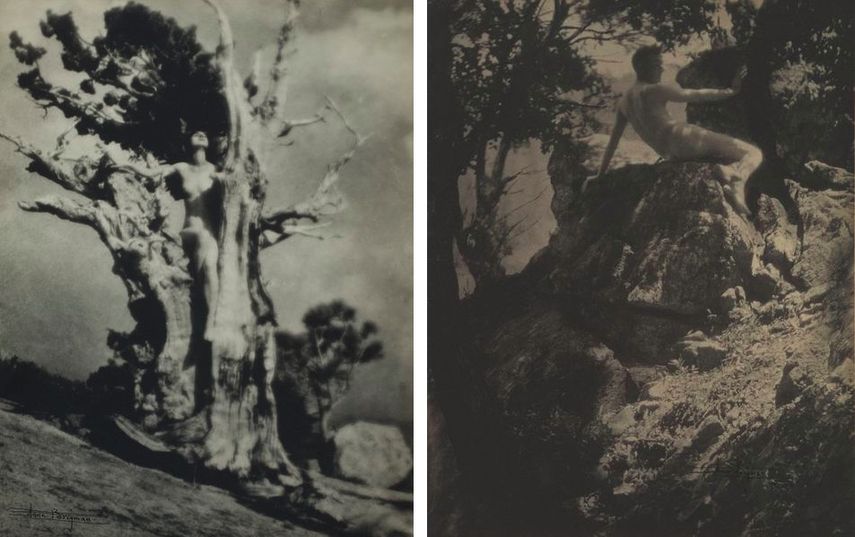 Anne Brigman As a Proto-Feminist
Much before feminist art practices, the work of Anne Brigman allowed her to redefine her place as a woman in a society, establishing herself as an important forerunner in the history of the field. In 1913, she wrote:
My pictures tell of my freedom of soul, of my emancipation from fear. I slowly found my power with the camera among the junipers and the tamarack pines of the high, storm-swept altitudes.
As exhibition curator and book editor Ann M. Wolfe explains, it is the right time to rediscover the work of this visionary photographer:
The thought of a woman making nude self-portraits of herself in the early 1900s was radical, but to do so in the rugged wilderness of the Sierra Nevada was revolutionary.
To illustrate the way Anne Brigman's work confronted art history traditions, embraced nature and re-claimed a space for women, the museum is hosting a concurring exhibition titled Bare in the Landscape. Comparing the proto-feminist landscape photographs of Brigman to her feminist counterparts of the latter twentieth- and early twenty-first centuries, the exhibition brings together photographs, films, and performance documentation by women artists who also situate the nude female body in outdoor landscapes.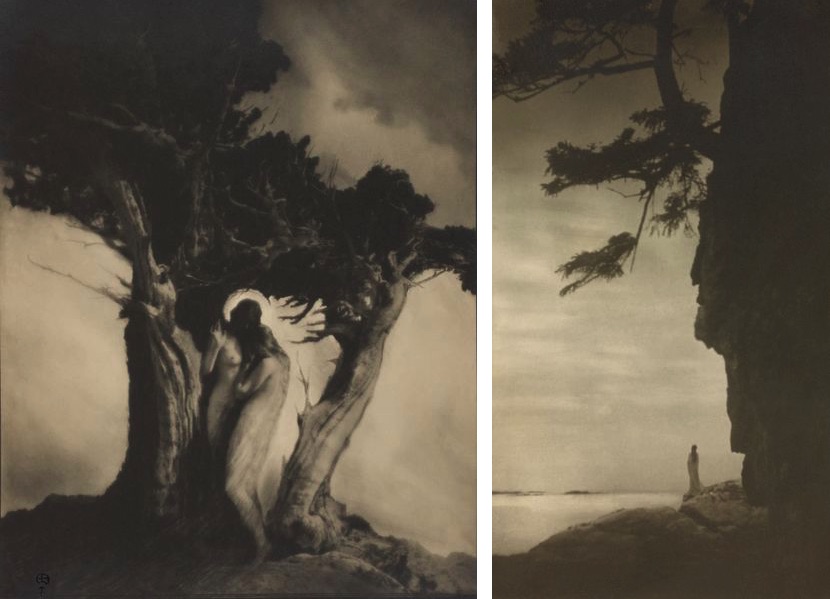 Anne Brigman Photography at Nevada Museum of Art
The exhibition Anne Brigman: Visionary in Modern Photography will be on view at Nevada Museum of Art in Reno until January 27th, 2019.
Artists featured in the concurring exhibition Bare in the Landscape, which will also be on view until January 27th, 2019, are Laura Aguilar, Judy Chicago, Imogen Cunningham, Louise Dahl-Wolfe, Judy Dater, Mary Beth Edelson, Regina Jose Galindo, Kirsten Justesen, Ana Mendieta, Joan Myers, Otobong Nkanga, Cara Romero, Carolee Schneemann, Xaviera Simmons, Jo Spence, Sarah Trouche, and Francesca Woodman.
 Editors' Tip: Anne Brigman: A Visionary in Modern Photography
This published volume offers a much-anticipated look at one of the first feminist artists, best known for her iconic landscape photographs made in the early 1900s depicting female nudes outdoors in rugged Northern California. It rediscovers and celebrates the work of Anne Brigman, whose photography was considered radical for its time. 

The special deluxe packaging for this publication includes a box containing two volumes: one large book is devoted to Brigman's entire career, covering such topics as her work within the contexts of the California Arts & Crafts movement and New York Modernism, and the relevance of her work to contemporary conversations regarding gendered landscapes of the American frontier. Also included is a smaller book with Brigman's poetry and reproductions of her original Songs of a Pagan.
Featured image: Anne Brigman – Dawn, 1909. Gelatin silver print, 5 1/4 x 10 1/4 inches. The Metropolitan Museum of Art, Alfred Stieglitz Collection, 1933. (33.43.100). Copy photograph © The Metropolitan Museum of Art. Image copyright © The Metropolitan Museum of Art. Image source: Art Resource, NY; The Storm Tree, 1911. Platinum print, 7 5/8 x 9 9/16 inches. The Metropolitan Museum of Art, Alfred Stieglitz Collection, 1933. (33.43.118). Image copyright © The Metropolitan Museum of Art. Image source: Art Resource, NY; Soul of the Blasted Pine, negative 1906. Gelatin silver print, 7 11/16 x 9 5/8 inches. Wilson Centre for Photography; The Bubble, negative 1906. Gelatin silver print, 7 1/2 x 9 1/2 inches. Wilson Centre for Photography; Untitled [study of sand erosion], circa 1935. Gelatin silver print, 7 5/8 x 9 3/4 inches. The Michael G. and C. Jane Wilson 2007 Trust; Sand Erosion, 1931. Gelatin silver print, 7 5/8 x 9 3/4 inches. The Michael G. and C. Jane Wilson 2007 Trust; A Study in Radiation, 1924. Gelatin silver print, 7 11/16 x 9 3/4 inches. The Museum of Modern Art, New York, Thomas Walther Collection. Gift of Mrs. B. S. Sexton and Mina Turner, by exchange. Digital image © The Museum of Modern Art/Licensed by SCALA / Art Resource, NY. All images courtesy of Nevada Museum of Art.