Antoine Corbineau Exhibition Fugue Presents New Coloristic Paintings at Galerie L.J.
Antoine Corbineau is best known for his illustrative works and he is possibly the most interesting young illustrator France has to offer today. His reputation is also growing internationally, but his fame as an illustrator has slightly overshadowed his work as a painter. In December, his lesser-known painting oeuvre will be in focus in his second solo show at Galerie L.J. in Paris. The exhibition is entitled Fugue or The Runaway in English translation and it brings the line of beautiful landscapes. The choice to introduce Corbineau's more figurative works came naturally, as Galerie L.J. has dedicated its programming aims to the presentation of emerging talents with inclinations towards figuration.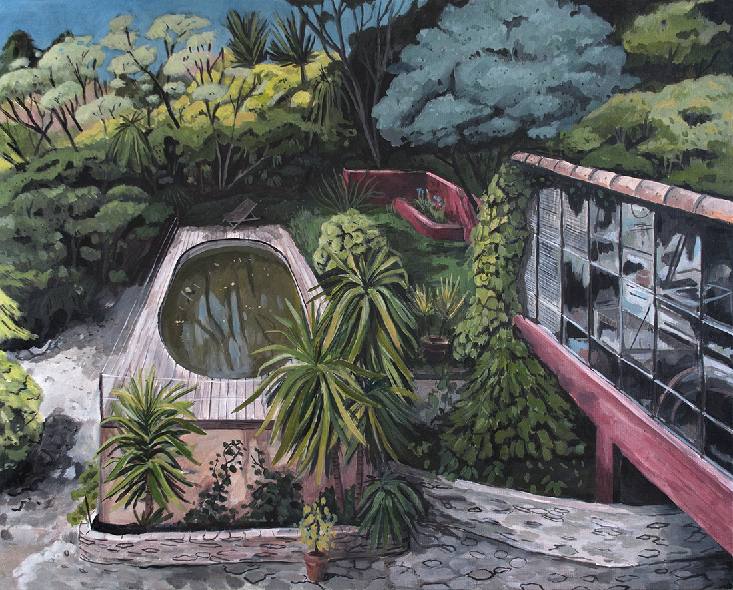 Few Words about Antoine Corbineau's Art
Antoine Corbineau is a multidisciplinary artist whose work fluctuates between the fields of commercial design and fine art. Corbineau who currently resides in Nantes became widely famous for his cartographic illustrations, vivid and colorful brand designs for companies and organizations all across the globe. However, in the last few years he became increasingly interested in painting, developing a unique approach significantly different from his illustrative works. The highly detailed compositions, bright colors and map-like settings of his illustrations are nowhere to be found in his line of works on canvas. His paintings are more figurative and realistic, darker and gloomier, although they kept that particular sense of observation and a keen interest in details. Free from commercial goals, Corbineau's paintings are reflexive and intimate, and it looks like the artist has found a medium suitable for the full realization of his creative potentials.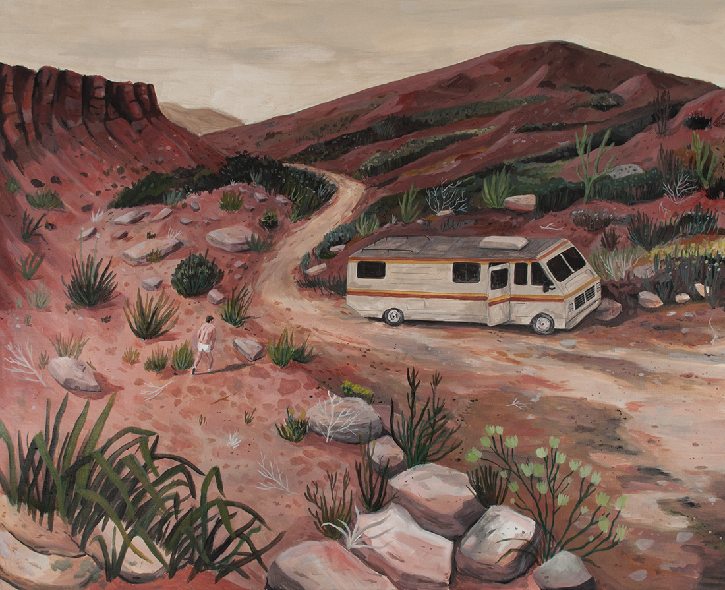 Running Away – Inspiration behind the Paintings
The exhibition Fugue brings an interesting line of works inspired by two undertakings the artist engaged during the last year. On the one side, Corbineau's latest works are inspired by the imagery found in a variety of web photographs and photos of different places and scenes he captured on his phone. The other side is more personal, based on the artist's recollections of the past, memories he translated into scathes. In overlapping of these two layers, a new body of work was born, paintings that bring together different visions of the past and merge disparate physical realities. Therefore, the new paintings are intrinsically auto-reflexive due to the juxtaposition of different imagery from different times, captured in different mediums, and highly retrospective as they bring together the artists memories from various points in life. In its most literal sense, the title of the exhibition brings the notion of escape, travel and movement, whether it's temporal return to the past or physical movement in space, nicely captured in his series of landscapes.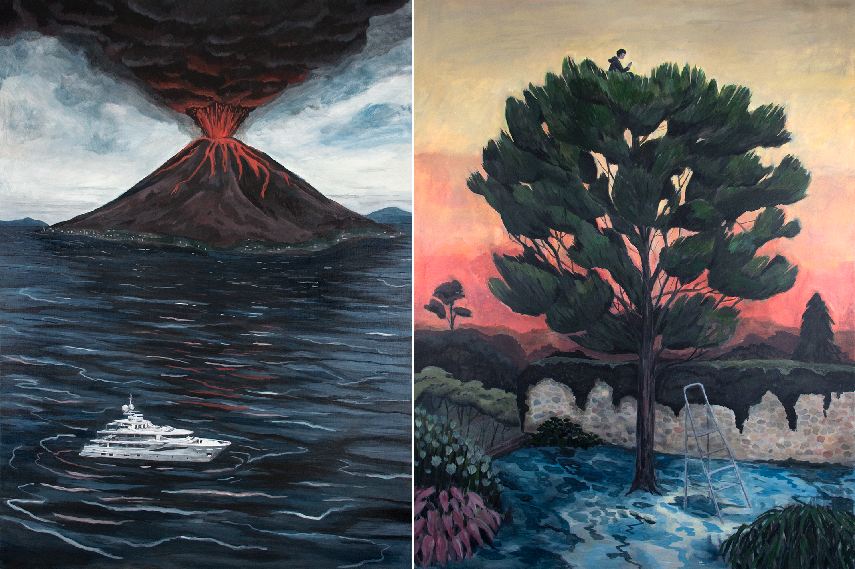 Fugue Solo Show at Galerie L.J.
The Fugue exhibition will encompass an array of Corbineau's paintings executed with acrylic on canvas. It is truly a great opportunity for those who are familiar with Corbineau as an illustrator to discover another interesting side to his creative undertaking. The exhibition will be on view from December 3rd, 2015 to January 16th, 2016 at Galerie L.J. in the center of Marais district in Paris.
There is always something new to discover in the world of contemporary art and you can do it for free if you sign up for My Widewalls!
Featured images: Antoine Corbineau – Ouzo, 2015, detail. Acrylic on canvas – 97 x 130 cm; Antoine Corbineau – Mars, 2015. Acrylic on canvas – 89 x 130 cm. All images courtesy of Galerie L.J.