Antony Micallef presents liminal animals
The acclaimed British artist Antony Micallef and the Leyden Gallery in London present Animal/Liminal. An exhibition that showcases selected Antony Micallef prints from the galleries archive. The exhibitions theme is liminal creatures, beings that cannot be associated to one form of existence. In Micallef's case the liminal beings are combinations of animals, humans, machines, icons and graffiti. The combinations of these different forms are beautiful and fabulous creatures that are in no way as frightening as their composition might suggest. The prints are created in Antony Micallef's signature light, pastel and subtly style. Micallef's work depicts the typical iconic imagery like Mickey Mouse or Ronald McDonald and fuses this with antique seeming hybrids. Antony Micallef manages to fuse human, animal and pop culture into a critical political statement that questions our societies understanding of existence. Antony Micallef says that his work is like "watching a Disney movie that slowly transforms into violence and pornography and you don't know how or when the change happens." This statement underlines Micallef's political message that the superficial notion of life that western societies life is unburdened but when taking a closer look we are more destructive than we presume.
For more information and pictures visit Leyden Gallery's website.
Anthony Micallef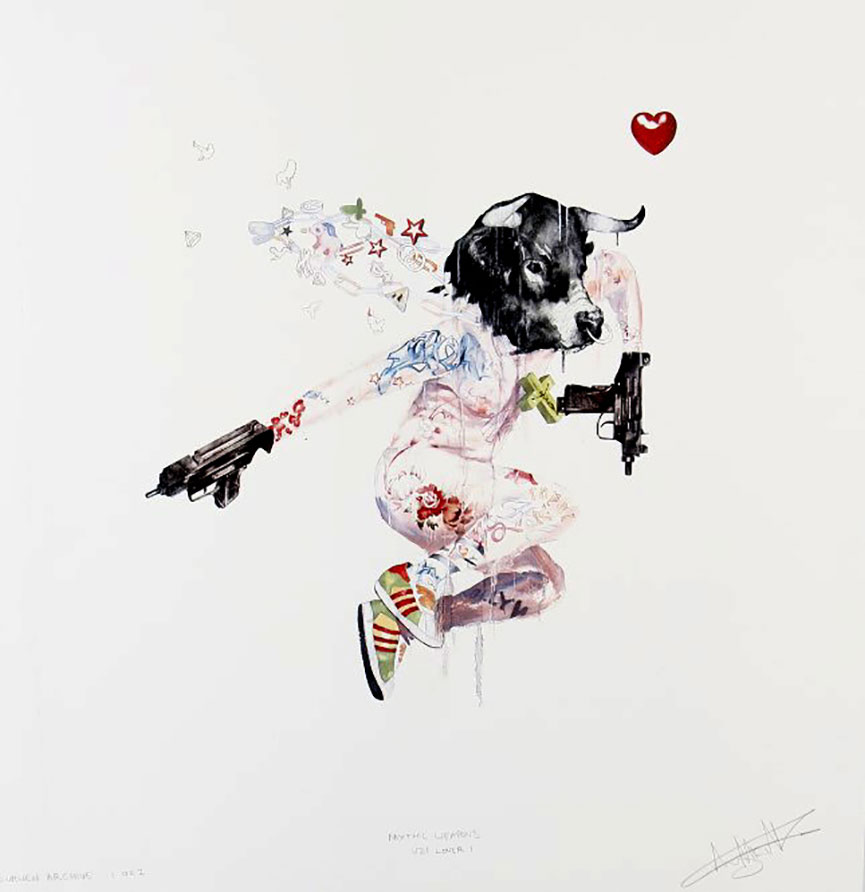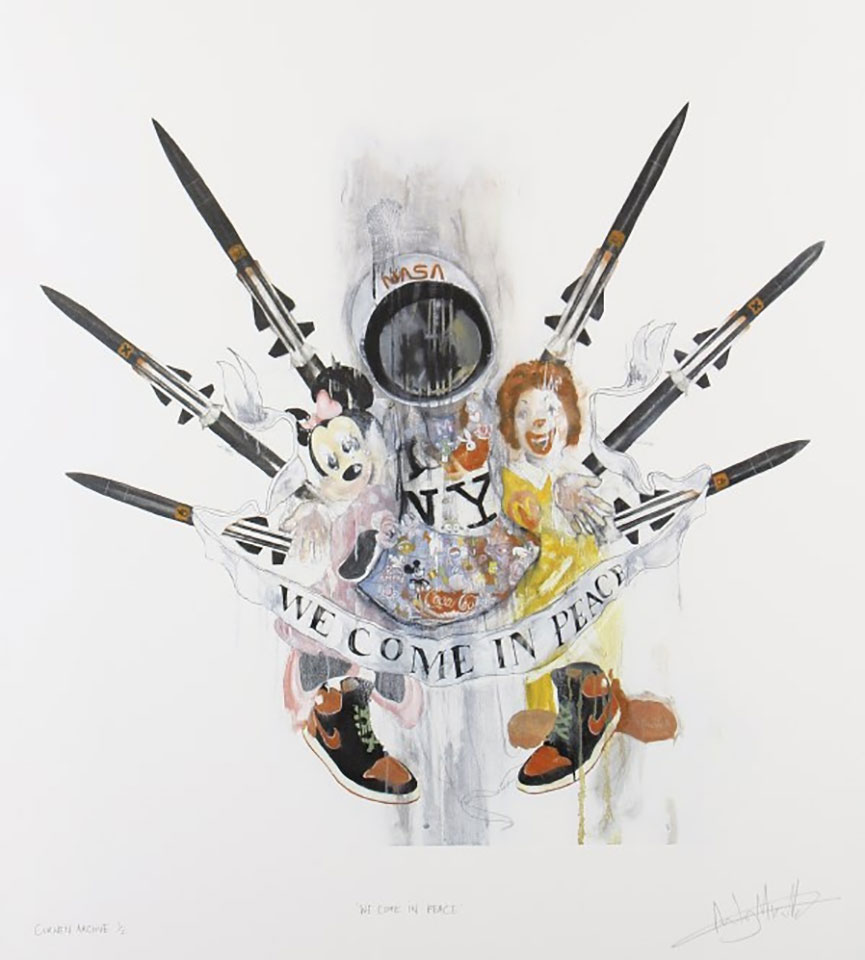 Antony Micallef – Background
Antony Micallef is widely recognized as one of the finest painters in contemporary art today. His ambitious and opulent canvases examine this generation's complex relationship with consumerism and indulgence. Expressionist scenes of hedonistic excess, shop window seduction and international travel mix with spiritual iconography and lavish brush strokes. Described as "Caravaggio meets Manga", this potent cocktail has unsurprisingly seen Antony become one of the most compelling living painters. He describes his work as "like watching a Disney movie which slowly turns into violent pornography," elaborating with, "the trouble with pop imagery is that it doesn't really go deeper than the surface, you have to drag it down and challenge it to make it interesting." Antony was notably trained by the notoriously austere landscape painter John Virtue. While his mentor's influence can certainly be seen, especially in early monochrome works such as Kiss at Tower Bridge, in contrast Antony has often passionately embraced color. The artist's oeuvre also takes in charcoal self-portraits – the lauded Head series – and grandiose reboots of mythological scenes such as A Study of Icarus. He even exhibited a series of large bronze nickel-plated sculptures, The Idol Kids of Today, in the colonnade that forms the entrance to London's Royal Academy of Art. The sculptures also appeared in Lazarides' Hell's Half-Acre exhibition. His career landmarks include coming runner-up in the BP Portrait Prize, the wildly successful solo exhibition, Impure Idols, on Hollywood Boulevard, and inclusion in AKA Peace, a group exhibition at London's Institute of Contemporary Arts curated by Jake Chapman. He has also exhibited at Tate Britain, and in Tokyo, Athens and Bethlehem (in an exhibition curated by Banksy).
Pictures retrieved from: Leyden Gallery