Art Wynwood 2016 to Show An Eclectic Collection of Artworks
Art Wynwood is listed as one of the art fairs that shouldn't be missed this year, and it is already renowned for attracting many collectors, curators and art world luminaries from all over the world during the winter season. Its identity is characterized by its unique approach to the emerging street artists and muralists, as well as to many talented artists from other art genres, worldwide. This year's fair, which is its 4th edition, is a bit more inclusive, as a few additions were made to its program – a new exhibition on the 60s, a focus on Miami institutions and a section dedicated to Canada. Art Wynwood will feature around 70 galleries and artists this year, coming from various countries, from the USA, Canada, Europe and Asia as well.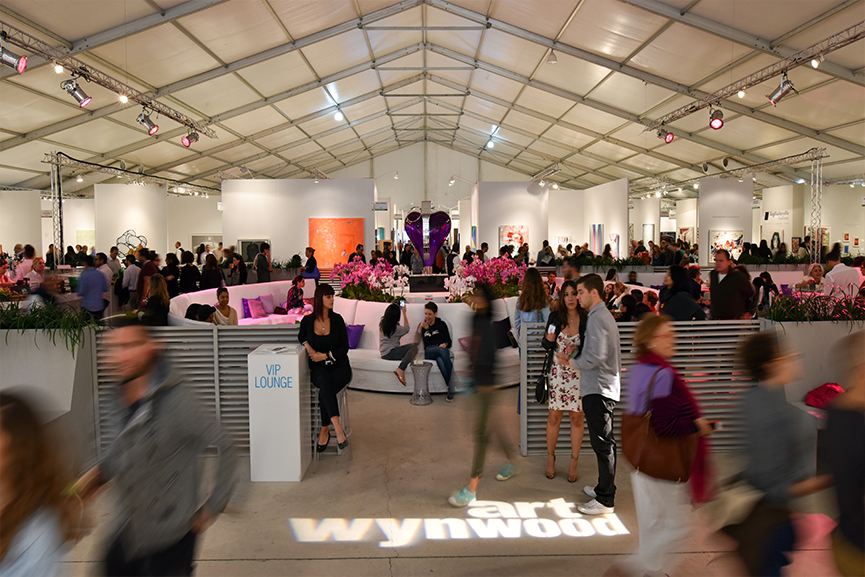 Attracting More People Each Year
Established in the art-centric neighborhood, Art Wynwood attracts many different artists, and also addresses the international art scene. It mostly reflects on street art, but it also showcases pieces of some major underground art streams, such as pop surrealism. In 2015, Art Wynwood attracted around 35 000 guests during its five-day run, and more than 7500 VIP guests attended the opening night VIP Private Preview. This year, the fair is expected to gather an even larger audience, not only because of its growing reputation and the wide spectrum of contemporary art, but also because of the prestigious event it coincides with – Yacht & Brokerage Show, located less than five miles away from the Art Wynwood pavilion. The art fair also takes place on the President's Day weekend, and it will probably be one of the busiest weekends in Miami at this time of year. This year's edition of the fair will certainly bring a rich program, diverse in content, and the outstanding list of galleries includes Heitsch Gallery, Robert Fontaine Gallery, m+V Art Miami, Art Lexing, Unix Gallery and ZK Gallery.
List of Exhibitors
| GALLERY | CITY |
| --- | --- |
| 55 Bellechasse Paris | Paris |
| ARCHEUS / POST-MODERN London | London |
| Art Bastion Miami | Miami |
| Art Center Allapattah Miami | Miami |
| ART LEXÏNG Miami | Miami |
| Art Nouveau Gallery Miami, Maracaibo | Miami, Maracaibo |
| Artêria Bromont | Bromont |
| Artfactory Club Vaduz | Vaduz |
| Artium Art Gallery Miami | Miami |
| Ascaso Gallery Miami | Miami |
| Aureus Contemporary Wakefield | Wakefield |
| Berry Campbell New York | New York |
| Bossa Gallery Miami | Miami |
| Boulakia Fine Art Paris, London | Paris, London |
| Cantor Fine Art | |
| Cernuda Arte Coral Gables | Coral Gables |
| Christopher Martin Gallery Aspen, Dallas | Aspen, Dallas |
| Contessa Gallery Cleveland | Cleveland |
| Dean Project Miami Beach | Miami Beach |
| Diana Lowenstein Gallery | |
| Durban Segnini Gallery Miami | Miami |
| Elizabeth Clement Fine Art New York | New York |
| Emmanuel Fremin Gallery New York City | New York City |
| Galerie Ernst Hilger Vienna | Vienna |
| Fabian Castanier Gallery Culver City, Bogota | Culver City, Bogota |
| Frederic Got | |
| Galeria RGR+ART | |
| Galerie von Braunbehrens Stuttgart | Stuttgart |
| Galleria Ca' d'Oro Rome, Miami, New York City | Rome, Miami, New York City |
| Galleria Farina Miami | Miami |
| Gallery Tableau Seoul | Seoul |
| GAMO Gallery Seoul | Seoul |
| Hazelton Galleries Toronto | Toronto |
| Heller Gallery New York | New York |
| Hollis Taggart Galleries New York | New York |
| In Dubio Pro Arte Hamburg | Hamburg |
| Joerg Heitsch Gallery Munich | Munich |
| K+Y gallery Paris | Paris |
| Lelia Mordoch Gallery | |
| Long-Sharp Gallery Indianapolis | Indianapolis |
| MADA - Miami Art Dealers Association | |
| Now Contemporary Art Miami | Miami |
| Projects Gallery Miami | Miami |
| Ranivilu Art Gallery Miami | Miami |
| Robert Fontaine Gallery Miami | Miami |
| Rofa Projects Potomac | Potomac |
| Rosenbaum Contemporary Bal Harbour, Boca Raton | Bal Harbour, Boca Raton |
| S W G R Gallery Miami | Miami |
| Schantz Galleries Stockbridge | Stockbridge |
| Silver Lining Fine Arts Miami | Miami |
| Spence Gallery Toronto | Toronto |
| Spinello Projects Miami | Miami |
| SPONDER GALLERY Miami | Miami |
| The Great Dane Collection Philadelphia | Philadelphia |
| Unique Gallery Ltd. Dubai | Dubai |
| UNIX Gallery New York | New York |
| Vertu Fine Art Boca Raton | Boca Raton |
| Villa del Arte Galleries Barcelona, Amsterdam | Barcelona, Amsterdam |
| Vogelsang Gallery Brussels | Brussels |
| Waltman Ortega Fine Art Miami, Paris | Miami, Paris |
| Waterhouse & Dodd New York, London | New York, London |
| White Dot Gallery Miami | Miami |
| Winkleman Gallery New York | New York |
| Wynwood 28 Miami | Miami |
| ZK Gallery San Francisco | San Francisco |
Special Sections of the Fair
The intent behind introducing the 60's art section is to help familiarize the younger audience with this genre, and to reinterpret the 60's for the collectors who are already keen on the decade. The project will be accompanied by a series of lectures and some additional events, such as a special film screening and a musical component. The other special section, FOCUS MIAMI, strives to put emphasis on the local, and to promote enthusiasm with which the city supports both the mainstream and the alternative art scene. It will present non-profit exhibition spaces, art publications and innovative programs, such as the Miami Rail publication, YES artist exchange program, Laundromat – workshop incubator for the disabled, and Cannonball artist residency. The third new addition is related to Canada and its growing art scene. The section is called Northern Border, and it will present works offered by the galleries from a few Canadian cities, including Toronto, Montreal, Halifax and Vancouver.
Location of the Venue
Art Wynwood 2016 – Practical Information
Nick Korniloff, the executive VP and Partner of Art Miami LLC, admits that it is not easy to extend on the trends brought by December's Miami Art Week, but also explains how the success of Art Wynwood continuously grows. The fair claims to offer the best opportunity to discover and collect some of the most interesting artworks of our time, which will be particularly important to serious art collectors. The event will take place from Thursday, February 11 to Monday, February 16, and a prestigious VIP Preview is set for February 11, from 6 to 10 PM, and will be guided by Merrill Lynch. Daily ticket price is $25, and a multi-day fair pass can be purchased for $55. There are discounts for students, seniors and groups. For more information, we suggest that you visit their official website.
Featured Images: Exhibition banner for ArtWynwood; Jorge Martinez Gualdron, at ArtWynwood Miami 2015. All images courtesy of Art Wynwood Miami.