Artist of the Week - Jana & Js
If you're lucky enough to do what you love in life, then your job isn't a job, but a pleasure. If you do what you love with someone you love, then I'm not sure there is anything left for you to ask for. Combining business with pleasure for over eight years now are Jana Balluch from Austria and Jean-Sebastien Philippe from France, two artists whom perhaps you know better as Jana & Js. Theirs is quite a love story: they met through Artiste-ouvrier, aka Pierre-Benoît Dumont, a French painter and street artist who practiced stencil within a community of artists called WCA – Working Class Artists. Js, along with artist 6lex, was already part of this group before Jana joined them in 2006. Jana & Js painted their first wall in Paris, and since 2007, they've been joining their creative forces and making great art around the world. It is our pleasure to introduce them as our this week's Artists of the Week.
The Amazing Art of Jana & Js
Inspired by the urban landscape and its ephemeral, ever-changing state in time, but also the people who inhabit it, Jana & Js use the stencil technique to mark the very cities they depict. Almost all of their artworks are based on their photographic works, previously made for the purpose of being pure sketches for the final stencil piece. They paint on doors, walls and different architectural elements, but also on trunks and branches of trees, as they follow their aesthetic ideas. Their multi-colored stencil artworks usually depict realistic portraits of people in different sizes, which explore the notions of individualism within metropolises and large communities. Their urban interventions merge their subjects with the environment, provoking thoughts and engaging the viewers in an artistic dialogue. After living in Paris for some time, Jana & Js now live and work near Salzburg, Austria.
A Matter of Time Exhibition at Pretty Portal Gallery
For their solo exhibition at Pretty Portal Gallery in Dusseldorf, Jana & Js painted their trademark characters on old objects, found in urban areas and brought to the gallery space in form of an artwork. The works have been described as "a snapshot in time", as if Jana & Js's subjects were frozen in time in order to be looked into and examined properly. Entitled A Matter of Time, the show will feature a new series of works painted so far in 2015. During the exhibition, the artists and the gallery will publish a limited stencil edition. Jana & Js have previously participated in the stencil show called Cut It Out! in Berlin, and had a solo exhibition at Vienna's Inoperable Gallery.
To read more about the exhibition in Dusseldorf, go to Jana & Js at Pretty Portal Gallery.
Stay informed on the best artists of the upcoming weeks by signing up for My Widewalls today!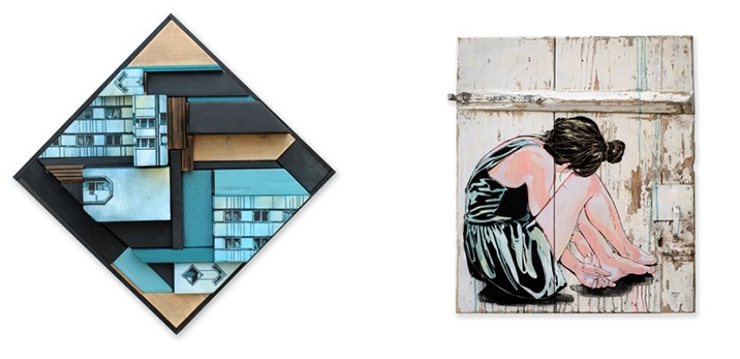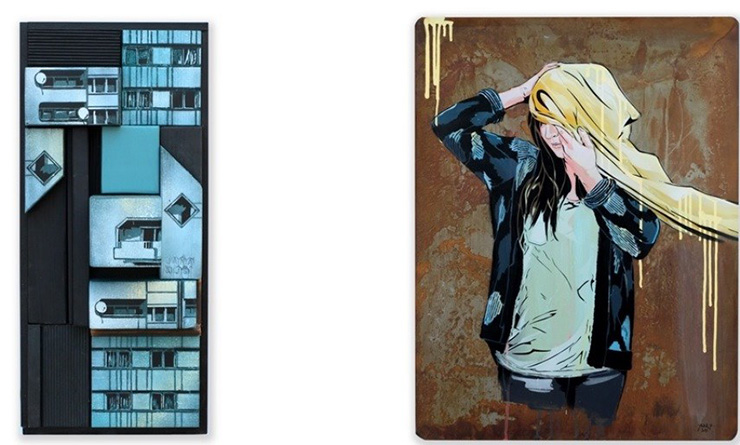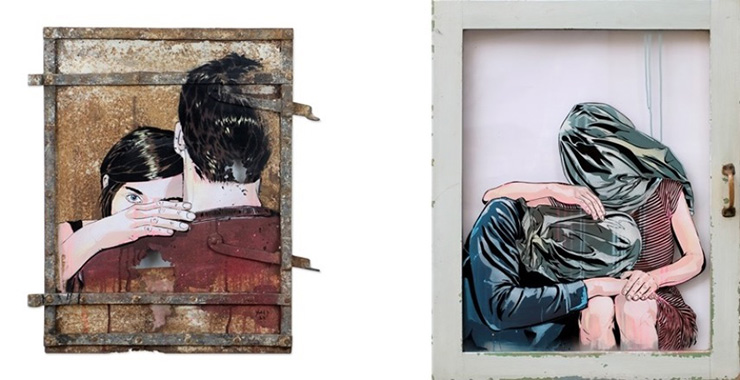 Featured images: Jana & Js. Image via lemadgepoche.wordpress.comJana & JS – Me in you, detail, courtesy of Pretty Portal Gallery