Artist of the Week - Kate MccGwire
At the 56th edition of the Venice Biennale, happening now in the beautiful Italian city, the visitors have the chance to witness brilliant works of art at one of the world's greatest events. Among those, there is a black glass and crow feather installation entitled Siren, as a result of a collaboration between the Berengo Glass studio and the amazing Kate MccGwire. The incredible floor sculpture created by the British artist represents one of the latest pieces involving, what appears to be, her new favorite medium – bird feathers. It also seems that this transition came naturally (pun intended), as the art of Kate MccGwire experiments with the opposing forces of life, be it beauty and ugliness, the known and the otherworldly, the real and the imaginary – always exploring the ways we comprehend the world, but also ourselves.
The Beauty Inherent in Duality - Kate MccGwire
It was back in 2006 that Kate MccGwire started collecting pigeon feathers, after discovering one of their colonies in south London, and once again, it was all about the duality of their meanings and understandings. As the artist sees it, although doves and pigeons are both part of the same species, one is considered a symbol of peace and purity, while the other is considered foul and a pest. And so, using thousands of plumes, Kate MccGwire creates extraordinary works of art, often great in size and even greater in their contextual value. With feather supplies coming from farmers, gamekeepers and pigeon enthusiasts, her pieces come to life, occupying vast surfaces and filling up spaces in all their majestic splendor. Both familiar and completely unknown, they elicit an array of emotions, allowing new perspectives and forming a new way of experiencing the truth of our own existence.
The Complicit Group Show
Kate MccGwire's sculptures are currently on view as part of the Complicit group exhibition, along with the works of two other female artists, Juliette Losq and Jayne Anita-Smith. In her own contribution to the show, Kate MccGwire draws our attention towards the status of rare and exotic animal specimens with her, now trademark, glass sculptures covered in hand-trimmed pigeon, crow, magpie and other feathers. Carefully placed under a protective glass vitrine, these delicate sculptures twirl in concentric forms that are both beautiful and unsettling. Yet again, the works of Kate MccGwire unite historical facts with the unclear present through a complex process of gathering, collating, layering, peeling, burning, revealing and questioning. In their irresistible appeal, these pieces make their viewers vulnerable and exposed, intimidated yet impressed by their immense visual impact.
Make sure you stay tuned for our interview with Kate MccGwire, coming up soon!
For more great art, sign up for My Widewalls for free!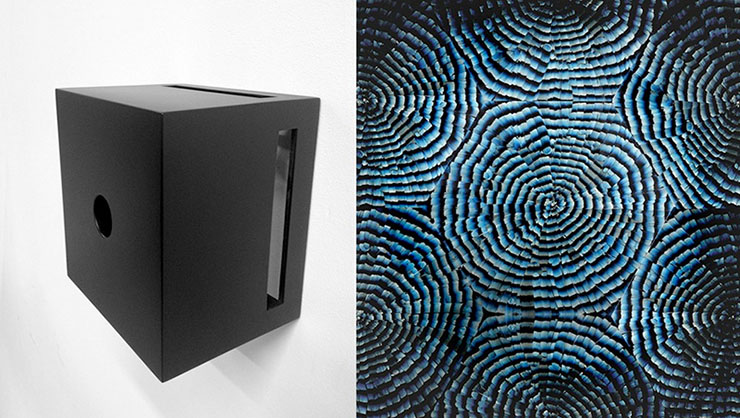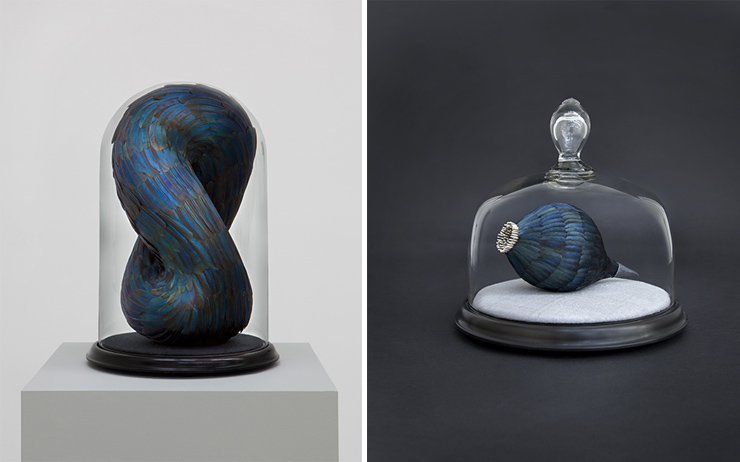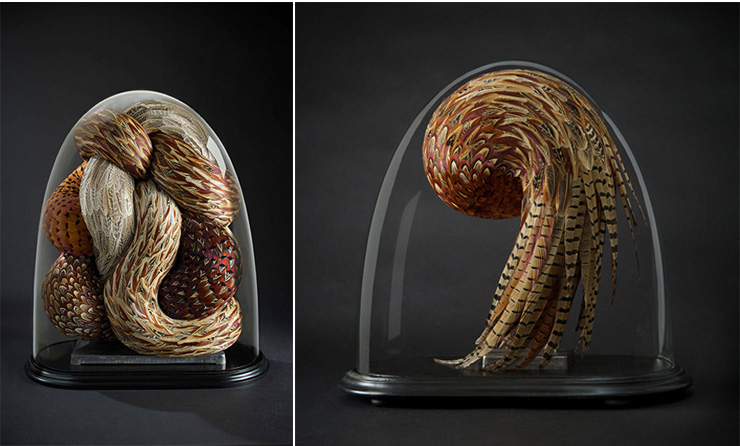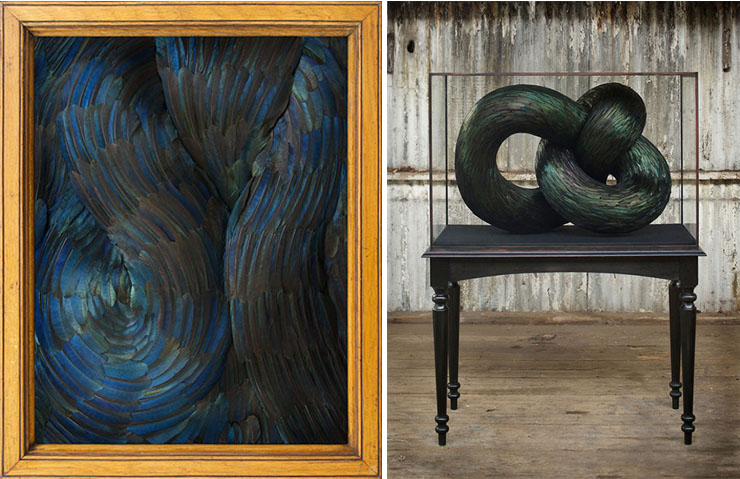 All images courtesy of Kate MccGwire