Artist of the Week – Nychos
The urban artist Nychos is a frequent feature in our Street Update category. The Austrian artist paints figurative images of dissected characters, humans, animals and objects. A recent presentation of his skill was on exhibit at the San Francisco 1AM Gallery. The exhibition titled 'Street Anatomy' showed the artists canvas work. Like his street pieces the artwork depicted the imagined anatomy of beings and things. The exhibition included works of a Walrus, Mickey Mouse and two murals painted in close proximity of the gallery. Only a week later Nychos traveled to Berlin to partake in the Pictoplasma exhibition at Kaufhaus Jahn and Urban Spree. At the later Nychos sprayed a dissected boar on the outside wall of the exhibition space. Nychos, also founder of Rabbit Eye Movement, had CONE The Weird tag along in Berlin. While spraying the walls of Germany's capital the two probably also discussed CONE The Weird's upcoming exhibition at Nycho's Rabbit Eye Movement Art Space in Vienna. Nychos probably also told CONE about the Volvo Art Session that took place in Zurich. The artists not only painted dissected elements but actually took the entire car apart. Having dissected the recent doings of Nychos we conclude that he is deservedly so Artist of the Week.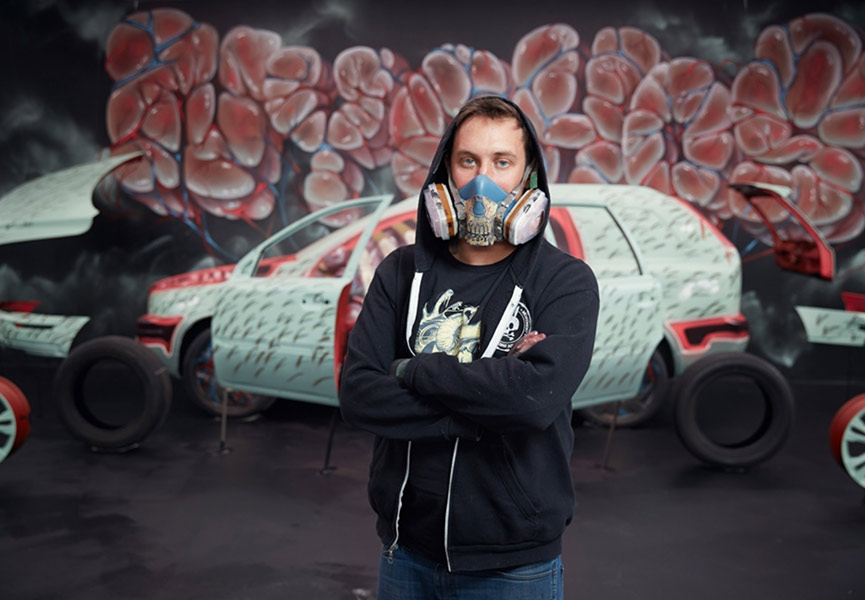 About Nychos
Born into an Austrian hunters family, he saw, at a very young age, things which normal people would consider as cruel and brutal. He quickly got used to death and any other brutalities of nature. His mind never took it as something disgusting. Rather he started to see some beauty in those ugly things. One day when he was about six he found a little dead baby lamb under a trashcan. First he was shocked as he saw that cute but dead little animal. Something was weird about it. When he looked closer he realized that maggots that had the same color as the lambs fur ate up half the body. Crawling and moving pretty fast, they were covered up by the trashcan and didn't like the light. Suddenly he wasn't shocked anymore and enjoyed looking at one life growing on a past life. At the age of seven he was bitten by a wild boar when he was playing in the forest close to his home. Not much later he had boar meat for lunch. This fact was very interesting to him. Watching his father pulling guts out of a dead wild animal was daily business so he started to get inspired by the anatomy of all kind of creatures.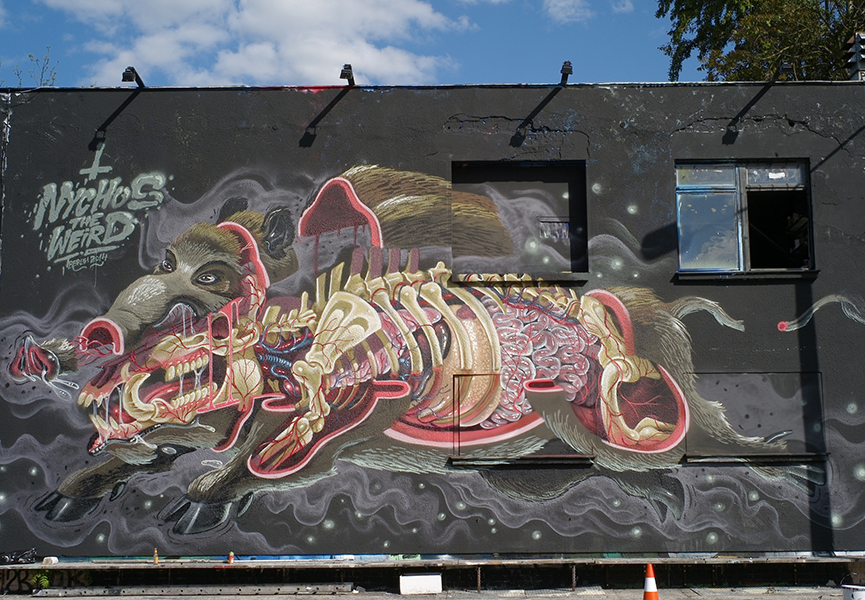 Follow These Galleries
Vienna, Austria

Jersey City, United States