Artist of the Week – RISK
The true LA graffiti legend RISK has been going hard and heavy the past days and weeks. First act of 2014 was to collaboration with Miller. The beer company commissioned a mural by RISK in conjunction with the introduction of their new product Miller Fortune. The mural was done it downtown LA at 3rd South Main. Only a few days later RISK teamed up with the Obey giant Shepard Fairey to paint yet another amazing mural in LA. The wall in Skid Row was ground coated by RISK in green and red. Using his now characteristic abstract graffiti style, than runs along the lines of Futura's work, he painted the background that was later to be stenciled over by Shepard Fairey. Obey added his stencils in white to contrast RISK's colorful background. It was RISK that then finished off the mural by tagging 'RISK' and 'OBEY' at the top center of the mural. Five days later, on February 15th, RISK opened the show "Innocence Lost" together with Nathan Ota at Culver City's Corey Helford Gallery. Together they painted body of work that combined the signature styles of both. Stylistically, they correspond exceptionally well, with crude planes juxtaposed to vivid drawing. While Risk continues to investigate his undergoing Collateral Damage series, Nathan Ota portrays confused teens, carrying the narrative and circling the subject of the synergic artwork. Two styles combined perfectly. RISK seems to be an exceptional artist with anyone he works with. Characteristically of a great artist, RISK creates art that harmonizes, is universal and will forever be beautiful. Widewalls' Artist of the Week is RISK.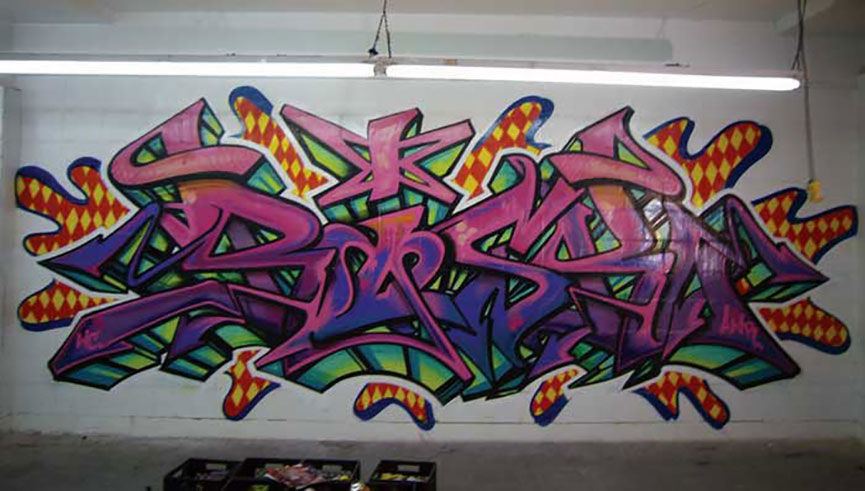 About RISK
RISK, born Kelly Graval, is one of the biggest names on the street art scene. The length of RISK's career spans over 30 years of his life-long dedication to spray paint. He made and impact on the evolution of graffiti as an art form in Los Angeles and worldwide by pushing the boundaries of graffiti with his unique letterforms. He was one of the first writers in Southern California to paint freight trains, and he pioneered writing on freeway overpasses.
L.A. Kid
RISK was born in Louisiana but grew up in L.A. Even as a kid, he filled sketchbook after sketchbook with letters and images. In 1983, RISK enrolled at University High School on the L.A.'s West Side and immediately made its walls his personal canvas by tagging his name everywhere. RISK was one of seven high school students who received a scholarship to attend the Pasadena Art Institute. Later he studied Fine Art at USC.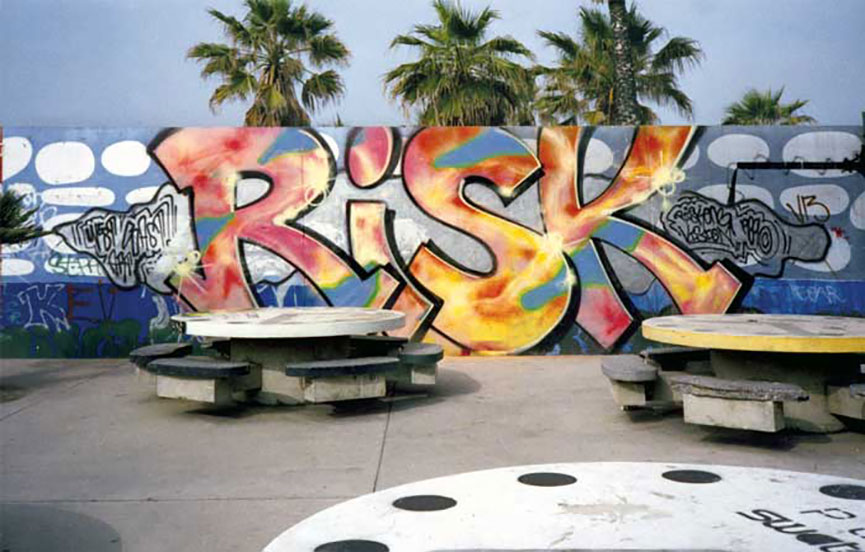 RISK and RIVAL
RISK started creating a name for him in the mid 1980s. In 1985, RISK and RIVAL started the graffiti crew WCA (West Coast Artists). With his fellow writers, he made a series of writing tours on the West Coast including "Bum Rush," "Planes, Trains and Automobiles,", and "Hitting Metal" tour.
RISK runs in New York
Soon after, he became involved in various Hollywood projects and started getting more recognition as an artist outside the graffiti world. For example, he worked on the American science fiction comedy buddy film Bill and Ted's Excellent Adventure and videos for the Red Hot Chili Peppers, Ice Cube, Bad Religion and Michael Jackson. In 1988, RISK went to New York and painted subway cars, making him the first L.A. writer to have his work run, and probably the last because in 1989, the New York Metropolitan Transit Authority mandated that all subway cars be free of graffiti before they ran.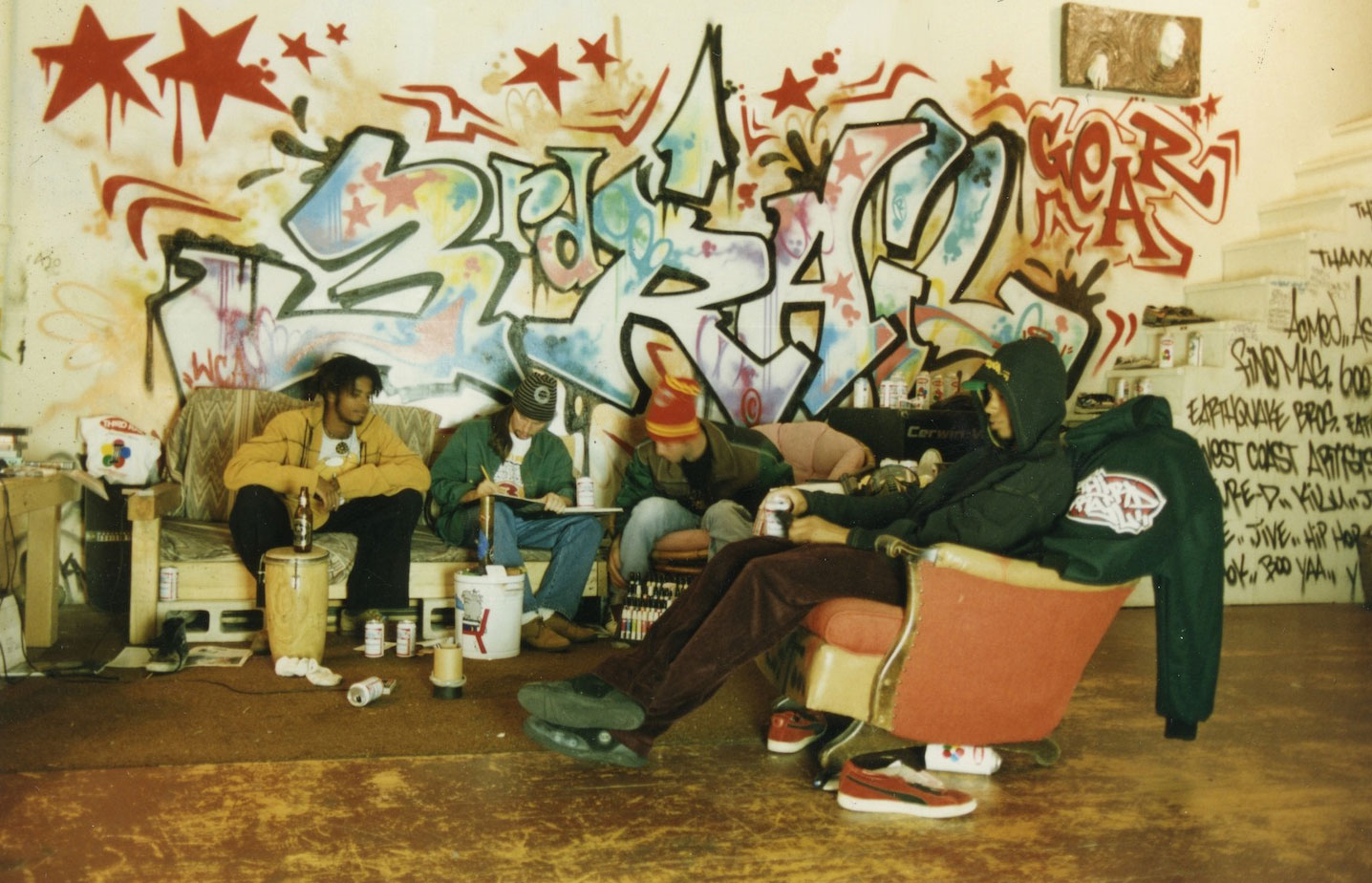 Third Rail
At the peak of his career he started putting his graffiti on canvases and co-founded the Third Rail, a series of gallery shows, along with DANTE and SLICK. Afterwards, he turned the Third Rail into a successful graffiti-inspired clothing brand.
Still Old School
Today, RISK is still involved in graffiti, surrounding himself with writers and supporting them in their art. WCA evolved into other crews, first CBS and then AWR and MSK. He still continues to develop his abstract letterforms, although his creative process obviously starts moving toward an abstraction of color. He's increasingly exploring the nature of color, light and shadow, covering the walls with saturated hot reds, oranges, yellows washed, as well as cooler blues and greens.
Photo credit Birdman Photos