Artist of the Week – Ron English
The name Ron English has become synonymous with American pop culture, the American contemporary artist regularly using popular cultural icons and comic book imagery to produce works that also contain political and consumerist statements. Born in 1966, Ron English gained a bachelor of Fine Arts before being an apprentice to several artists, where he developed his oil painting skills, often creating photo realistic paintings. Ron English is equally at home creating amazing street art or appropriating images from popular culture for his studio work, of which you can see more in On View: Ron English is Super Fresh. Since the early 1980's Ron English has been active creating street art, often involved with culture jamming which focus on attacking advertising from large corporations in order to bring attention to our corporate dominated culture. The excellent paintings of Ron English regularly appropriate the use of pop imagery, using well known characters to portray his dark humour and view on American contemporary society. The infamous imagery of Ron English has also appeared on several record covers, including The Dandy Warhols, Slash and Chris Brown, see more in Street Art and Music: Who Likes What? Many of the iconic creatures featured in the work of Ron English have also been transformed into toys, with over 50 appearing since 2005, along with toy collaborations with Chris Brown, Pearl Jam and Slash. Known as The Godfather of Street Art, Ron English is often to found at street art festivals, creating a video about POW! WOW! Hawaii which you can view in this From the Eyes of Ron English article. For his iconic imagery and dedication to biting political and consumerist commentary, we are proud to have Ron English as our Widewalls artist of the week.
Images Aymann Ismail via ANIMAL New York.
Ron English Houston Bowery Wall Mural
April 17th, 2015, saw our Widewalls artist of the week, Ron English, create a new mural on the legendary Houston Bowery Wall in New York City. The Bowery Wall was the location for an iconic Keith Haring mural in 1982 and in 2008 it became an outdoor exhibition space, created by Tony Goldman and Jeffrey Deitch. Various street artists have been invited to create murals on the legendary Houston Bowery Wall, including Shepard Fairey, Revok & POSE, Swoon, Crash, Martha Cooper, How & Nosm, Maya Hayuk, with Ron English being the latest addition. Ron English has of course done the iconic Houston Bowery Wall proud, creating one of his mutant Baby Hulk images over a giant United States flag made up of corporate parodies, including slogans such as Magical Messiah meat $6.66 lb and 9/11 – The 24/7 excuse for everything. See more in the video below.
Image via ireport.cnn.com
Guernica, Ron English & The Last Supper
Some may view The Godfather of Street Art Ron English as being a bit crazy with his dark humour and sometimes surreal images. Some may point to the fact that he has painted over 50 versions of the classic Picasso painting Guernica, which you can read more about in Why Ron English Paints Guernica, but he has also painted several versions of The Last Supper by Leonardo da Vinci, while Magritte, Monet, Van Gogh and Munch have all been reinterpreted by the crazy mind of Ron English. Crazy or not, there is no doubt that our Widewalls artist of the week , Ron English, is a genius when it comes to popular culture imagery and long may he continue to bombard us with his iconic and ironic Popaganda.
Clown Painting via  Arrested Motion
For all the latest news on your favourite artists, sign up to My Widewalls today.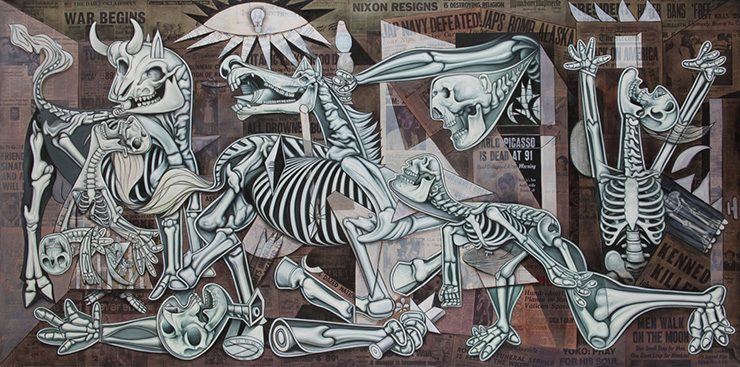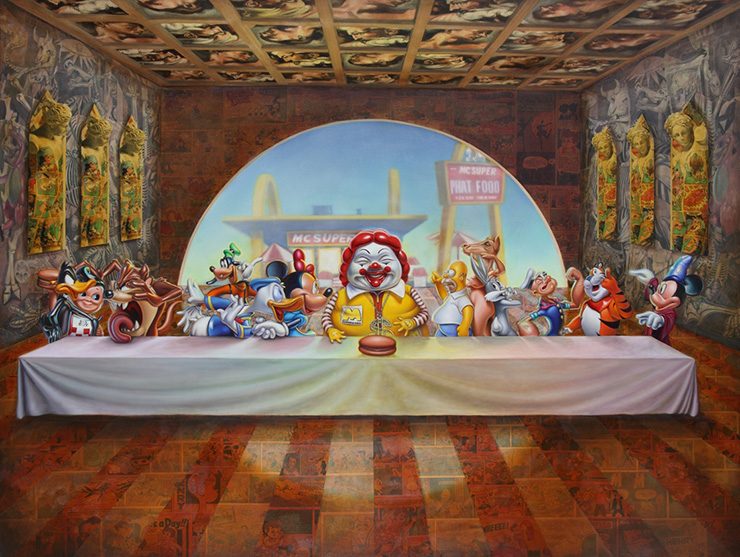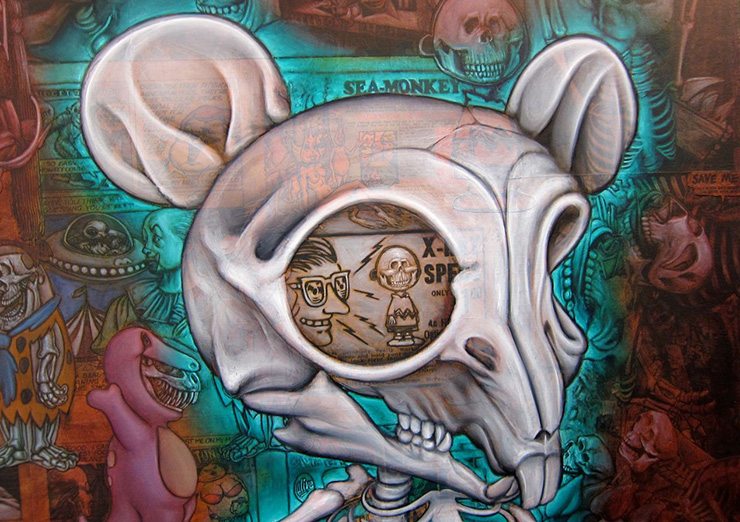 Images as credited.
Artworks courtesy of Ron English.