Artist of the Week – Zabou
When it comes to announcing the weekly Widewalls artist of the week, it can usually be assumed that it will be an established artist with a string of street art or exhibitions behind them. This week we present to you a relatively new face on the street art scene, that of exciting French street artist Zabou. Although from France, which has its own unique and rich history of street art such as Ernest Pignon-Ernest and Blek le Rat, more of which you can discover in History of Street Art in France, it wasn't until Zabou moved to London in 2012 to study, that she found inspiration in the abundance of street art and graffiti that surrounded her. Having always had an interest in painting and drawing, Zabou was quick to pick up the spray can and start transforming the streets in the East End of London. The French street artist quickly developed her striking imagery, created using stencils and a freehand technique, which allows the street art to be both sharp while also displaying the painterly drips and splashes of graffiti. A look through the street art of Zabou will reveal an artist with a wicked sense of humour, unafraid to make fun of stereotypes, conformity, politics and our surveillance state, with her strong street art. The distinctive style and growing reputation of Zabou, has seen her take part in a number of shows since 2012, while also travelling around Europe to create street art in events such as the all-female Femme Fierce street art event and lending her skills to various design projects. We can safely say we are pleased that Zabou picked up a spray can in London, for her sharp wit and imagery we are pleased to announce Zabou as our Widewalls artist of the week.
Featured images: Zabou – Selfportrait 1. Lollipop Gallery, London, UK, 2014 &  Zabou – Dream Big, London, UK, 2015
Widewalls Interview with Zabou
Our artist of the week, Zabou, very kindly took time out recently to answer a few questions that Widewalls passed her way, where we were able to learn more about her life and street art. In the interview, Zabou revealed the importance of street art and graffiti around London in inspiring her to pick up a spray can, along with her involvement with the all-female Femme Fierce street art festival. Zabou also discusses her experience of being a female in the sometimes male dominated street art scene, stating that the work you produce is the important thing, not gender. The French street artist also reveals she would love to collaborate with Natalia Rak or MTO, having already worked with Alaniz, Kiwie and Sr.X. Read all of the answers in Interview with Zabou and check out 10 Female Street Artists.
Featured images: Zabou – Urban Jungle 1, Paris, France, 2015 & Zabou – Less Cleaning More Street Art 2. Gloucester, UK, 2014.
Zabou at Femme Fierce
As Zabou mentions in her Widewalls interview, she participated in both editions of the all-female Femme Fierce street art events, more of which you can read about in the articles Records are for Girls and Femme Fierce: Reloaded 2015. The street art festival happened in March of this year to coincide with International Women's Day, which saw 150 international female street artists, including Zabou, transform the Leake Street tunnel in London. Zabou donated a canvas for the Kickstarter campaign as well as painting two murals during the event, which was unfortunately hit by vandalism to murals created in a Femme Fierce paint jam which took place before the main event, read more in Femme Fierce Street Art Vandalised. You can also listen in to an interview with Ayaan Bulale, the brains behind Femme Fierce street art festival. Needless to say, we think you will be hearing a lot more from our artist of the week Zabou in the future, both in terms of her wonderful artwork and her intelligent views on street art, which have already been aired in a speech for the TED organisation.
Featured images: Portrait of Zabou by R.Wilson Jnr & Zabou & Kiwie – Once Upon A Time. 8x5m. Limassol, Cyprus, 2015. For more artwork, check out the Zabou website.For all the latest news on your favourite artists, sign up to My Widewalls today.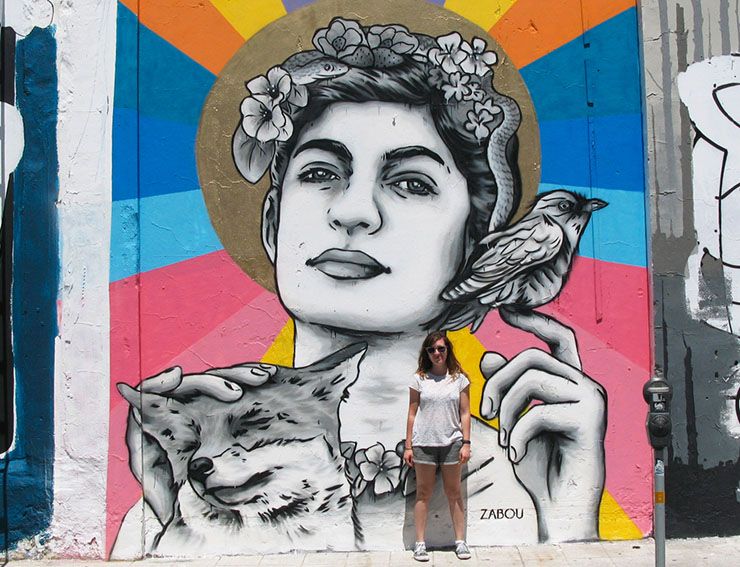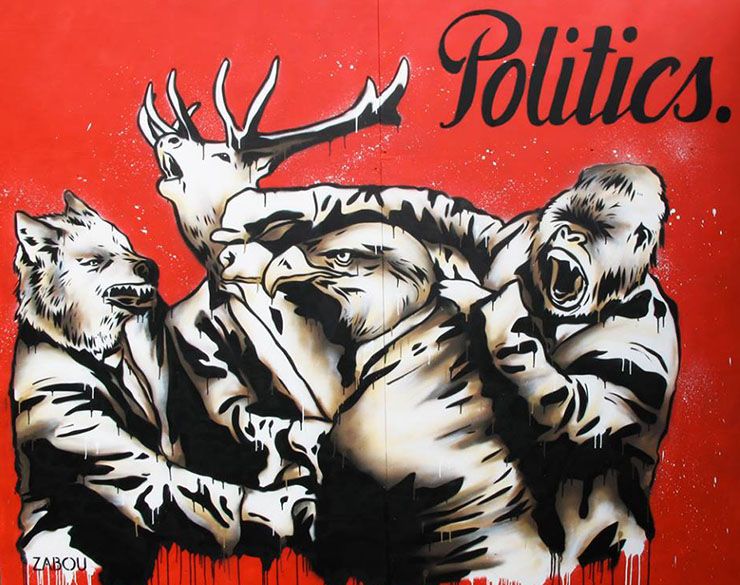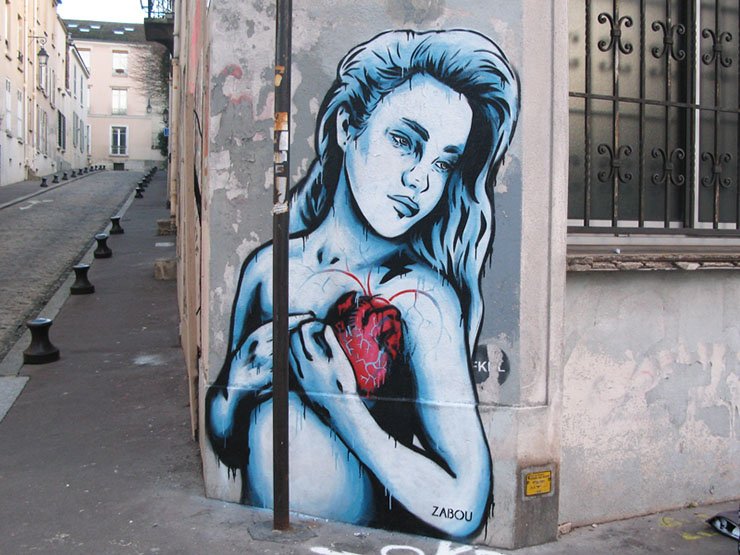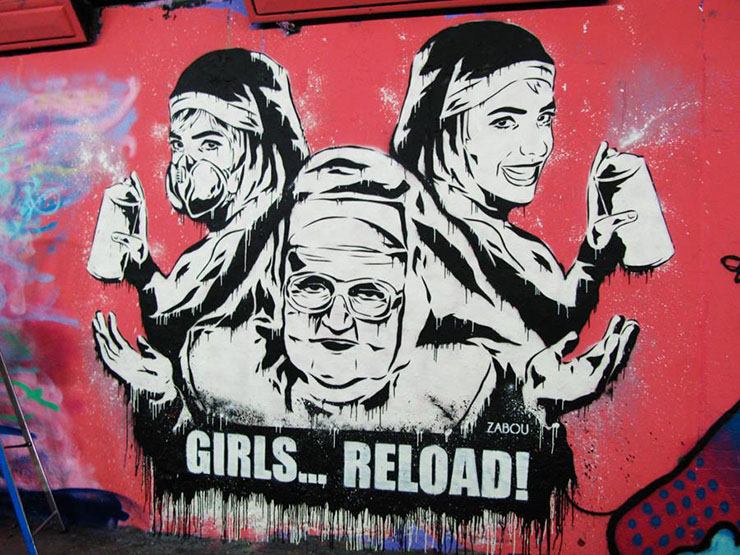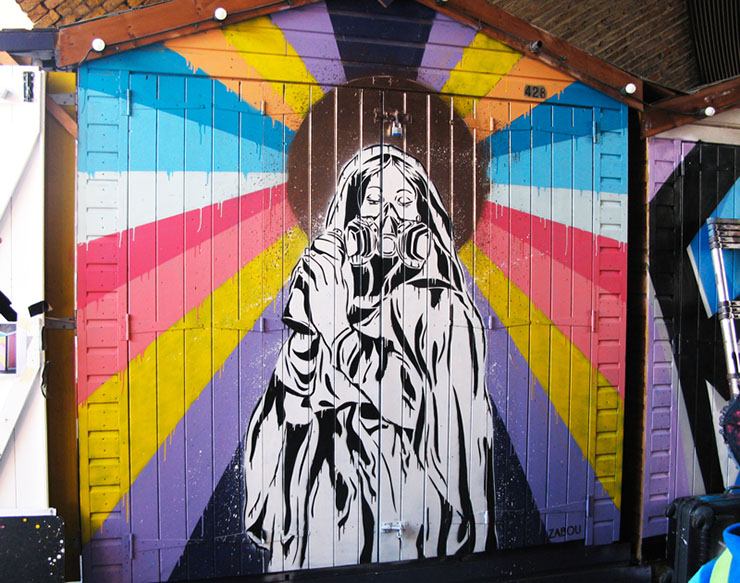 All images courtesy of Zabou.