Alexis Cladiere, much better known by his artistic pseudonym of 36Recyclab, is a french multidisciplinary artist and an ex-skater who wanders the streets of Paris at night looking for good creative opportunities, whilst holding a day job in an architectural office. The origin of this artist's name comes from the 360-degree vision that references the global scope of his interest, plus it's also a tribute to boarding culture and the famous skate jump of the same name. He does urban installations with elements of architecture and mixes it with graffiti, sculpture, design and 3D modeling. His theme is rather scientific and technical, so he does spend a lot of time planning the approach to realize his idea. After applying different elements on the wall, like tape, paint, computer parts and other pieces of technical appliances, he takes a photo of the installation and by using pictures as references, creates large-scale stickers that he glues to the walls around the City of Light.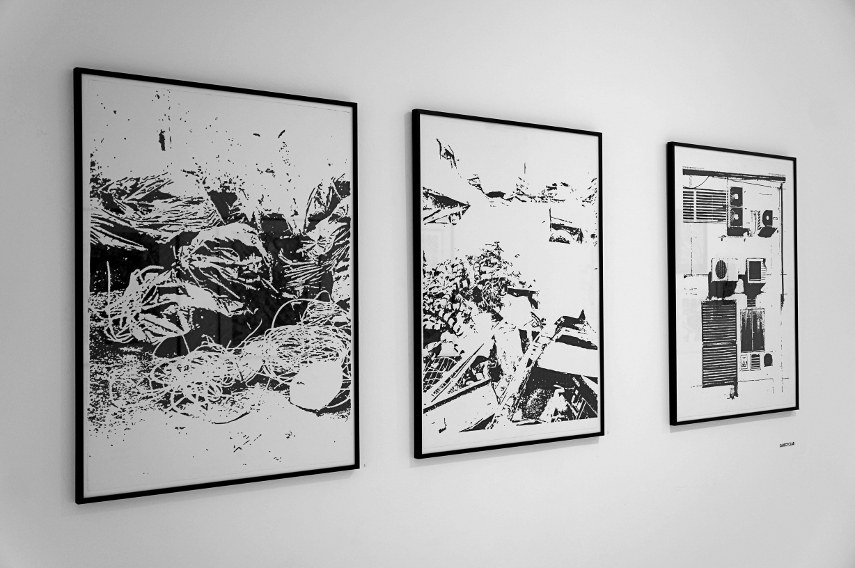 A Mind of an Architect
Alexis Cladiere never studied art, but he did study computer science. His education includes engineering, computer science, mathematics and architecture. As was said before, he works as a creative director and designer in the creative department of an architecture company – a job that allows him financial security but still leaving enough free time for Alexis to do what he loves. And what he loves is street art. Although this may come as a surprise, especially when you consider the visual complexity of his work, but Cladiere is a self-taught artist. He relies heavily on his background as the mathematical education gave him a jump start advantage when it comes to the concept of space and geometry – concepts Alexis often employs through his work, allowing them to serve the role of focal points and the center stage of his aesthetics. There are universal laws of logic that give him a firm framework to operate in, whereas numbers give him infinite possibilities of recombination. There is a strong parallel with art in this reasoning, and the artist found abstractions, urban architectural graffiti and machine installations to be equally innovative and fun, just as is the case with math is. Alexis Cladiere creates his own mini versions of a mechanical and industrial universe. He uses materials that he creates and finds on the streets, paying a specific kind of homage to the found object legacy whose roots can be traced to the earliest days of avant-garde art. It is usually technical stuff, like computer parts, metal, plastic, video tapes or other pieces of scrap someone else discarded. The most appealing aspect of 36Recyclab's work, as well as his audience, is the aesthetics and design of inanimate elements found within his artwork. They are both complex and beautiful, astonishing from both a visual and technical standpoint. The whole process of art making in Cladiere's case includes both graffiti and architectural skills, as only with the combination of these two skills would one be able to author such pieces. First, like the case is with architecture, he projects and defines, planning way ahead before starting to create. After he is finished with a piece, he immediately takes a couple of photographs to make sure the artwork is safe from harm. Alexis later places these photos around Paris, allowing the piece to kinda live in circles and to constantly be a part of the Parisian scene.
What makes Alexis Cladiere and his work so fascinating is the precision of his aesthetics – esspecialy the design of inanimate elements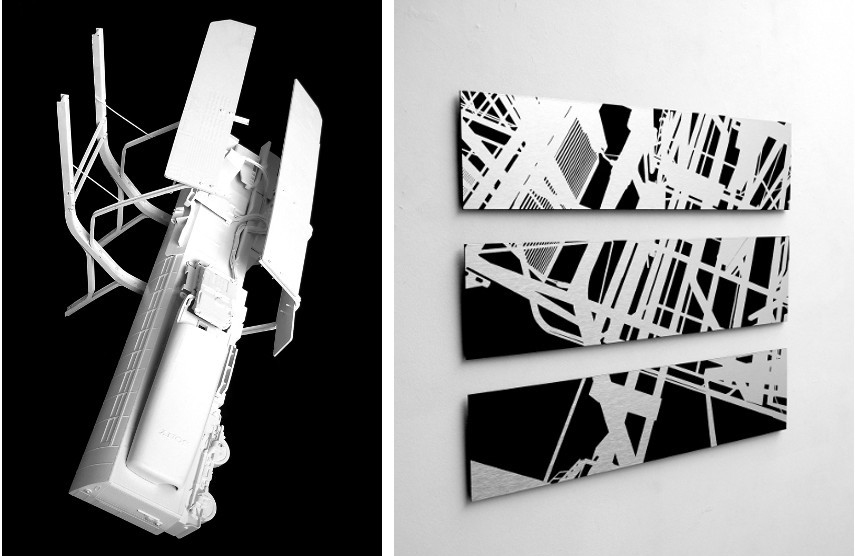 A Lucky Break for Street Art
When you analyze his work, it may look surprising that Alexic Cladiere chose to work in street art rather than being a part of some sort of an architecture business full time, so it's sometimes quite astonishing that 36Recyclab even exists. His skills would be a perfect match with anything demanding precision, so street art should feel very lucky Alexis chose it as the main creative outlet of his life. As we are not the only ones wondering why does Cladiere dabble in urban art and decoration, he has already explained why he made such a decision – he chose this medium because of the graphics, materials and general aesthetics that help him communicate his messages through visual pieces to unsuspecting bystanders.
The artist is represented by Mmartproject.
Alexis Cladiere lives and works in Paris, France.
Featured image: Alexis Cladiere – Photo of the artist – Image courtesy of Alexis Cladiere
All images courtesy of Alexis Cladiere