It takes a special kind of talent to be able to show the feelings of calm and tranquility through something that an epitome of movement – the dance. A.Selvaraj, one of India's most famous and appreciated artists, does just that, managing to make his viewers feel serene even though they are exposed to something that seemingly evokes the exact opposite. All of his artistic talent is focused there and that is the main reason for his popularity. However, at one point, his life was nowhere near artistic future, as the career in engineering was in his focus. The destiny, universe, whatever you may call it, interfered, allowing him to realize that his love of classical Indian dance could be projected through visual arts. Having discovered this new world where he could express himself through painting, Selvaraj quietly forwent his studies and the possibility of a career as an engineer, and bravely embraced his passion, beginning to further discover his true love – the painting and drawing. When he was only 23, in 1966, the artist became a life member of the internationally recognized and critically acclaimed Cholamandal Artists' Village located in Chennai.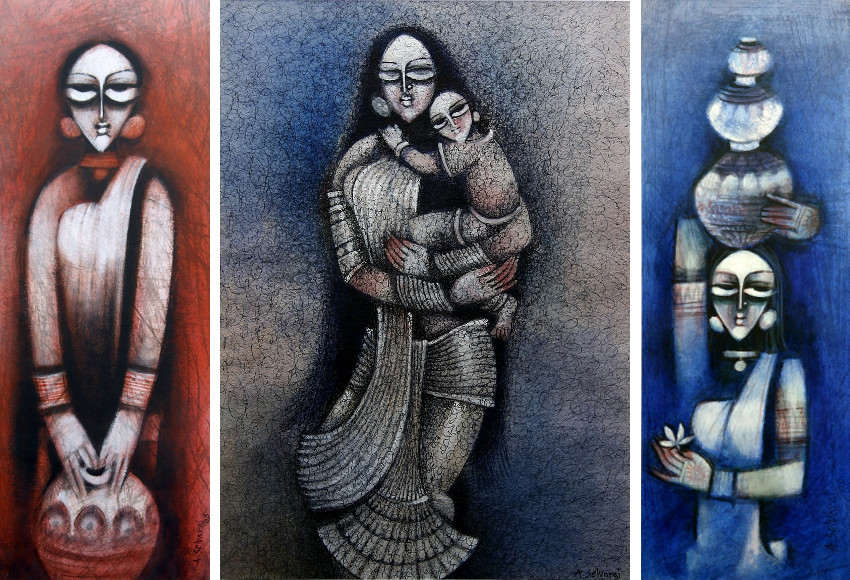 Selvaraj and his Enchantress Series
Influenced by the sensuousness of dance, Selvaraj creates his pieces that seemingly flow onto the canvas like a fluid stretch of moving water, spilling into a giant waterfall that celebrates color, dance, and life itself. In 2006, the artist created a series of artworks titled Enchantress, summarizing in a way all of his previous efforts. His high school was located in Gudiyattam, a suburb of Chennai, and he studied at the Government School of Arts and Crafts, where he received his Diploma in Fine Arts in 1960. Three years later, as stated above, he became a life member of the Cholamandal Artists' Village. Selvaraj states, reflecting his life and artistic journey from Gudiyattam High School to Cholamandal Artists' Village, that his personal experiences with dance slowly began to affect his style in both sculpture and painting. The pieces acquired fluidity, and he is particularly able to get the flow of light and dark in his paintings. Inspired by deities, village women, dancers and musicians, Selvaraj keeps his style clearly figurative.
Featured image: A.Selvaraj – Happy Ladies (detail), 2006
All images courtesy of Addicted Art Gallery
| Year | Exhibition Title | Gallery/Museum | Solo/Group |
| --- | --- | --- | --- |
| 2003 | Cholamandal Artists Village Annual Exhibition | India | Group |
| 2002 | Cholamandal Artists Village Annual Exhibition | India | Group |
| 2001 | A.Selvaraj | Cholamandal Artists Village, India | Solo |
| 2001 | State Lalit Kala AkademiAnnual Exhibition | Chennai | Group |
| 2000 | Cholamandal Artists Village Annual Exhibition | India | Group |
| 1999 | Small Format Exhibition | Cholamandal Artists Village, Chennai | Group |
| 1999 | State Lalit Kala Akademi Annual Exhibition | Chennai | Group |
| 1997 | State Lalit Kala Akademi Annual Exhibition | Chennai | Group |
| 1996 | Tamil Nadu Oviam Nunkalai Kuzhu | Chennai | Group |
| 1996 | State Lalit Kala Akademi Annual Exhibition | Chennai | Group |
| 1995 | State Lalit Kala Akademi Annual Exhibition | Chennai | Group |
| 1985 | National Art Exhibition | New Delhi | Group |
| 1980 | A.Selvaraj | Bengaluru | Solo |
| 1978 | A.Selvaraj | Bengaluru | Solo |
| 1973 | A.Selvaraj | Bengaluru | Solo |
| 1966 | A.Selvaraj | Chennai | Solo |
| 1966 | National Art Exhibition | New Delhi | Group |
| 1966 | Progressive Painters Association Exhibition | Chennai | Group |