Agent X is the creative alias of a talented American artist currently based in Vancouver who creates experimental multimedia collage art, paintings and 2D artworks. He does so by juxtaposing pop culture, technology, fashion, music, politics and race, a practice that results in visually stunning pieces of collage art that challenges its viewers to think deeply about what they are seeing. While his work draws from a rich formal training, Agent X's mash-up multimedia style is primarily self-developed and, therefore, completely unique.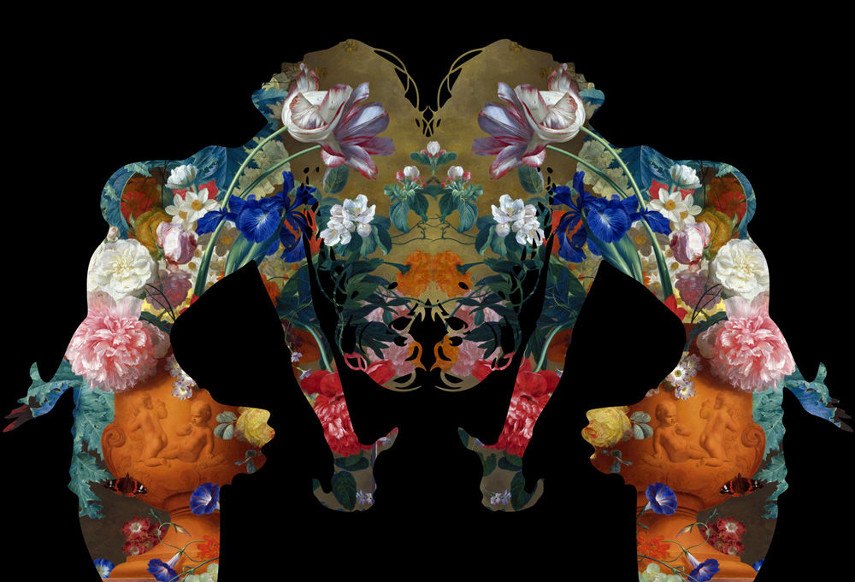 Agent X's Road to Collage Art
Among other things, Agent X is known for his education which has provided him with a great foundation for creating art. His days as a student saw him studying in New Haven, Vancouver and Atlanta. What also makes Agent X so interesting to analyze is the incredible number of influences this man lists as pivotal inspirations in his work – he cites Takashi Murakami, Lada Alekseychuk, Romare Bearden, Peter Kennard, Wangechi Mutu, Robert Rauschenberg, Mimmo Rotella, Jacques Villeglé and Kara Walker. The works and techniques of all these artists seems to have combined and culminated into the art of Agent X.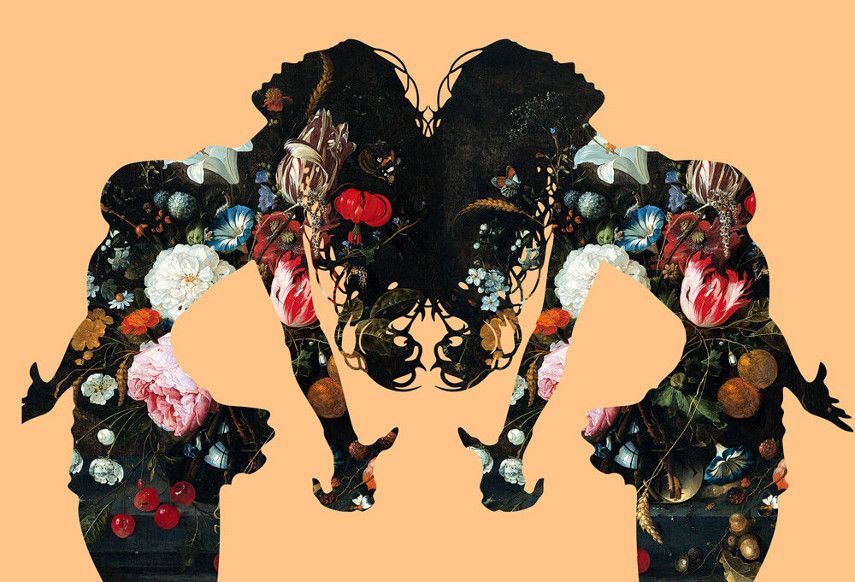 A Further Look at His Work
Often described as a Pop artist with thought, Agent X juxtaposes pop culture, technology, fashion, music, politics and race in visually complex amalgamations expressing the anxieties of the global, post-modern world, the dark side of consumerism and media-obsessed culture. His work occupies a unique intersection between the aesthetics and philosophy of Futurism, the social critique of the Dada movement and contemporary artistic movements ranging from Pop Art to Superflat. Agent X often combines the ephemera of the past with the glossy world of contemporary magazines and newspapers, adding paint and other mixed media to create images that cleverly critique humanity's current obsessions and where they are leading us.
The works and techniques of various artists who experimented with collage served as inspiration to Agent X which resulted in the creation of his own style of vibrant, thought-provoking art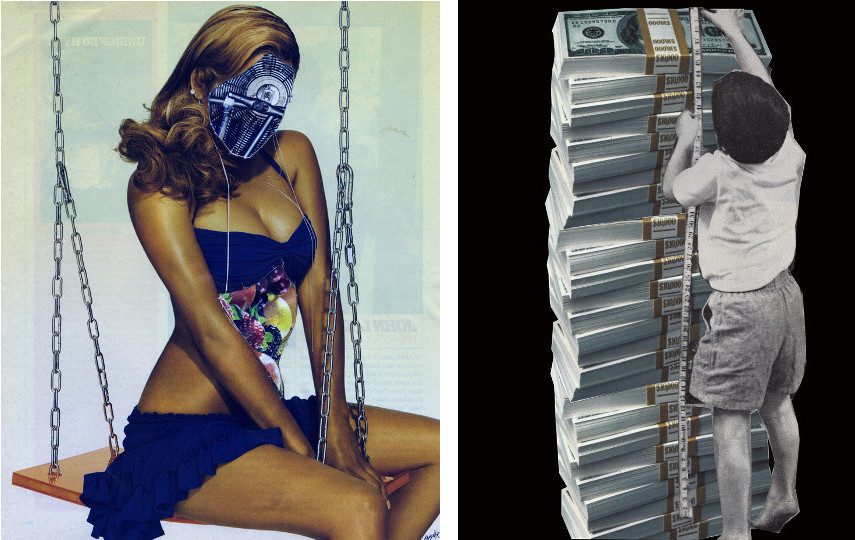 Agent X About Agent X
When he was asked to explain his artistic pseudonym, Agent X stated the following: The name Agent X means that I am an agent of the unknown as my artwork is never the same, plus I feel that I am always on a mission to do art. In early American history, most black slaves were given the last name X. I honor them as well. Thus I am a slave to my art in a twisted way. It was also my music producer name back in the day. This somewhat surprising explanation is a valuable insight into this man's practice and it enables us to further analyze Agent X's art and truly understand it on all its creative levels.
Agent X lives and works in Vancouver, Canada.
Featured image: Agent X – Cicely And Mary (Yellow) (detail) – Image courtesy of the artist.
| Year | Exhibition Title | Gallery/Museum | Solo/Group |
| --- | --- | --- | --- |
| ​2017 | Kryon Showcase | ​Kryon Gallery​, Amsterdam​ | Group |
| 2017 | SHE INSPIRES​ Exhibition | The Untitled Space Gallery, New York | Group |
| 2017 | The Path-Augmented Reality Art Exhibit | The William Vale, New York | Group |
| 2017 | Piece De Resistance Exhibition | Arthouse NYC Gallery​, New York | Group |
| 2016 | Agent X | Gitana Rosa Gallery, ​New York | Solo |
| 2016 | Dirty Summer Exhibition | Art at 41 Gallery, London | Group |
| 2016 | ArtSmart Contemporary Exhibition | Space W10 Gallery, London | Group |
| 2015 | Rochester Museum of Fine Arts Biennial 2015 | Rochester Museum of Fine Arts, Rochester, NH | Group |
| 2015 | The Art Take Away Exhibition | Espacio Gallery, London | Group |
| 2015 | DELTA: The Difference Exhibition | Project Gallery Toronto, Toronto | Group |
| 2015 | For the Love of London | London Vodka distillery, London | Group |
| 2015 | For the Love of London | Beautiful Crime Art Gallery, London | Group |
| 2015 | Punch Exhibition | Espacio Gallery, London | Group |
| 2015 | Microsoft Surface 3 Pop up Exhibition | Broadgate Welcome Centre, London | Group |
| 2015 | Dressed&Naked Magazine Launch Show | The Star by Hackney Downs, London | Group |
| 2015 | Gallery Launch Show | Beautiful Crime Art Gallery, London | Group |
| 2014 | Art Crasher Exhibition | SomArts Gallery, San Francisco | Group |
| 2014 | Curious Art-Pie Show | Curious Duke Gallery, London | Group |
| 2014 | Reel to Reel Exhibition | Project Gallery Toronto, Toronto | Group |
| 2014 | Spring Exhibition | Arthouse SoHo Gallery, New York | Group |
| 2014 | Sweet 'Arts Seams Show | Hoxton Arches Gallery, London | Group |
| 2014 | Glovebox Artists of the Month Show | Voltage Art Gallery, Cambridge, MA | Group |
| 2014 | Bodies in Motion | Project Gallery Toronto, Toronto | Group |
| 2014 | THE FINAL DEVELOPMENT Exhibition | Project Gallery Toronto, Toronto | Group |
| 2014 | Salon Exhibition | Project Gallery Toronto, Toronto | Group |
| 2014 | Spring Exhibition | Arthouse SoHo Gallery, New York | Group |
| 2014 | Hip Hop Exhibition | Project Gallery Toronto, Toronto | Group |
| 2013 | Can Pop Exhibition | Can Pop Gallery, Spain | Group |
| 2013 | Past,Present,Future | Linus Gallery, Los Angeles | Group |
| 2013 | New Blood Art | New Blood Art Gallery, London | Group |
| 2012 | Grand Group show | SoHo Gallery for Digital Art, New York City | Group |
| 2011 | New York Art Marathon | AG Contemporary Art Gallery, New York City | Group |