Devoted to compositional structure and painterly action, Aharon Gluska is an Israeli abstract artist living in New York. This painter is widely renowned for his ability to use dark and wide angular slashes of paint to capture, mark and freeze the illusion of movement. Gluska's pieces also have a strong rhythmic architectural presence and a strong unintimate sense – a bit surprising feature when one considers the time period in which Aharon's career initially took place.

Aharon Gluska and His Artistic Beginnings
Aharon Gluska was during the year of 1951, born in Hadera, a city located in the Haifa District of Israel, in the northern Sharon region, approximately 45 kilometers from the major cities of Tel Aviv and Haifa. He studied at the Avni Institute of Fine Arts in Tel Aviv and then joined the Academy of Fine Arts in Paris. The combination of learning at these two very prestigious institutions allowed Gluska to develop a unique and highly unorthodox visual vocabulary. It also enabled him to evolve a strong feeling for drawing and a sympathetic ambition. Aharon soon started to use visually simple yet conceptually complex spaces filled with light that were bathing in impersonal silence. He often used geometrical shapes that suggested the conceptual connection with the work of Barnett Newman, as well as with the avant-garde genius Kazimir Malevich.

The Results of His Practice
Aharon Gluska has a practice that regularly requires him to work on several canvases at the same time, only to have them finally joined when the entire piece is completed. Many of these mixed media works on paper and canvas were deemed as successes by the arts scene and the public. Aharon's arguably most famous project was the series titled as Imagined Landscapes. In it, Gluska set up a long and unique process, allowing him to create amazing landscapes out of water, pigments, ink and watercolor. Gluska was one of two winners of the 1996 Zussman Prize for authors dealing with the Holocaust, from the Yad Vashem museum, for his paintings of prisoners at Auschwitz based on photographs of them taken by their Nazi guards. Aharon was also on the receiving end of many other awards and grantings during his life, most notably the Sussman Award, New York Foundation for the Arts, National Endowment For The Arts and Pollock-Krasner Foundation reward.
Aharon Gluska has a unique visual style that is truly unlike anything else present on the contemporary scene of art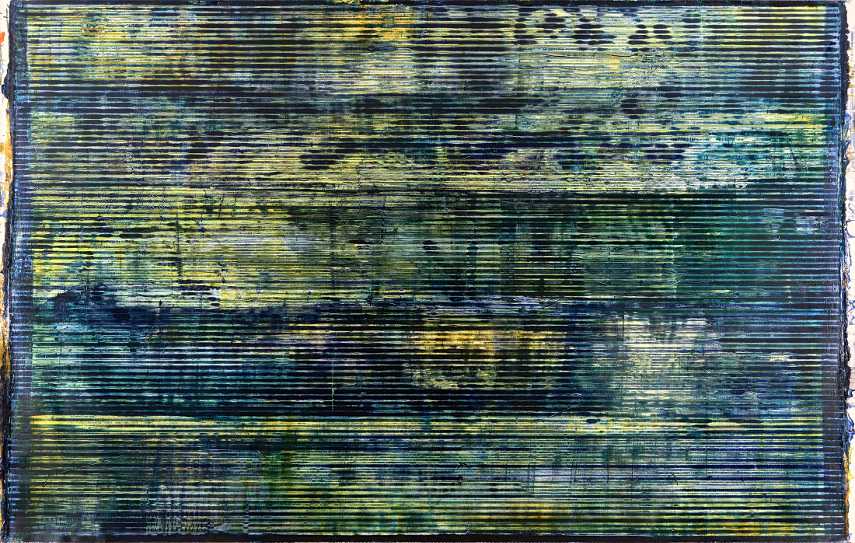 A Unique Artist
The way Aharon Gluska is able to communicate via his artwork is a true marvel of the contemporary world. His formalist dialogues of light and shadow, rationality and impetuousness, rectitude and sensuality collide in a marvelous celebration of artistic concepts and visual triumphs. Due to these achievements, Gluska was often placed along the lines of William de Kooning and Franz Kline, gaining well-earned praises for his unorthodox work.
This artist is represented by Galerie Lazarew.
Aharon Gluska lives and works in New York, the United States.
Featured image: Aharon Gluska – Between the Lines Show, 2015 – Image courtesy of Galerie Lazarew
All images courtesy of Galerie Lazarew.