Ahn Hyun-Ju is a South Korean artist who has been dedicated to abstract painting for 15 years. Her work combines the use of vivid colors with interesting three-dimensional frameworks. The artist considers her pieces as volume painting and what is interesting about her background is the fact that she's trained both in painting and sculpture. Such background helped Hyun-Ju to develop a strong sense of three-dimensionality, which is clearly visible in the majority of her works.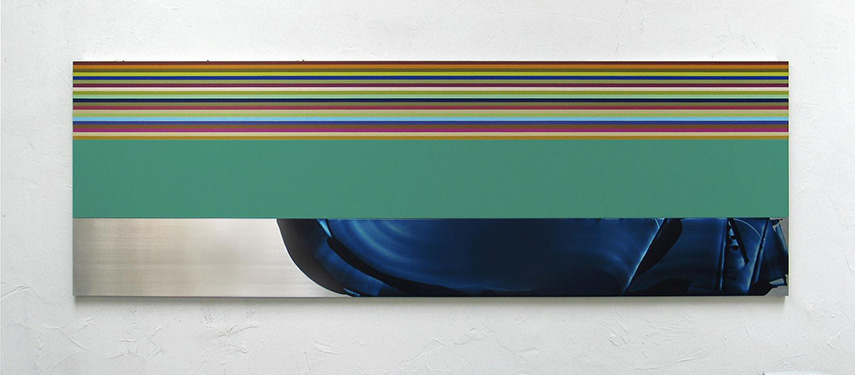 Korean and German Influences
Ahn Hyun-Ju was born in 1969 in South Korea. Her artistic background is quite versatile – first, she studied sculpture at the Ewha Womans University in Seoul and afterwards she moved to Germany, where she continued her studies at the Kunstakademie in Dusseldorf. After she graduated in 2000, she decided to dedicate herself mainly to developing abstract works. Her pieces are characterized by painting directly onto three-dimensional frames made of aluminium. This approach is quite experimental, but Hyun-Ju was never afraid of novelties. Her artistic instincts lead into the research of unique painting techniques and unusual color combinations. In 2016, which means 16 years after the artist started to develop her own style, her oeuvre grew quite rich and her works have participated in several exhibitions in art galleries across Europe.
Hyun-Ju's artistic instincts lead her into the research of unique painting techniques and unusual color combinations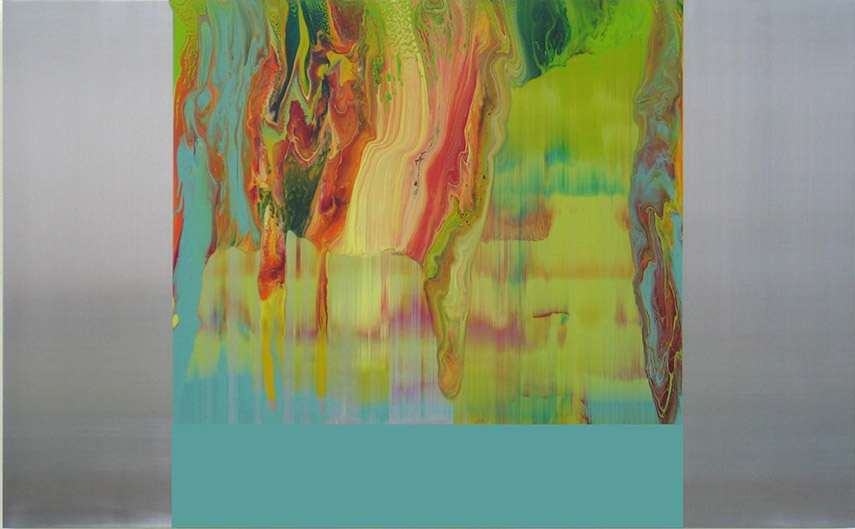 Experimenting with Materials and Colors
Hyun-Ju has experimented with many materials before she has finally settled on aluminium since she discovered that neutrality and stability of this materials go along with her ideas very well. Her work is strongly focused on the aesthetic aspects – she likes to play with different shapes, patterns, and colors. For example, in her series from 2013 called Irrational Symmetry, Hyun-Ju explores compositions which seem balanced without the use of horizontal or vertical lines. She is also known to be quite particular when it comes to her palette. The artist mixes acrylic paints with pigments and enjoys the novelty of such approach. The pigments she uses allow her to obtain different opacities and transparencies, which are used to achieve the layering effects, typical for her Dripping series, In these pieces, she combines monochromatic flats with color drippings, playfully creating a sense of chaos within the underlying order and simplicity.
The artist mixes acrylics with pigments, enjoying the novelty of such approach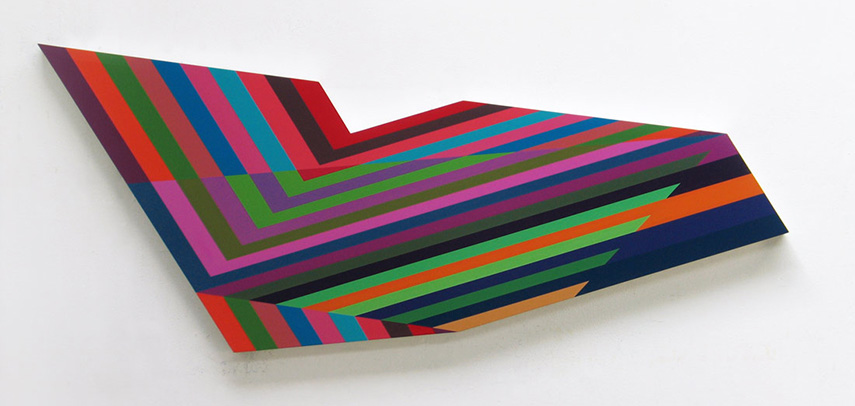 Avoiding Symbolism, Celebrating Aesthetics
Hyun-Ju's work emphasizes the beauty of simplicity and avoids as much as possible inserting any symbolism or references to the past and history. She uses simple, most essential processes to convert her ideas into painting. Such basic approach gives her a lot of freedom and ability to let her imagination run wild. Nowadays, when the art in general is overwhelmed with the plentitude of references coming from the world of media and politics, Hyun-Ju's beautiful simplicity represents a real jewel.
The artist is represented by Artistics.
Ahn Hyun-Ju lives and works in Germany.
Featured Image: Artist's Portrait
All images courtesy of Artistics gallery.
| Year | Exhibition Title | Gallery/Museum | Solo/Group |
| --- | --- | --- | --- |
| 2016 | Le Salon Realites Nouvelles | Paris, FR | Group |
| 2016 | Die Grosse | Museum Kunstpalast, Dusseldorf, DE | Group |
| 2015 | The Drawing Collective | Abstract Project, Paris, FR | Group |
| 2015 | Le Salon Realites Nouvelles | Paris, FR | Group |
| 2014 | Die Grosse | Museum Kunstpalast, Dusseldorf, DE | Group |
| 2013 | Le Salon Realites Nouvelles | Paris, FR | Group |
| 2012 | FARBE-RAUM-KONZEPT | Gallery Kunstraum Dreieich, near Frankfurt | Group |
| 2012 | Le Salon Realites Nouvelles | Paris, FR | Group |
| 2011 | Saturation Point | The Corner Hous gallery, London, UK | Group |
| 2011 | Biennale Armoricaine d'Art Vivant | Brittany, FR | Group |
| 2011 | Poste Concret | Gallery Paris CONCRET, FR | Group |
| 2011 | FARBE-RAUM-KONZEPT | Gallery Schutte, Essen, DE | Group |
| 2010 | Malerei | Gallery Schutte, Essen, DE | Solo |
| 2010 | POSITION FLUIDE | Gallery Paris CONCRET, FR | Group |
| 2010 | Exhibition of nominees | Kunsthalle Messmer, Riegel, DE | Group |
| 2009 | Artfair21 | gallery Kustraum 21, Cologne, DE | Group |
| 2009 | ONE MINUTE international film & video festival | Aarau, Swiss | Group |
| 2009 | World Heritage | Kokerei Zollverein, Essen, DE | Group |
| 2008 | AUKTION | Neuer Aachener Kunstverein, Aachen, DE | Group |
| 2008 | Artfair21 | Gallery Kustraum 21, Cologne, DE | Group |
| 2007 | NEUE ARBEITEN | Gallery Lausberg, Duesseldorf, DE | Solo |
| 2007 | Kubo Show | Regional art fair, Herne, DE | Group |
| 2007 | Art Fair 21 | Gallery Kunstraum21, Cologne | Group |
| 2007 | Art Toronto | Gallery B. Lausberg Toronto | Group |
| 2006 | Colore Non Solo | Theseustempel, Kunsthistorisches Museum, Vienna | Group |
| 2006 | Art Fair21 | Gallery Kunstraum21, Cologne | Group |
| 2006 | Viennafair | Museum Arttera, Vienna, AU | Group |
| 2006 | KUBO Show | Regional Art Fair, Herne | Group |
| 2005 | Colore Non Solo | Venice, IT | Group |
| 2005 | Kubo Show | Regional Art Fair, Herne | Group |
| 2004 | TIVAT NEW ART COLLECTION | Muzej I Galerija Ljetnjikovca Buca- Lukovic, Montenegro | Group |
| 2003 | DARMSTAEDTER SEZESSION | Instituts Mathildenhoehe, Darmstadt | Group |
| 2003 | OBJEKTIV | Art Cult Center in Museumsquartier, Vienna | Group |
| 2002 | Sommerspiel-Hafen Licht Spiele | Dusseldorf, DE | Group |
| 2002 | Zoll / 21 young artists of DUsseldorf | Dusseldorf, DE | Group |