Alberonero is an Italian artist who utilizes geometric shapes and color to create provoking in situ murals as well as studio work. Using the square as a prime and complete shape, and through the interaction of color and the juxtaposition of level, Alberonero creates his abstract vision of the realty reducing the elements at the essential, and at the same time giving continuity and lightness with color scales. He works with a mathematics sketch but only as a guide, the colors are always spontaneous. Alberonero earned his degree at the Politecnico of Milano, where he attended a course in Interior Design.
Commission for Giardini di Plastica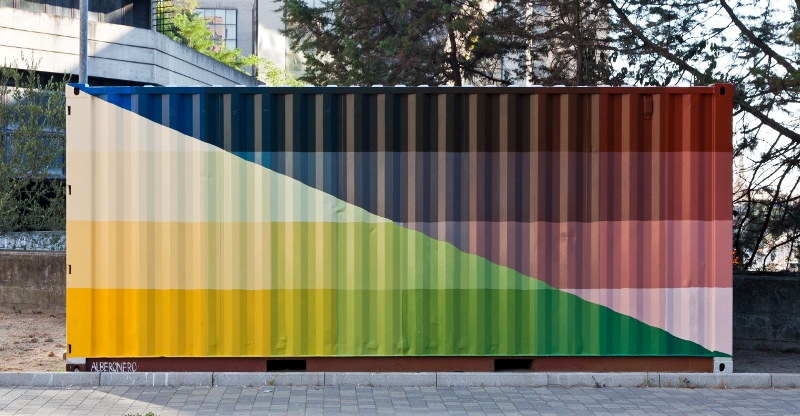 His moniker "Alberonero" means black tree, the trees that you can find in Alps' mountains over 2000 meters. He started to paint in the street when he was fifteen, using his free time to do stencils and graffiti that he really enjoys. His first piece was a black stencil with a monkey.
Alberonero draws inspiration from the places and objects around him, they become abstract using simple chromatic rules. His main reference of inspiration is Bauhaus school, Klee, Albers and minimalism thought. His work is a continue transformation, it goes to essential, interaction of colors, basic shapes. "I want to continue the research about the relation between man and landscape, spaces, buildings, nature, reducing them to chromatic sensations."
Works 2015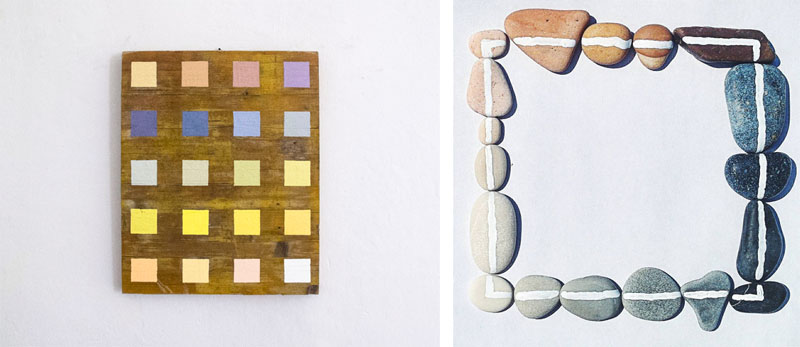 The geometry of the shape, the use of a spontaneous stroke gives him the chance to create effective proportions in relation to the architecture of the location with a more abstract dimension. He adds his planar vision to the three dimensionality of the space, a flat, neat grid that is the base of each construction in his vision. "With the use of multiple stratification levels, I can give dynamism to the composition, which is apparently extremely static. I believe that water colors are the most efficient mean to convey my work."
Dicotomia Exhibition View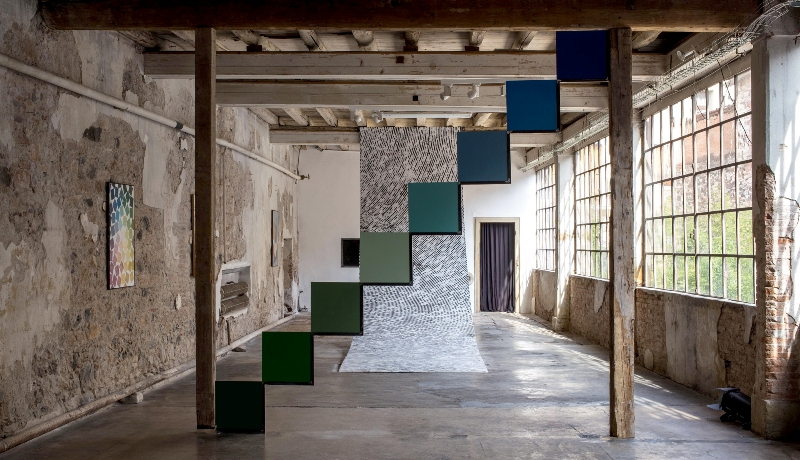 Alberonero's new works have been featured in his recent duo exhibition with Martina Merlini. The show titled "Dicotomia" was held at Atipografia gallery in Arzignano, IT.
Alberonero's Works at Atipografia Gallery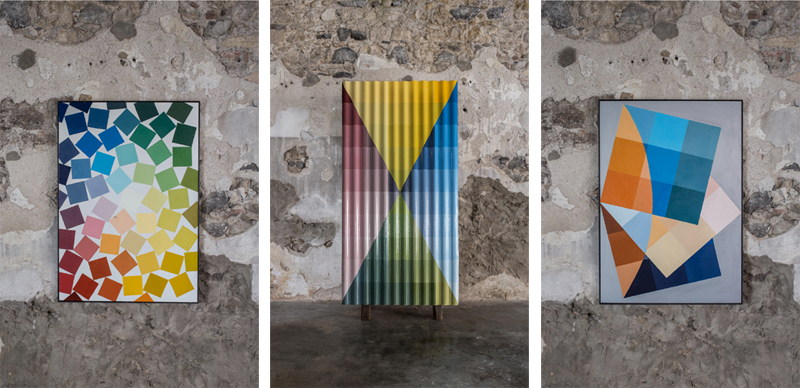 Alberonero lives and works in Lodi, Italy.
All images courtesy of the artist.