It's not an easy feat to try and precisely define the type and style of Andrea Riot's street art. This Italian urban painter crosses over into so many aesthetic categories that it would be hard to narrow him down to just one or even two classes. However, the art of Riot should not be confined in such a fashion anyway. This London-based author uses traits of old-school urban expression, modern looking visual style and traditional calligraphy. Riot's pieces can be found all over London, from the concrete streets to interiors of bars.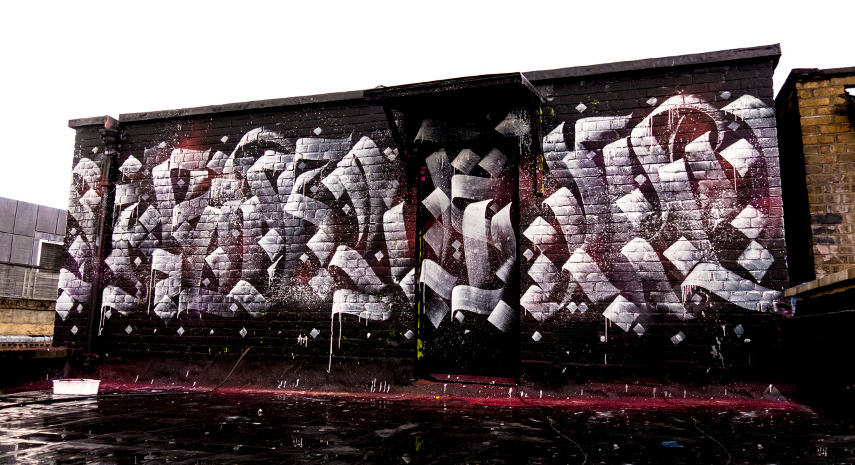 Influences Behind the Art of Andrea Riot
From the time of his early 20's, Andrea has been working as a designer and was stylistically heavily inspired by the famous Ver Sacrum. This official magazine of the Vienna Secession was published between the years of 1898 and 1903, featuring drawings and designs in the Jugendstil style as well as presenting literary contributions from distinguished writers from across Europe. Andrea was very influenced by the way Ver Sacrum solved their design problems and the appearance of the now iconic magazine still plays a big role in the Italian author's work to this day. Other long-lasting influences behind Riot's work are Japanese art with its unique visuals and the European modern graphic design, as well as the concept of the visual communication from the times of the 1960s and 1970s.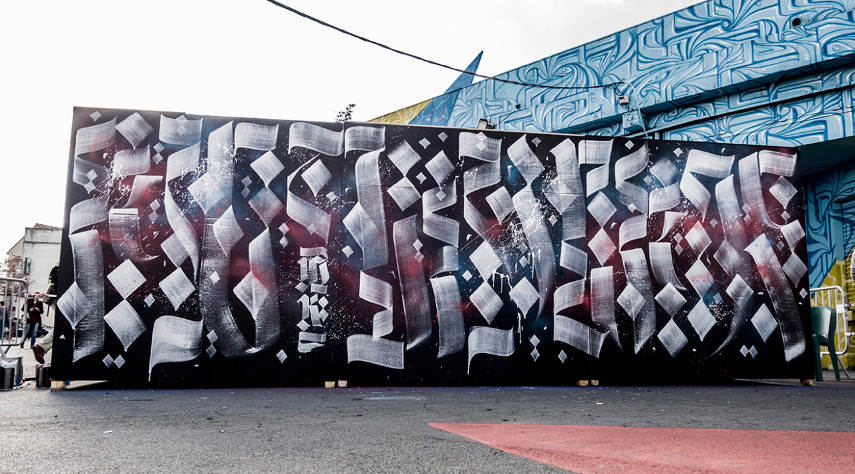 The Search for the Unique Style
By now, Riot is primarily known for his wispy lines and intricate typography. He is a master of using calligraphy in the modern settings of street art and is also capable of combining urban rules with some features of abstract expressionism. This blend is what makes Andrea so special – every artwork has a solid, strict and classic calligraphy structure that is introduced to the freedom of relatively controlled abstraction and graffiti. His art is a continuous chase for the advancements of space organization, composition, perspective, technique, originality and aesthetical beauty. Take a look at his murals and pieces at Riot's Instagram page. It should also be added that Andrea is a part of the Wizard Kings collective.
Andrea Riot combines stylistic traits of traditional calligraphy with the contemporary visuals of street art
The Factor of Passion
When Andrea was asked how he would describe his work and why he paints in the particular way and fashion that he does, the man asking the questions received this answer: I just love to paint. Although very far from the elaborate, complex answer that was initially being sought after here, this short statement is arguably the best possible reply in the particular case of Riot. Andrea adores what he does and the fact he loves his art so much is what allows him to reach the creative heights seemingly without breaking a sweat. His work is as intriguing and visually stimulating only because the author behind it is willing to give nothing less than the full one hundred percent of his efforts and love in order to turn the imagined artwork into a piece of reality.
This artist is represented by Fousion Gallery.
Andrea Riot lives and works in London, United Kingdom.
Featured image: Andrea Riot – The artist painting in Barcelona – Image courtesy of the artist
All images courtesy of the artist.
| Year | Exhibition Title | Gallery/Museum | Solo/Group |
| --- | --- | --- | --- |
| 2016 | Unknown | Fousion Gallery, Barcelona | Group |