We are all a part of this world we live in. But we all look at it from a different perspective, in different ways, seeing what we can and what we want to. Some of us, such as Ashley Longshore, an American artist, are able to visually express that perspective. And while some accept harsh reality and the grayness, she blasts all the negativity with bright colors, making depressive thoughts seem obsolete and unnecessary. Without any formal art education, Longshore fought her way, establishing herself as one of the most famous contemporary Pop artists, being compared with Andy Warhol, the king himself.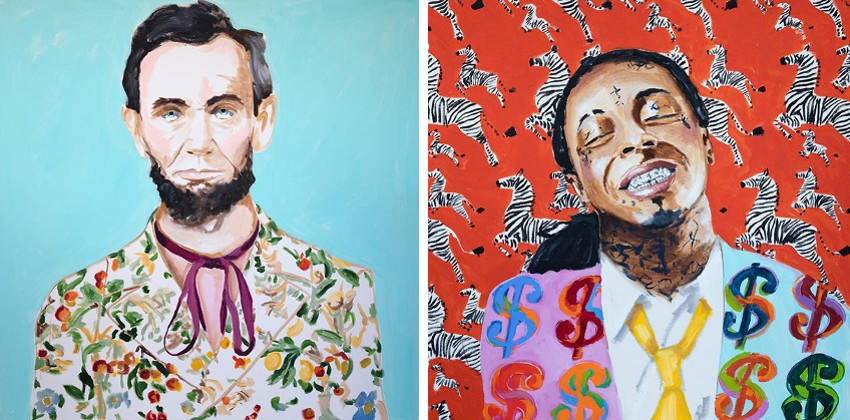 Ashley Longshore Loves That Her Life Fuels Her Art
Undoubtedly, Longshore has an eye for over the top theatrical beauty, but her talent goes beyond creating visually pretty paintings. It is actually her amazing satirical voice that makes each and every piece a conversational one. Being wonderful menageries of both whimsy and beauty, her works are exuberant and filled with a joyful commentary on life and the artist's place within it. Her paintings are representative of the reality she sees around herself. Inspired by pop culture and things she finds intriguing, the painter really enjoys combining the use of words and images in an unexpected way, in order to create a smart, colorful bold statement. Her love for color is what really defines her style as Pop. Some of her favorite themes are fashion women, like Audrey Hepburn, and strong women artists, such as Frida Kahlo. "My paintings are statement pieces that are a reflection of the experiences I have in my life." Having reached a point in her life and career where she feels comfortable, Longshore recalls the previous experiences and emphasizes that her path was by no means an easy one. Without a formal art education, she realized that painting is the best way to express herself, so she created a portfolio and began showing it to any interesting parties. Speaking of inspiration, she is drawn to a lot of artists, such as Alice Neel, Elizabeth Peyton, Vanessa Beecroft, Francesco Clemente, Pablo Picasso, Jeff Koons, etc. Longshore's process begins with painting the image before bedazzling and adding glitter to the image, and then she applies resin over the image. "As far as getting to the point where I'm actually getting ready to paint that really happens a lot for me by isolating myself and reflecting on my life and American greed and all those things." Several times a year she takes inspiration trips, making them "…sacred time where I really make my mind up about what it is I want to paint."[1]
Her paintings are representative of the reality she sees around herself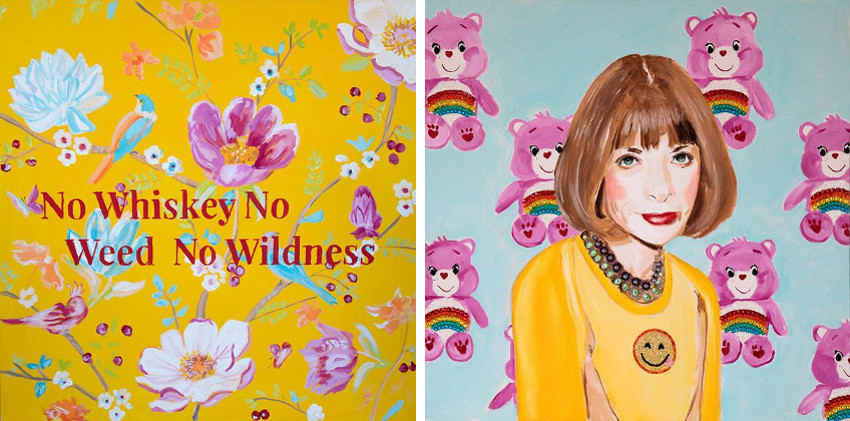 Business via Social Media is Fun but Risky
As mentioned above, at one point in her life Longshore decided to pursue art, created a portfolio and began showing it around. However, the response she came upon was quite discouraging, as many galleries told her she simply wasn't marketable! As someone declined by seemingly the only institutions that connect artists with collectors, she had to find a way to survive. To survive solely by painting in a creative environment that new Orleans certainly is. It started slowly. She began making email constant lists years ago from now because she knew "the best buyer I have is already a buyer, and if I haven't sold anything I can email people that already love my work."[2] With the appearance of the social media, things got better. She could show her work to a much wider audience than it was ever possible via email. This kind of new media allowed for a direct contact between the artist and her fans, and Instagram and Facebook quickly became her advertising tools. Her fans seem to like this type of relationship. In combination with her contagious talent and cheerful paintings, this media strategy began paying off. Pretty soon, there were articles about Longshore and the way she sells her works on Instagram. In the universe of art, galleries have long been the monopolists when it came to the selling of artworks. For that type of service, a fee up to 50% of the work's value was considered as standard. However, even before social media, Longshore began breaking this enchanted circle, fighting her way to the top. Certainly, it was a risky path, but her sheer perseverance and bright personality are responsible for her success. Once her pieces were out there in the ether, her name quickly became wide known and her paintings acclaimed and in high demand.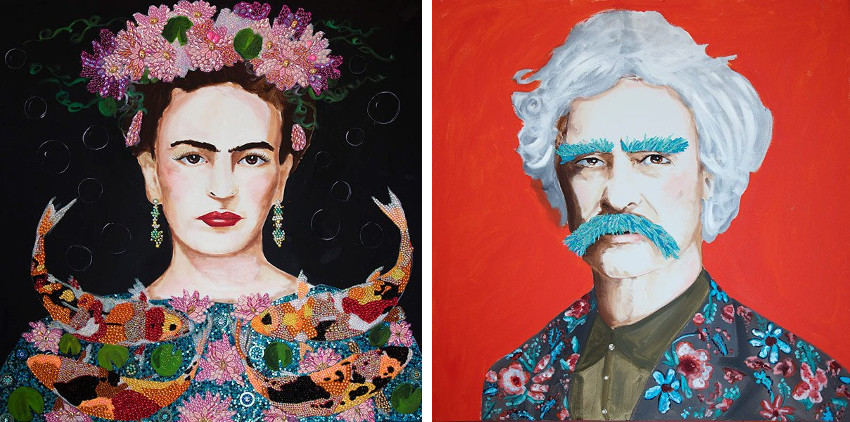 An Advice
It is the new media that many young and aspiring artists use to get in touch with Longshore, wanting to hear her advice. Concerning their work, she simply says: "…you put it out in the world, and don't be scared now, put it out there, don't be scared now, you will get something back from it. You will." Asked to point out her heroes, the artist considers herself as one of them, without sounding pretentious. People with courage to eliminate galleries as a middleman, who are able to self-represent and keep all of their profit margins. After all, why not utilize the benefits and possibilities of new social media, where every like is just the same as an ad? Be brave and stand for yourself!
Ashley Longshore lives and works in New Orleans.
References:
Dovey C. ART FAIR FRIDAYS – ASHLEY LONGSHORE, Christine Dovey [October 7,2016]
Dalton J. Ashley Longshore interview, John Dalton [October 7,2016]
Featured image: Ashley Longshore working on one of her Frida Kahlo paintings – photo credits Alexandra Arnold
All other images courtesy of the artist