Audrey Stone is an artist whose subtle and bold aesthetics explores the differences between texture and the materials as well as the tension between genders in the society. She uses ink, graphite, and thread to create an array of colorful angular art pieces that captivate in their simplicity. Audrey Stone is fascinated by geometrical forms but also finds the time to explore the deep symbolism that both colors and materials have for people all over the globe.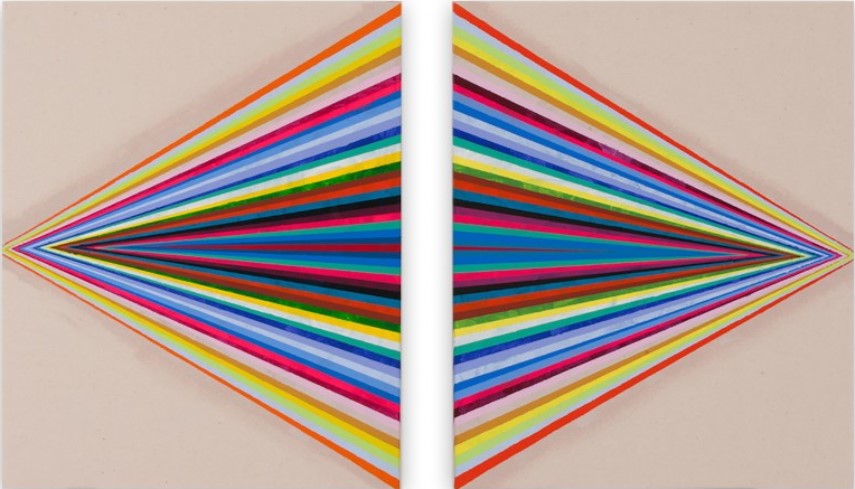 Audrey Stone Biography
Audrey Stone knew she wanted to be an artist since she was at school. She got her BFA at Pratt Institute where she also sold her first painting, after which she got her MFA from Hunter College, in New York. In 2007 she began a new art series and created an array of paper works by applying thread, ink, and pencil onto a grid format. It's difficult to make a distinction between the different materials at first but upon closer inspection, it becomes noticeable that certain lines are drawn in pencil and ink while other are sewn into the paper. While inspecting her artworks the viewers can get the idea that the drawn lines are a two-dimensional representation of the thread or the other way around. Later own she began using angles and random patterns thus developing her work further.
Gender tensions present in every society are a common topic of Audrey Stone's mix media pieces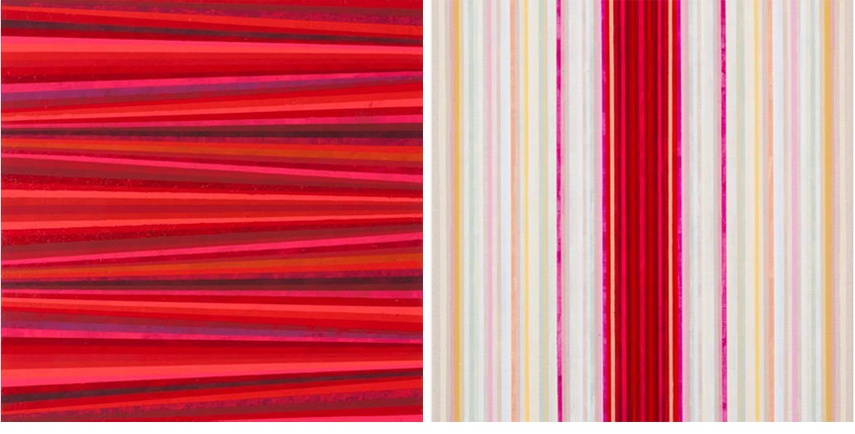 Sewn Paintings by Audrey Stone
The creation of sewn paintings represents a new stage in Audrey Stones career. Fascination with color and line remained but the painter turned away from paper and began working on canvas and linen. Also, her work became more colorful and complex. Audrey Stone began to use thread as a way of inserting color and a sense of the third dimension to her pieces, thus adding a sculptural element to her work. Thread has a deeply symbolic meaning. For centuries thread was used by women as a mean of production. Even today thread is deeply connected with female crafts. Thread has the ability to repair, decorate and keep pieces together. Paint, on the other hand, comes from patriarchal lineage. Paint is easier to use, apply and manipulate. By combining the two,patriarchal and female materials, Audrey Stone question omnipresent gender tensions present in every society.
Photo of a solo exhibition at the artist's hometown New York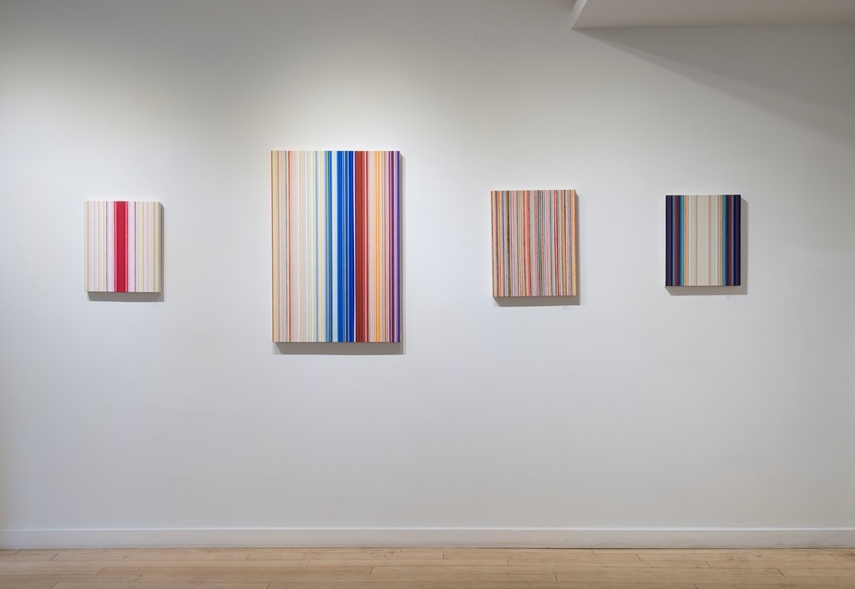 ,
Painting Technique that Portrays Emotions
Audrey Stone paintings contain many layers that are quick to confront the viewer with numerous changes in the surface. First layer of paint usually soaks right through the canvas but slowly, as the artwork progresses linen and canvas base gets covered in layers of paint that transform rough fabric into a smooth surface. Audrey Stone uses tape to control the movement of the paint which enables her to create edges in her abstract work, something that has been her fascination since the early days. There a lot of symbolism in the color itself. Every individual sees color in a different way but yet there are some common conceptions people share about each individual color. For example, blue can symbolize the sky or the ocean, red can symbolize blood and black death. Audrey Stone uses a rich color palette to portray emotions and create contrast thus adding a human touch to her abstract artworks.
Audrey Stone is represented by IdeelArt.
She lives and works in Brooklyn, New York.
Featured image : Audrey Stone Solo Exhibition at Muriel Guepin gallery, NYC 2015
Images courtesy of IdeelArt.
| Year | Exhibition Title | Gallery/Museum | Solo/Group |
| --- | --- | --- | --- |
| 2016 | Linare | Brecht Gallery at PULSE New York | Solo |
| 2015 | Audrey Stone, | Muriel Guepin gallery, NYC | Solo |
| 2013t | Great Barrington, | GEOFFREY YOUNG GALLERY,MA | Group |
| 2012 | Grey Full – Curated by Geoffrey Young | JEFF BAILEY GALLERY, New York, NY, | Group |
| 2012 | Summer Group Show | STATEN ISLAND MUSEUM, Staten Island, NY, | Group |
| 2012 | Untitled | SCOPE NYC 2012, New York, NY, Muriel Guepin Gallery | Group |
| 2012 | Summer Show | MURIEL GUEPIN GALLERY, Brooklyn, NY, | Group |
| 2012 | To Be Considered | MURIEL GUEPIN GALLERY, Brooklyn, NY, | Group |
| 2012t | X-Centric | GEOFFREY YOUNG GALLERY, Great Barrington, MA, | Group |
| 2011 | Works on paper | KEYES PROJECTS,New York, NY | Solo |
| 2011 | James Greco, Holly Miller, Audrey Stone, Richard Walden | MURIEL GUEPIN GALLERY, Brooklyn, NY, | Group |
| 2011 | The Kentler Flatfiles @ 21 (catalogue) | KENTLER INTERNATIONAL DRAWING SPACE, Brooklyn, NY, | Group |
| 2011 | Untitled | KENTLER INTERNATIONAL DRAWING SPACE, Brooklyn, NY , 100 Small Works on Paper | Group |
| 2011 | Keyes Art Projects | HAMPTON ART MARKET , Bridgehampton, NY, | Group |
| 2011 | Chicago, Ill | CHICAGO ART FAIR, Muriel Guepin Gallery, | Group |
| 2011 | Sophia International Paper Art Biennial (catalogue) | AMATERAS FOUNDATION, Sophia Bulgaria, | Group |
| 2011 | Keyes Art Projects | SCOPE MIAMI, Miami FL, | Group |
| 2011 | Major Grey | GEOFFREY YOUNG GALLERY, Great Barrington, MA, | Group |
| 2011t t | Grey, Casheesh Now | GEOFFREY YOUNG GALLERY, Great Barrington, MA, | Group |
| 2010t t | Untitled | GEOFFREY YOUNG GALLERY, Great Barrington, MA, Impromptu | Group |
| 2009 | 100 Small Works on Paper | KENTLER INTERNATIONAL DRAWING SPACE, Brooklyn, NY, | Group |
| 2009 | Up and Coming | BENSON-KEYES ARTS, Southampton, NY , | Group |
| 2009 | Audrey Stone – Fiber Artist From Brooklyn | TAVIN, Los Angeles, CA , | Group |
| 2009 | Untitled | BECKET ARTS CENTER, Becket, MA | Group |
| 2009t t | the great impression | GEOFFREY YOUNG GALLERY, Great Barrington, MA, | Group |
| 2008t t | 100 Small Works on Paper | KENTLER INTERNATIONAL DRAWING SPACE, Brooklyn, NY, | Group |
| 2007 | AUDREY STONE DOROTHY FRANKEL | GALLERY MERZ, Sag Harbor, NY, | Solo |
| 2006t | Women of the SKH Gallery | SKH GALLERY, Great Barrington, MA, | Group |
| 2005t | Group Show | SKH GALLERY, Great Barrington, MA, | Group |
| 2003t | Nature Hanging By a Thread | QUEENS THEATRE IN THE PARK, Flushing Meadows, NY, | Group |
| 2002t | New Work, Now! | THE CURRIER MUSEUM OF ART, Manchester, New Hampshire New York, | Group |
| 2001t | Group Exhibit | H&R BLOCK ARTSPACE, Kansas City, Illinois, | Group |
| 2000 | Group Exhibit | YERBA BUENA CENTER FOR THE ARTS, San Francisco, CA, | Group |
| 2000 | Haulin' Ass | POST GALLERY, Los Angeles, CA, | Group |
| 2000t | Good Business is The Best Art | THE BRONX MUSEUM OF THE ARTS, Bronx, NY, | Group |
| 1999 | Works on paper | WHITE COLUMNS, Outer Boroughs | Group |
| 1999 | Drawn To The Future | CONLON SIEGAL GALLERIES, Santa Fe, NM, | Group |
| 1998 | Art on Paper | WEATHERSPOON ART GALLERY, Greensboro, NC, | Group |
| 1998 | Visions and Voices | VALENCIA COMMUNITY COLLEGE, Valencia, FL, | Group |
| 1998 | Body Image | FULTON STREET AND RATHBONE GALLERIES, Albany, NY, | Group |
| 1998 | Gallery Artists | CONLON SIEGAL GALLERIES, Santa Fe, NM, | Group |
| 1997 | NY- PIEROGI 2000, Brooklyn, NY | GRAMERCY HOTEL ART FAIR, NY, | Group |
| 1997 | Collaborations | ART AT THE YWCA, Brooklyn, NY, | Group |
| 1997 | New York Drawers | GASWORKS, London, England, | Group |
| 1997 | New York Drawers | CORNERHOUSE, Manchester, MI, | Group |
| 1997 | Current Undercurrent, Working in Brooklyn | THE BROOKLYN MUSEUM, Brooklyn, NY , | Group |
| 1996 | Wood, Paper Mache, Acrylic | PEARL CONARD GALLERY, Ohio State University, Mansfield, OH, | Group |
| 1996 | In Full Bloom | THE ONE NIGHT STAND GALLERY, New York, NY, | Group |
| 1996 | Keep Shouting; Artists and Writers Collaborating | 450 GALLERY, New York, NY, Keep Breathing | Group |
| 1996 | Gracie Mansion, NY, NY | GRAMERCY HOTEL ART FAIR, NY, NY | Group |
| 1996 | Box | FOTOUHI CRAMER GALLERY, New York, NY, | Group |
| 1996 | Gracie Mansion, NY, NY | CHICAGO ART FAIR, Chicago, IL – | Group |
| 1996 | Artist In The Marketplace Exhibition | THE BRONX MUSEUM OF THE ARTS, Bronx, NY, | Group |
| 1995t | Lost and Found | NABISCO FOODS GROUP ART GALLERY, East Hanover, NJ, | Group |
| 1995t | Beyond Relief; Wall Sculpture | SALINA GALLERY, Long Island University, Brooklyn, NY , | Group |
| 1995t | Bouys: Marking The Place – An Exhibition of Large Scale Sculpture | A RENEGADE SPACE, organized by Art Initiatives, New York, NY | Group |
| 1995t | Eileen Kennedy-Dyne, Audrey Stone, Willie Marlow | BROWNSON GALLERY, Manhattanville College, Purchase, NY, | Group |
| 1995t | Hipporeality: The School of Bayonne | MXM GALLERY, Prague, Czech Republic, | Group |
| 1994t | Mass Exposure | TRIBECA 148, New York, NY, | Group |
| 1994t | OUTRAGEOUS | KRISTOPHER LINDSEY GALLERY, Sarasota, Fl, | Group |
| 1994t | Invitational | CERES GALLERY, New York, NY, | Group |
| 1993t | Drawing 1993 | C&A GALLERY, New York, NY, | Group |
| 1992t | Journey of The Self: Women's Autobiographical Art | INTERNATIONAL HOUSE GALLERY, Columbia University, New York, NY | Group |
| 1991 | Paintings and Drawings | C & A GALLERY,New York, NY, | Solo |
| 1988 | Emerging Women Artists Program | A.I.R. GALLERY,New York, NY, | Solo |
| 1988t | Trans Ego Show | MINOR INJURY, Brooklyn, NY, | Group |
| 1987t | Small Works | NEW YORK UNIVERSITY, New York, NY, | Group |