Awer is an Italian street artist who has been part of the graffiti scene since he was only fourteen years old. Born in 1986 in Polignano a Mare, a small town located on the Adriatic Sea, Awer left his hometown and moved to Milano where he graduated himself as graphic designer and art director.
Master of Hypnotic Graffiti
Self-taught, Awer started his artistic career in Milano, where he developed his own unique world of hypnotic creatures at times really colorful at times only using white and black shades. The images hide a meaning under their first layer of optical illusion, representing the various moods of life such as anguish, roaming around and anger. Awer is a master of hypnotic graffiti giving life to artistic remedies and solutions to escape from human troubles with a mind trick.
Awer's Style
Awer started with letters and words, developing his characters into robots represented on many walls all over Italy. After some time, he began to combine the robots with "muscles", working more with fluorescent colours. In addition, he drew big animals, all made out of "muscles", and came up with a very distinctive black and white line-based style.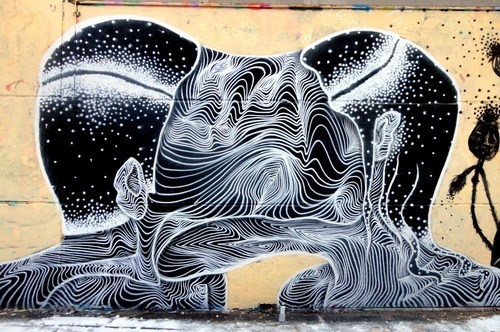 Awer took part to several exhibitions and festivals in Italy, Poland, Berlin, Paris and Los Angeles. Although he focuses mainly on the art at the moment, Awer is also tattooing at his private studio in Berlin.
Awer lives and works between Italy and Germany.
| Year | Name of the exhibition | Museum/Gallery | Solo/Group |
| --- | --- | --- | --- |
| 2014 | AC-AB | Black Market Collective, Berlin | Solo |
| 2013 | 20x20 | Studio D' Ars, Milan | Solo |
| 2013 | Reclaim your City | Berlin | Solo |
| 2013 | Black e White | Studio D' Ars, Milan | Solo |
| 2013 | Stroke urban art fair | Studio D ars stand, Berlin | Group |
| 2013 | Artist for the wall painting | Acheronte, Taranto | Group |
| 2013 | Artist for La Tour 13, organized by Gallerie Itinerance, Le Grand Jeu | Paris | Solo |
| 2013 | Beyond Time AIR | BWA Bielska Gallery, Bielsko Biala, Poland | Solo |
| 2013 | Winner of Screenprint contest | IDRAWALOT gallery, Berlin | Solo |
| 2013 | Corrosive Container, with XLab collective | Paris | Group |
| 2012 | Cadaver exquis - Exquisit corps | X lab, Berlin | Solo |
| 2012 | How many lines | Speak Easy, Berlin | Solo |
| 2012 | Stroke urban art fair | X lab stand, Berlin | Group |
| 2011 | Artaq-2nd urban arts awards, sezione canvas | Paris, France | Group |
| 2011 | I Low Art | ArtCore Gallery, Bari | Solo |
| 2011 | Artaq-2nd urban arts awards, sezione canvas | Angers, France | Group |
| 2011 | Metagraph | Ethic, Firenze | Solo |
| 2011 | Essere non essere | Scalo San Donato, Bologna | Solo |
| 2010 | 1 year of X lab | X Lab gallery, Berlin | Group |
| 2010 | Odi55ea | Galleria Magenta 52 Vimercate Milano | Solo |
| 2009 | The Rebirth | The Air Grafx shop, Los Angeles CA | Solo |
| 2008 | Artista, decoratore per un toy esposto all' Arte 2 gallery | Milano | Solo |
| 2008 | Sotto Pre55ione | Omnia Milano | Solo |
| 2008 | Scala Mercalli | Auditorium Parco della Musica, Roma | Solo |
| 2008 | Boy55'n da wood | Spazio espositivo Rehab, Milano | Solo |
| 2008 | 5otto5opra | Naba Milano | Solo |
| 2007 | Distratto Intere55e | Virgoz Tattoo Studio Milano | Solo |
| 2007 | Il Sospetto | Biokip Gallery Milano | Solo |
| 2006 | Big Marker | Biokip Gallery Milano | Solo |