From time to time, we feel a little stagnation gripping the global cinematography scene. It seems as too many of our contemporary directors are stuck in repetitive cycles a bit too much when it comes to all genres and types of movies. Luckily for us, there are still a few experts out there who can be considered modern pioneers of film. One such person is without a doubt Ben Tricklebank, a young artist who decided to make use of his extensive technological knowledge and his talent for shooting films to create completely original and impressive projects. He became famous for his interactive movies in which the viewers are responsible for which course the film will take. However, he does not limit himself to just filmmaking as this is often just the last piece of his artistic jigsaws – Ben frequently creates installations and thinks of clever ways to record them and make them available online for all the world to see.
Here you can see the effects Tricklebank achieved with Light Echoes
Ben Tricklebank and His Camera Lenses
Since Ben Tricklebank is considered to be an interdisciplinary artist, it is not surprising that his work uses many different mediums – film, photography, installation etc. The focal point of his work is finding new and clever ways to engage with audiences, to somehow make them participate instead of simply standing and watching. This comes as a great innovation since it directly confronts the very essence of cinema. Over the years, Tricklebank managed to achieve a reputation of a leading live action director through making numerous commercials, interactive films, virtual reality installations and digital experiences – all conceptualised by thinking outside the box. What his pieces have in common with each other is a clear focus on clever and visually driven storytelling – a feat that made Ben one of the most awarded digital directors of all time. The term digital is used because Tricklebank utilizes groundbreaking technologies to set the stage of his films. In all honesty, if he didn't pursue a career of an artist, Ben would have made one heck of an engineer. His smart usage of innovative technology combined with an excellent talent for storytelling made Tricklebank one of the most interesting young artists out there. It should be noted that ben is also a software artist, for he has made quite a few interactive internet experiences for Google, YouTube and other famed companies.
Ben Tricklebank's work is incredibly impressive to observe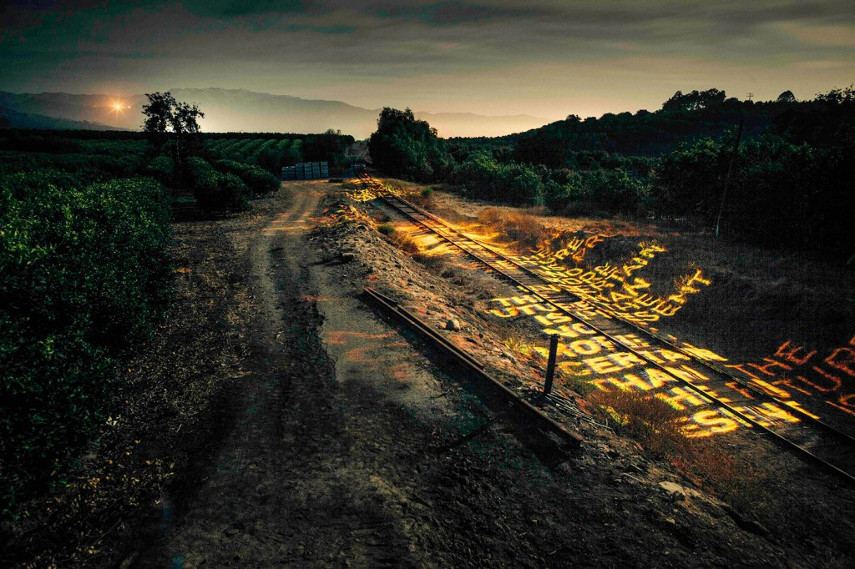 Tricklebank's Résumé
Tricklebank's pieces have been climbing the ladder of the art scene in recent years, as his projects have started to attract much more attention nowadays. From his quite memorable works, we've chosen to highlight the interactive installation Light Echoes, made in collaboration with a visual artist Aaron Koblin – a man with whom Tricklebank has worked on a couple of occasions over the years. That project was a series of artworks in which traces of light were painted onto physical spaces. Where the light was cast differed from installation to installation – as you can see from our images. We would also like to note another project, the film Clouds Over Cuba. This is an interactive documentary that marked the 50th anniversary of the Cuban Missile Crisis and is a film that brought Tricklebank much fame and recognition. It is an immersive experience that tells the story in riveting detail, beginning in 1959 with the Cuban revolution and continuing on to the notorious October of '62. The most controversial segment was a chance given to viewers to navigate through a provoking fictional What if scenario, showing how the world might be different today had the crisis escalated into nuclear war. For this piece of cinematography, Ben was awarded an Emmy, One Show Gold, D&AD Yellow Pencil, 11 Cannes Lions, Gold ADC Award and a Gold Clio! It was even named as the 2013th digital project of the year in the US. Talk about a successful film. Other successful projects and films Ben Tricklebank proudly listed in his portfolio are Sony Bravia, Black Light, First Love, The Order and In Their Chucks – all of which are available for you to see on his official website.
Here's a video of Tricklebank's artwork titled Endec, a site-specific installation which explores notions of control and freedom through our relationship with technology
Nowhere but up for Tricklebank
If you are a fan of contemporary art that tries to be uniquely innovative and are a movie buff too – look no further then Ben Tricklebank, cause you've found your guy. The way he approaches different projects and scenarios ensure us he will continue to develop over the years and we really can't see him going anywhere but up from where he is now. The technology is only getting more advanced and his rising status will bring him nothing but more extent and opportunities to create new films and installations for us. And judging by his already finished projects, there is absolutely no chance he will disappoint.
The artist is represented by Gazelli Art House in London, England.
Ben Tricklebank lives and works in Los Angeles, United States.
Featured Image: Ben Tricklebank – Photo of the artist – Image courtesy of Ben Tricklebank
All images courtesy of Gazzeli Art House