The particular focus on creating narratives of humans and machines formed the artistic practice of Benjamin Burkard and made him develop fantastical and eerie artworks. Although the artist is interested in the world after tomorrow, his agenda cannot be necessarily seen as a pessimistic one. It seems as if Burkard is questioning the stereotypical representation of apocalypse; the humans and machines on his paintings are somehow conjoined and as entities, they are dealing with the existential dilemma. Therefore, we come to the conclusion that the artist is trying to articulate rather complex philosophical issues in regards to our daily lives and digital era we live in.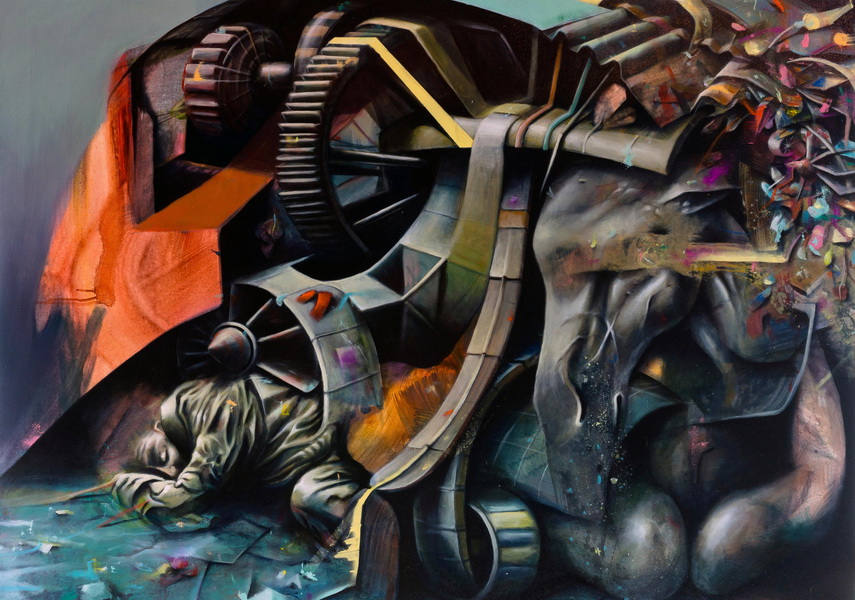 The Artistic Development
Benjamin Burkard was born in 1986 in Kandel, Germany. He still studies art and biology at the University of Landau. Soon after, the artist received a Heinrich-von-Zügel-scholarship for painting from the university, so he continued painting in his own studio and decided to become a professional artist instead of a teacher. In 2016 he was honored with the Winner Fischer/Collegen art award and gained second place at Shortlist Phoenix Art Prize Top Ten, as well as several other awards.
The coloring and forms in service of surreal naratives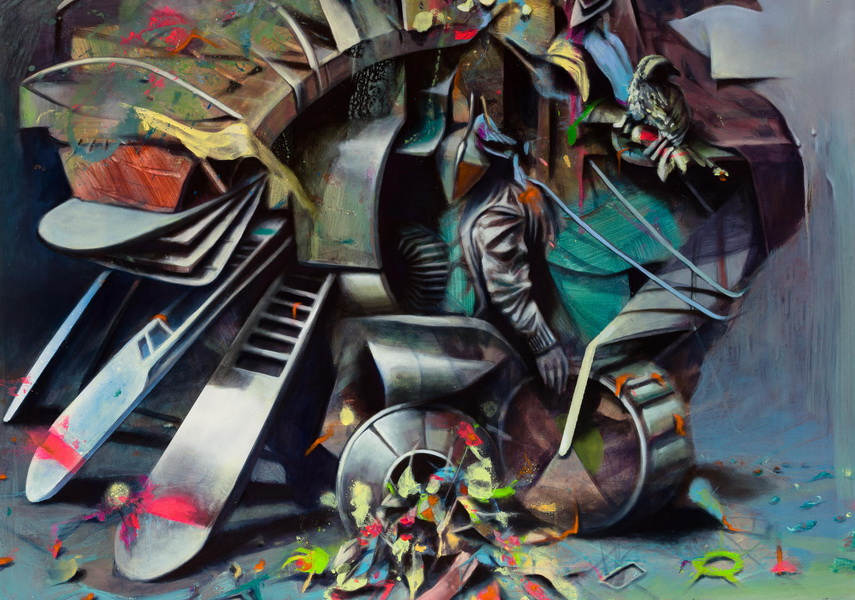 Benjamin Burkard Machines Gone Amok
The artist tries to build personal his personal style by not referring to any particular other artist or art movement. Nevertheless, Jean Tinguely's sculptural machines and kinetic objects fascinate Burkard very much and made him follow that path. The very selection of machines as dominant motives led the artist to create authentic visual language. By constantly inventing new mechanical constellations, Burkard acts as a visionary inventor, a creator of the fantastical, unseen and surreal.
The work of Benjamin Burkard can be affiliated with Futurism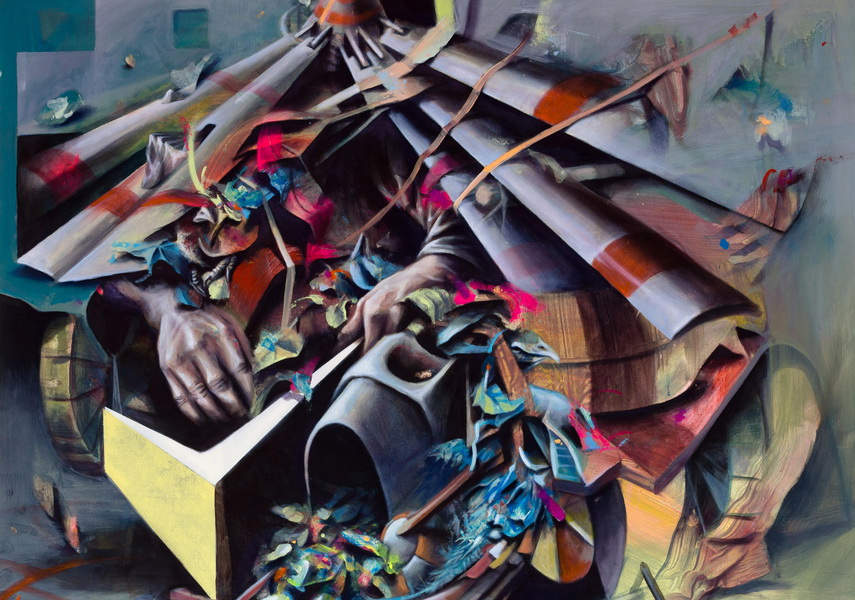 The Process
When it comes to the technical aspect, Benjamin Burkard decided to embrace mixed media to find a balance between abstraction and figuration. The artist mainly works with acrylic, oil, and varnish, and uses the old technique grisaille to form the figurative elements in his paintings. The first step in painting is the first layer, an informal analysis of the following figurative elements. Burkard spends much time for each work and as he states there are often some points where he does not know the answer of how to continue the started form, and so the painting has to rest or has to be damaged by paint until another form is visible.
The artist's machine-paintings are progressive and refreshing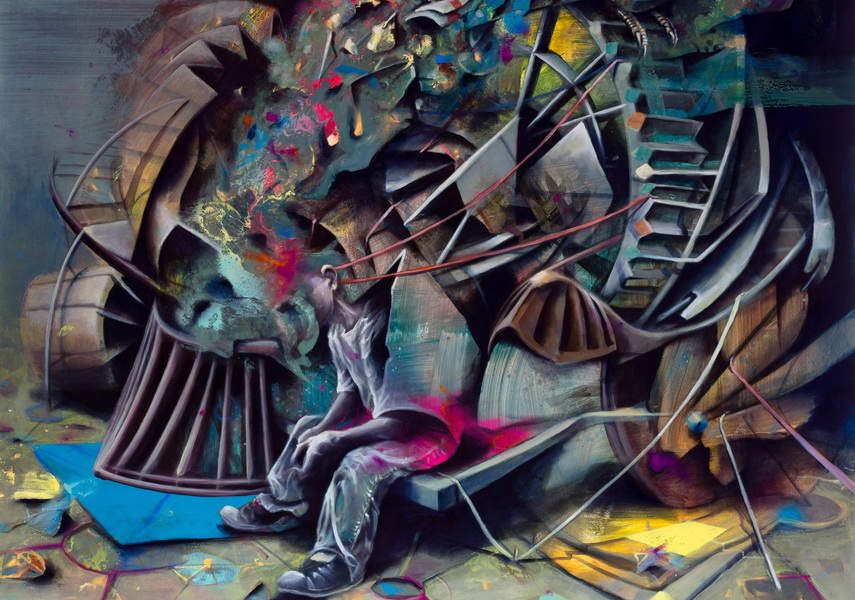 The Artistic Practice Of Benjamin Burkard
By fusing technical and biomorphic elements Burkard definitely produces futuristic narratives, but with a certain distance. Such an impression comes to mind if we look closely and think about his works further. The big mechanism depicted to not have any specific function, they are like hubs for human contemplation, sleep or perhaps enjoyment of any kind. Therefore, the irritating pictorial worlds of Benjamin Burkard are fascinatingly ambiguous, enigmatic and theatrically staged, but are always playful, extremely humorous and critical in the context of gradual loss of complex thinking.
Benjamin Burkard lives and works in Landau, Germany.
All images used are courtesy of the artist
| Year | Exhibition Title | Gallery/Museum | Solo/Group |
| --- | --- | --- | --- |
| 2017 | Art Karlsruhe, Galerie Luzia Sassen, Karlsruhe | Solo | |
| 2017 | Fourplay | Galerie 30works, Köln | Solo |
| 2017 | Alte PostKöln | Galerie Charity, Wien | Solo |
| 2017 | Painting Affairs | Junge Kunst, Berlin | Solo |
| 2017 | Untitled | Collectors Club, Berlin | Solo |
| 2017 | Wortmalerei trifft Maschinenmalerei | Förderverein Weinheim | Solo |
| 2016 | Art Karlsruhe | Karlsruhe | Solo |
| 2016 | Junge Kunst im Ruhrgebiet | Galerie alte Spedition, Gladbeck | Group |
| 2016 | Untitled | Galerie Luzia Sassen, Köln | Solo |
| 2016 | Nimmerland | Artelier21, Rheinzabern | Solo |
| 2016 | Young Selections | Stiftung Villa Königsfeld, Berlin | Group |
| 2016 | Blooom converging show | DieHO-Galerie, Köln | Group |
| 2016 | Untitled | Glaerie Hühsam, Frankfurt | Group |
| 2016 | Painting Delight | Junge Kunst Berlin, Berlin | Group |
| 2016 | Overbeck Gesellschaft | Junge Kunst Berlin, Lübeck | Group |
| 2016 | Untitled | Fisher-collegen Kunstpreis, Stuttgart | Group |
| 2016 | Untitled | Kunst Mitte, Förderkoje, Magdeburg | Group |
| 2015 | ungewollte W | under | Artgalerie am Schloss, |
| 2015 | Untitled | Galerie Sassen, Köln | Solo |
| 2015 | Untitled | Galerie Thomas Hühsam, Frankfurt | Solo |
| 2015 | Untitled | Stadtmuseum,Ludwigshafen | Solo |
| 2015 | Ingenium | Item-Wer, | |
| 2015 | NordART | Kunstwerk Carlshütte, Büdelsdorf | Solo |
| 2015 | Untitled | Art Imaginär,Neustadt | Group |
| 2015 | Untitled | Affordable Art Fair, Amsterdam | Group |
| 2014 | Worms | Ausstellungsbeteiligung zum Kunstpreis Alzey-Worms | Solo |
| 2014 | Ausstellungsbeteiligung beim Item Kunstpreis | Item-Werk, Ulm | Group |
| 2014 | Apocalypse Now! | Museum Pfalzgalerie, Kaiserslautern | Solo |
| 2014 | Untitled | Galerie Alte Spedition,Gladbeck | Solo |
| 2014 | Untitled | | |
| 2014 | Untitled | Contemporary Art Ruhr, Essen | Group |
| 2014 | Untitled | Art'pul Windeck, Windeck | Group |
| 2013 | Untitled | Galerie Hühsam, Offenbach a.M. | Group |
| 2013 | Untitled | 25. Kunsttage Rhein-Erft, | |
| 2013 | Naturzustand | Villa Böhm, Neustadt a.d.Weinstraße | Group |
| 2013 | Untitled | Karlsruher lange Nacht der Museen, Karlsruhe | Group |
| 2013 | Artes Mechanica | Galerie Artelier 21, Rheinzabern | Group |
| 2012 | Nexus | Moments Art Gallery, Neustadt | Solo |
| 2012 | Stadt Land Mensch | Humboldt Galerie, Viernheim | Group |
| 2012 | Untitled | ADJ Galleria, Tschchesztowa | Group |
| 2012 | Der mobile Mensch | Galerie altes Rathaus, Wörth | Group |
| 2012 | Untitled | Pfalzgalerie – Ausstellungsbeteiligung zum Pfalzpreis für Malerei, Kaiserslautern | Group |
| 2012 | Untitled | Galerie Rehberg, Mannheim | Group |
| 2011 | Mobilität total | | |
| 2011 | Untitled | Galerie Melnikow, Heidelberg | Group |
| 2011 | Untitled | Künstlerhaus P142, Berlin | Group |