Beth Moon is an American photographer, recognized for her large-scale, richly toned platinum photographs. Mostly black-and-white, her stunning images are invitations to wonder and bewilderment, portraying subjects such as ancient and legendary trees from remote locations, hills and coast, and soulful animal humankind interactions in the natural world. In her photographs, Moon demonstrates a magical and intuitive appreciation for the ways in which time, memory and nature define our understanding of man's place in the universe.
Discovering the Platinum Printing Process
Originally from Novota, California, Beth Moon studied fine art at the University of Wisconsin, where classes in painting, life drawing, sculpture, and design would set the groundwork for her work in photography, which was to come years later.
Unhappy with the photographic tonality and stability of simple ink-jet printing, Moon started to experiment with alternative printing processes after moving to England. There she learned to print with platinum, an ideal process for her vision, which has an ability to greatly amplify the spirit of enchantment that permeates her work. Beth Moon became a specialist in the Mike Ware platinum printing method, which is renowned for its incomparable luminosity, ability to create a wide range of tones and its remarkable level of permanence. Like gold, platinum is a very durable metal, meaning that a print can last thousands of years, drawing on the common theme of time and survival, pairing photographic subject and process.
With many steps involved in creating the final print that are as important as capturing the image itself, the platinum printing allows the artist to be true to her vision and define many decisions. Working the materials by hand, much the way a painter would, Moon has the freedom to pursue her creative vision in process.
Portraits of Time
Mystical and magical, the black-and-white photographs of Beth Moon from her Portraits of Time series celebrate nature and our relationship to it as a primary elemental experience. By expressing their language, spirit and beauty, Beth captures the power and mystery of the world's remaining ancient and legendary trees.
She records the symbolic groves of the giant Sequoias in the morning mist, the Joshua trees in the hot desert sun, the majestic, sentinel-like Baobab trese known as 'upside-down trees' in Madagascar, and the ancient hollow-trunked Yews in English churchyards. In addition, she has laid her hand on the umbrella-shaped, crimson-sapped dragon's blood trees that grow only on the isle of Socotra, off the Horn of Africa.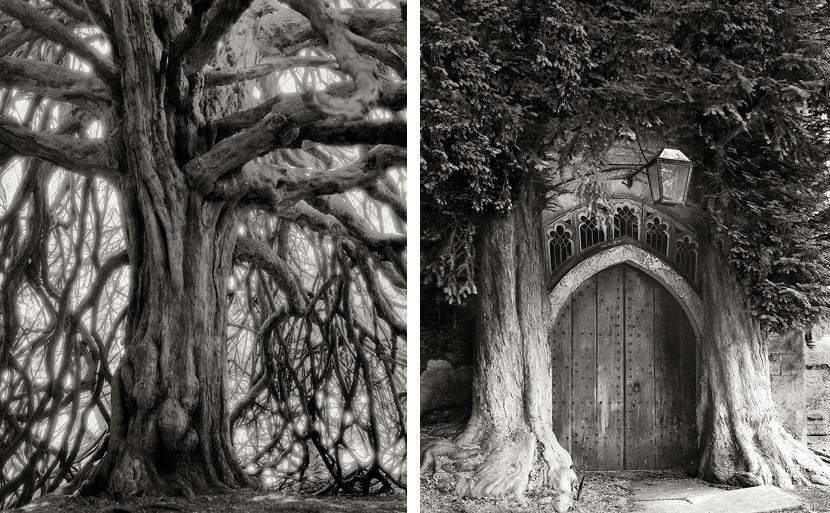 Just as living monuments, some of them more than 5,000 years old, these magnificent trees have figured out how to adapt and withstand changing environmental and human impacts. As the earth becomes increasingly crowded these symbolic trees will take on a greater significance reminding us, through their grandeur and age, how essential they are to our psychology and how precious they are to the soul of the world. By feeling a larger sense of time, Beth Moon's portraits of trees, with their spirit wedded with native landscapes in imagery, leave a permanent impression on the viewer's memory.
"It is hard to find a subject more challenging to photograph than ancient trees. How do I express their power and beauty to those who have never seen them? How do I convey this power and beauty to those who have? I want to speak the language of the trees." – Beth Moon
A Special Connection with Trees – Diamond Nights Series
Beth Moon returns to the subject of ancient trees in 2014, in her recent series titled Diamond Nights. She portrays jewels of star-studded skies set against immense and marvelous trees, making her photographs ethereal and full of majestic beauty, leaving the viewer breathless with awe. Most locations depicted in Diamond Nights were wild and remote, far from civilization and light pollution in the southern hemisphere. Mighty and eccentric baobabs and surreal quiver trees are featured in this work, titled after constellations named by the ancient Greeks and Romans. In that way, she connect these ancient, long-gone civilizations with olden trees that are still standing strong.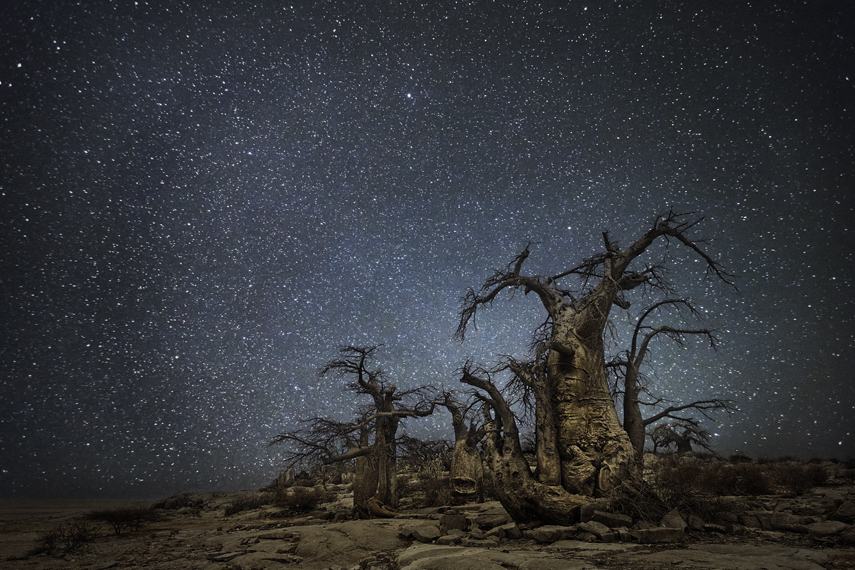 Beth Moon's Books – Portraits of Time and Between Earth and Sky
Besides her most popular series such as Portraits of Time and Diamond Nights, Beth Moon's oeuvre include series such as Thy Kingdom Come, The Savage Garden, Island of the Dragon's Blood, and many more.
Beth Moon's first monograph, titled Between Earth and Sky presents five major series of works produced since 1999. It includes Portraits of Time, which portrays ancient and legendary trees from around the world; Thy Kingdom Come, which explores animistic and totemic beliefs connecting humankind and the animal kingdom; Odin's Cove, the story of a pair of mated ravens living in the wild; The Savage Garden, which looks at the compelling, sinister beauty of carnivorous plants; and Augurs and Soothsayers, a series of portrait-style photographs of exotic chickens.
Recently, Beth Moon has published her second book, titled Ancient Trees: Portraits of Time.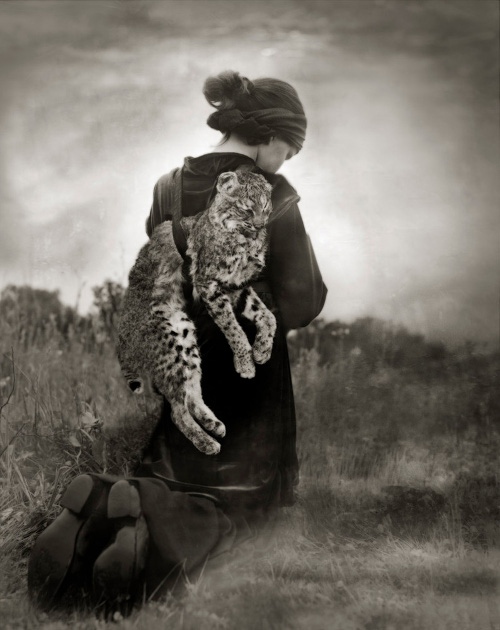 Beth Moon's Exhibitions
Beth Moon has exhibited her works widely throughout England, France and the USA, and has put on solo shows in London, San Francisco and Chicago. She has won numerous awards, including the Golden Light Award from the Maine Photographic Workshops and she has been published widely in major photographic magazines.
Beth Moon currently lives with her family in the San Francisco Bay Area.