Brent Hallard is an American contemporary artist born in Australia in 1957, currently living in San Francisco. His abstract art is minimalistic and exploring monochromatic expression. He also works as a curator and a writer, and he is a professor as well, never adventuring too far away from the world of art.
Art by Brent Hallard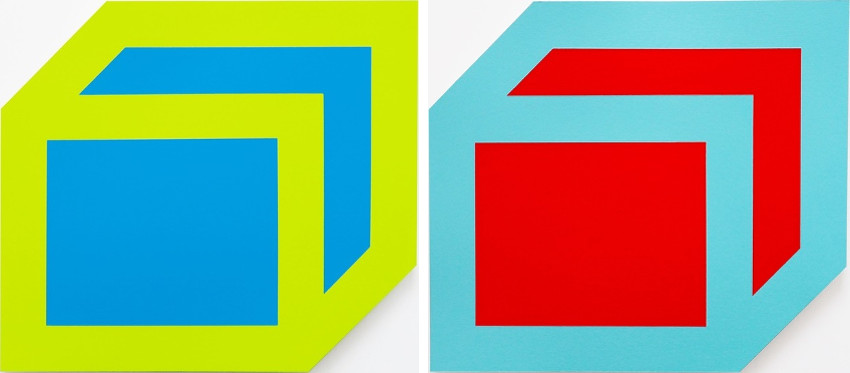 Hallard received his Bachelor of Fine Arts in 1990 and Master of Arts in 1992 from the University of New South Wales. He teaches at the San Francisco Art Institute and the California College of the Arts. Inspired by spaces and geometrical forms, the artist manipulates both the image and the arrangement of the object, so the observers and their perception could be challenged. He sticks to minimalism, as the forms of a square and rectangle are making his art widely recognizable.
Art by Brent Hallard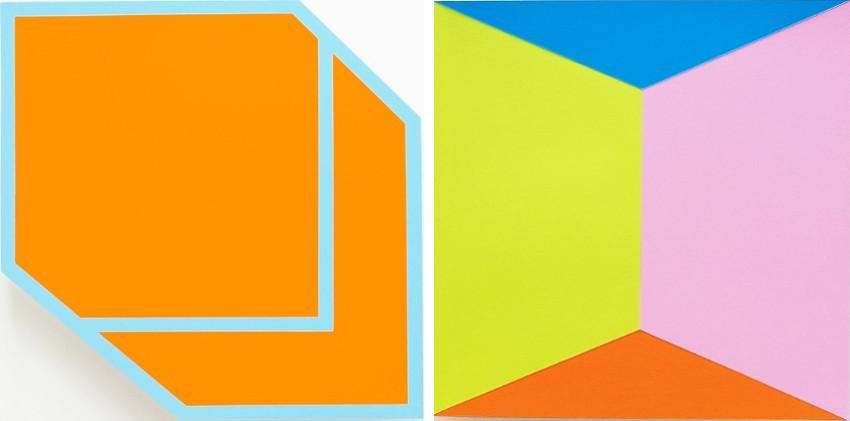 Hallard knowns that the pieces he makes are simple. And he would certainly like it to stay that way. The artworks on paper and aluminum are, in the same time, both challenging and not that much complicated. The idea is to create a sort of language where a lot could be expressed using simpler terms. His artworks have been exhibited throughout the world, and he has curated a number of shows.
Art by Brent Hallard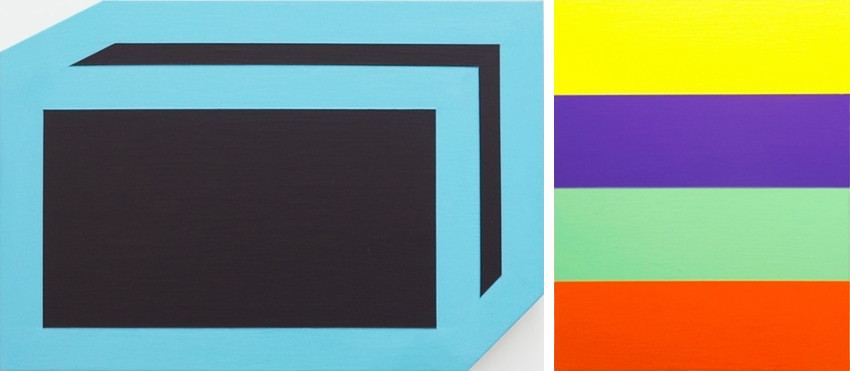 He is represented by IdeelArt gallery in London, UK.
Brent Hallard lives and works in San Francisco, USA.
All images courtesy of the artist.
| Year | Exhibition Title | Gallery/Museum | Solo/Group |
| --- | --- | --- | --- |
| 2016 | Hydrography lll | LaKaserna Artspace, Bad Nieuweschans, Netherlands | |
| 2015 | Nolan Projects | Nolan Foundation, Wales, UK | |
| 2015 | Volume | Schema Projects, New York | |
| 2015 | Formal Watercolor | Museum Waterland, Purmerend, Netherlands | |
| 2015 | Territory of Abstraction | Pentimenti Gallery, Philadelphia | |
| 2015 | Paperazzi 4 | Janet Kurnowski Gallery, New York | |
| 2014 | un·bound·ed | Root Division, San Francisco | |
| 2014 | Doppler Shift | New Art Center, New Jersey | |
| 2014 | Abstract Realites, Jan Van de Ploeg, Brent Hallard, Richard Van der Aa | University of Southern Queensland | |
| 2014 | Dressed in Pink | Raygun Art Projects, Southern Queensland | |
| 2014 | Hard-Edge Abstraction | Richard F. Brush Art Gallery at St. Lawrence University in Canton, New York | |
| 2014 | Paperazzi 3 | Janet Kurnowski Gallery, New York | |
| 2013 | Sydney Non Objective Turns 100 | SNO Contemporary Art Projects, Sydney, Australia | |
| 2013 | The Big small Graphic Art Show | Graphic Studio Daglicht Eindhoven | |
| 2013 | LIGHT SPACE PROJECTS 2013: Rituals of Exhibition II by The Talent Agency | H Gallery Chiang Mai, Thailand | |
| 2013 | DOPPLER | Parallel Art Space, Brooklyn, NY | |
| 2013 | Hydrography - Abstract in Watercolor | De Vishal, Haarlem, The Netherlands | |
| 2013 | Rituals of Exhibition | Don't Be Selfish, Phayao Thailand | |
| 2013 | Paperazzi 2 | Janet Kurnatowski Gallery, New York | |
| 2013 | Right and Other Angles | Soft-spot | |
| 2013 | Never Underestimate a Monochrome | Wignall Museum of Contemporary Art | |
| 2012 | Index #3 | Melbourne | |
| 2012 | Dripping Color Amazement | Galerie oqbo, Berlin | |
| 2012 | Never Underestimate a Monochrome | University of Iowa Museum of Art | |
| 2012 | Paparazzi | Janet Kurnatowski Gallery, Brooklyn, NY | |
| 2011 | VOID289, UNVOID | KOBE Biennale, Japan | |
| 2011 | A Romance of Many Dimensions | Brooklyn Artist's Gym, Brooklyn, NY | |
| 2011 | Saturation Point International Survey of Reductive Art | London | |
| 2011 | Gifting Abstraction | Soho20 Chelsea Gallery, NY | |
| 2011 | Sugarmountain 2 | Galerie van den Berge, NL | |
| 2011 | Chase the Tear NIAD | Richmond, CA | |
| 2011 | Recent Movements in Non-objective Art | Reuten Galerie, NL | |
| 2011 | 1st International Festival of Non-Objective Art | Grenoble, France | |
| 2011 | Plane Speaking | McKenzie Fine Art, NY | |
| 2010 | Informal Relations | Indianapolis Museum of Contemporary Art (IMOCA) | |
| 2010 | Touch + Paris | ParisCONCRET | |
| 2010 | Hydrography: Abstracts in Watercolor | RC de Ruimte in IJmuiden | |
| 2010 | Fuzzy Logic | Thompson Gallery The Cambridge School of Weston, MA | |
| 2009 | Editionen aus Deutschland den Niederlanden und der Schweiz | Gesellschaft für Kunst und Gestaltung, Bonn GKG Bonn | |
| 2009 | Trans: Form | Color | Meridian Gallery, San Francisco | |
| 2009 | Personal Space, three person show with Richard Roth and Henriette van 't Hoog | parisCONCRET, Paris | |
| 2009 | Kosmos Light and Space | Leiden | |
| 2009 | Trans:formal | Pharmaka, Los Angeles | |
| 2009 | Pour faire simple | parisCONCRET, Paris | |
| 2008 | T-show | Polverara, Italy | |
| 2008 | The Space Between | San Jose Institute of Contemporary Art, San Jose, CA | |
| 2007 | Trans Weltraum | Marienplatz, Munich | |
| 2007 | U-shape | Minatomirai, Yokohama | |
| 2007 | Solid Space storefront | Setagaya, Tokyo | |
| 2007 | New Wall Drawings | Bus-Dori Projects, Tokyo | |