Bronco is a German street artist whose humorous or satirical messages can be found in the major cities of his home country, such as Berlin, Cologne, and Hamburg. Bronco's art relies on his consistent, recognizable typography and sharp bilingual sense of humor, since his messages are written both in English and German. Bronco finds the inspiration for his short punchlines in the current pop-culture, various political statements and his own life experience. Although his art was born on the streets of Berlin, Bronco is nowadays a gallery exhibitor who still sticks to his trademark typography and insightful statements.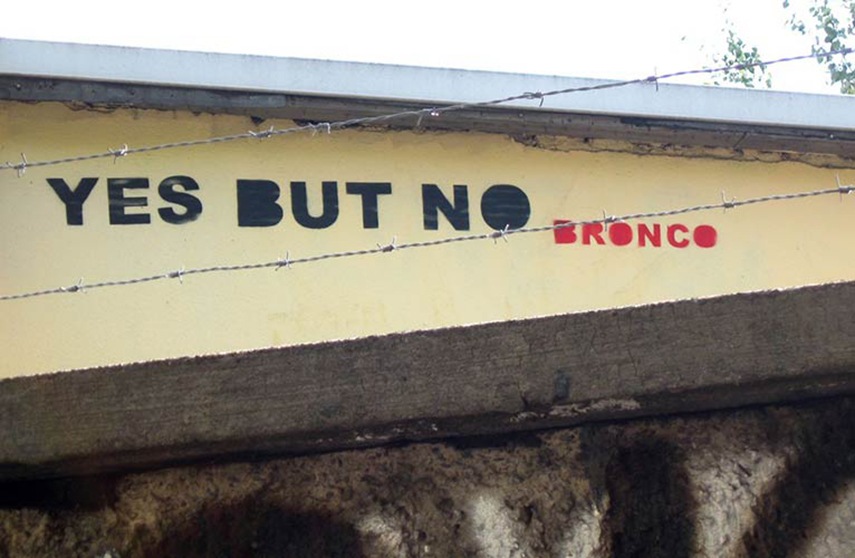 Subliminal Criticism of Society
Just like many other street artists, Bronco doesn't reveal too much of his personal information but it is known that he's a digital media designer working as a freelancer in Berlin. Since 2006, he's been working under various pseudonyms, creating series of posters in public places, based solely on typography. Bronco's distinctive typographic style devoid of any additional graphic components is powerful in its simplicity. At the same time, Bronco is addressing various issues that anyone can identify with or make fun of. This makes his statements universally appealing – the artist is not having any specific target audience in his mind, but rather the entire urban culture and the people who belong there. Bronco is famous for mentioning celebrities such as Heidi Klum or Shakira in his artworks, but they are definitely not the only targets of his social commentary. Surprisingly, the artist is even making fun of himself in various statements, giving his art a humorous personal touch.
Bronco worked under various pseudonyms, creating series of artworks based on typography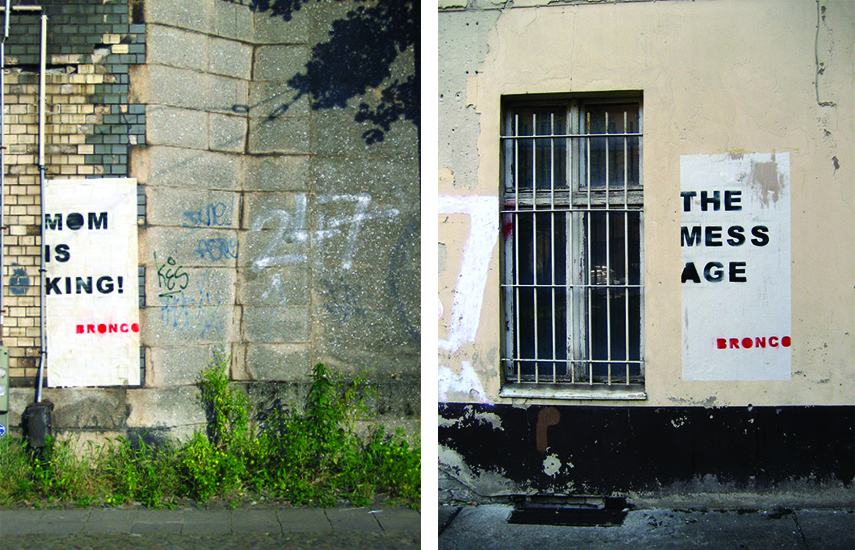 Street Art Interns
Bronco has initiated an awkward project that probably hasn't even crossed the mind of any street artist yet – he decided to hire unpaid interns to help him prepare exhibitions and in return learn more about his art.  Bronco considered this project mainly a fun thing to do, almost a provocation at first, but he was curious to see the feedback.  I've put my ads alongside poor streets, with the motto – look, here you can learn how to do street art properly,  said Bronco. After he got many replies, he decided to choose the best application, which belonged to a 24-year-old female photographer. Bronco's topics for the internship included technical basics of street art, planning exhibitions and historical overview of the development of urban art. Talking about exhibitions, Bronco has organized more than 5 shows so far – the latest one called Give It a Second, It Is Going to Space was a group exhibit held at Die Kunstagentin gallery in Cologne.
Bronco decided to hire interns to help him prepare exhibitions and in return learn about his art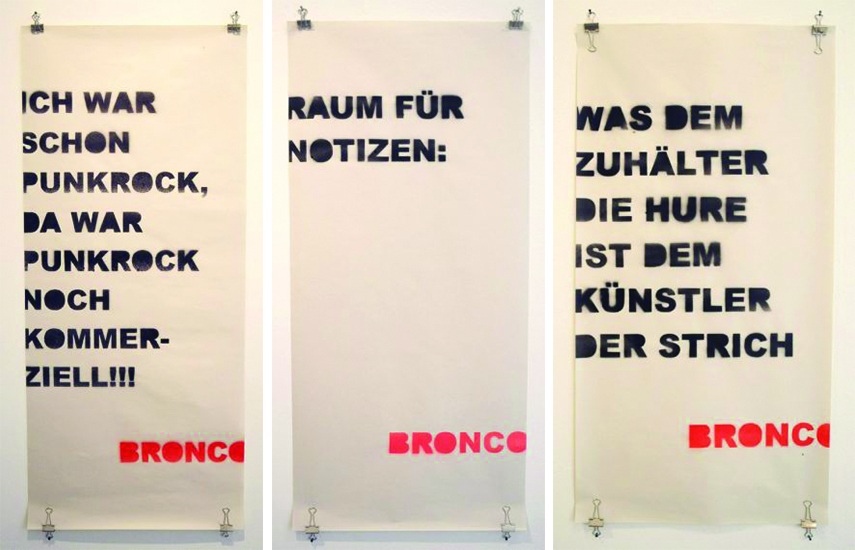 No More Amazement
Bronco's opinion and feelings towards the recent culture and art are best described in his statement claiming – Ich komm in das Staunen gar nicht mehr rein, which stands for I can't be amazed anymore. However, even though this saying might be true for many of us since we live in the world saturated with so much information that we end up being numb, artists like Bronco are here to shake us up a little bit and make us laugh not only at the world, but also at ourselves and our own virtues and vices.
The artist is represented by Die Kunstagentin.
Bronco lives and works in Berlin, Germany.
Featured image: Bronco – The Future Will Eat Itself – image via flickr.com
All images used for illustrative purpose only.