Burton Morris makes colorful and bold pop art using everyday objects as a central theme. His vivid colors emphasize the simplicity and graphic pop character of his artwork. Using imagery from pop culture, brands, and logos, he makes vibrant art that gives a new dimension to random, ordinary items, such as certain food types, coffee cups, ketchup bottles, cars, and tools. Some of his works was a permanent part of a famous cafe, Central Perk, from the TV show Friends. He exhibited artwork worldwide, from the Europe to the USA.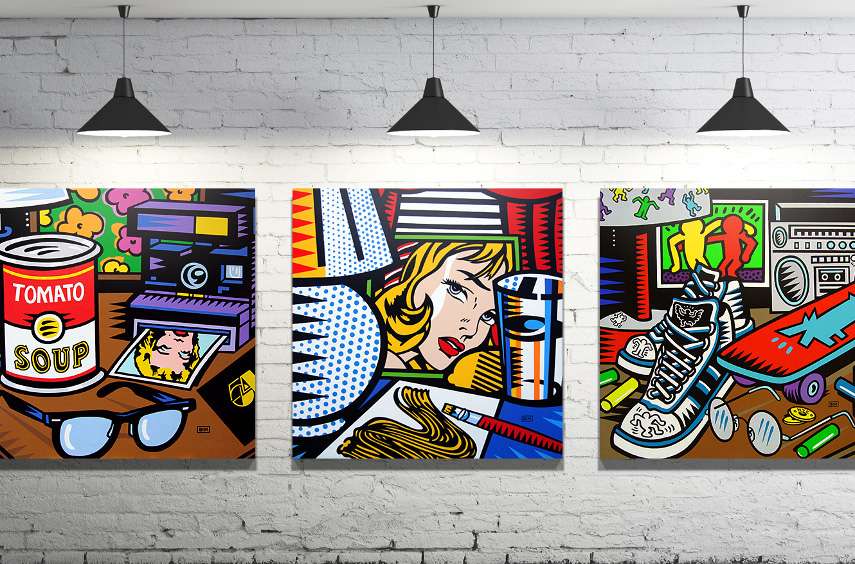 Burton Morris Studios
Burton Morris was born in 1964, in Pittsburgh, Pennsylvania. After an accident, he had when he was just 3 years old, he was on bedrest and he fell in love with drawing, since it was all he could do. He studied graphic design and illustration at the Carnegie Mellon University and graduated in 1986. His first career-making job was at an advertising agency, where he worked as the art director. He founded Burton Morris Studios in 1990. Just two years later his artwork appeared in the TV show Friends, and he had a major collaboration with Absolut Vodka. His childhood love for comic books, and love for Pop Art, especially Andy Warhol, gave him the idea to start combining illustration and graphic design. Morris started working with basic elements of pop art, such as food packaging, grocery store objects, and icons of popular culture. He used them to express his optimistic and bright energy and colorful style.
Burton Morris made a poster for the Annual Academy Awards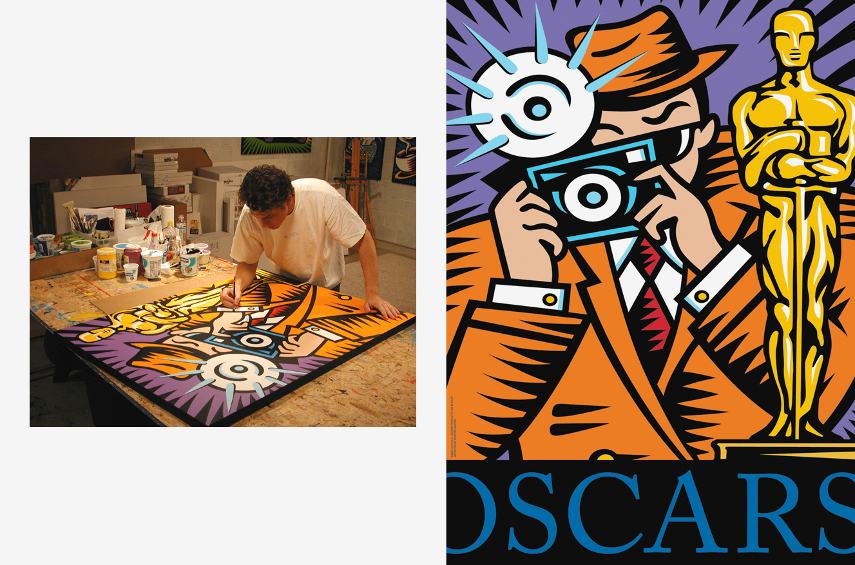 Contemporary Take on the Oscar Awards and the Olympics
Morris had a major success with his 76th Annual Academy Awards poster. Inspired by his childhood hero Dick Tracy, he made a contemporary illustration of a man in a suit, holding a camera, ready to take a picture. The viewer is encouraged to imagine all the Hollywood A-listers standing on the red carpet, striking a pose. Hollywood is all about tradition and classics, and Burton Morris managed to bring a breath of fresh air into their image. The next big thing for Morris was the invitation to design work for the Summer Olympic Games in 2004. The assignment was to capture the contemporary spirit of the Olympics, and he successfully did so by making Olympic torches appear in a repetitive manner, just in different color. Ingeniously captivating, these images were modern, fresh, with a certain buzz, yet still iconic, and perfectly suitable for the occasion. His fondness of icons comes from the advertising background, where he learned to communicate in the pictorial language. Burton uses the common method, a picture is worth a thousand words, and creates a unique experience for the viewer, leaving them feeling positive and optimistic.
Morris' images are appearing in repetitive manner, emphasizing the universal character of the icon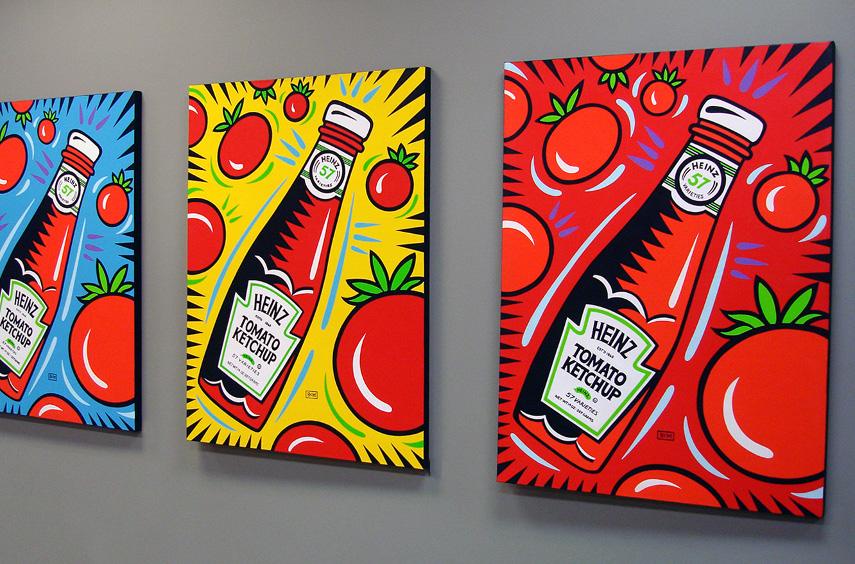 Coca Cola Artworks in New York
His goal was to create simple icons, make them as a brand, and showcase them. So, when he was asked to commemorate a Coca-Cola bottle in 2015, celebrating the 100 years of the famous brand, he continued where he predecessors left and gave an image to the iconic product. His mantra is that an icon, a pop art icon, has to be recognizable, likable and appealing. He made 100 Coca-Cola bottle paintings, as a partial homage to Warhol, who made 100 Campbell soup paintings. Coca-Cola represents group gatherings, family dinner, summer refreshment, a typical classic American thing. Burton tried to experiment with his artwork and used spray paint, acrylics, and screen printing. The colors stayed classic though silver, red, black and white. He presented this work at the Soho Contemporary Art Exhibition in New York, where, before him, Keith Haring, Roy Lichtenstein, and Jean-Michel Basquiat were exhibiting their work. Burton Morris makes real pop art icon, and he himself is an icon, too.
The artist is represented by Kunzt Gallery.
Burton Morris lives and works in the USA.
Featured image: Burton Morris – Nightstand
All images courtesy of the artist
| Year | Exhibition Title | Gallery/Museum | Solo/Group |
| --- | --- | --- | --- |
| 2015 | LA Art Show | Los Angeles, California | Group |
| 2015 | Palm Springs Art Fair | Palm Springs, California | Group |
| 2014 | Exhibition at the Ferrari Museum | Modena, Italy | Group |
| 2014 | Burton Morris | Senator John Heinz History Center, Pittsburgh, Pennsylvania | Solo |
| 2013 | Burton Morris | ION Orchard Art Gallery, Singapore | Group |
| 2013 | Burton Morris | Soho Contemporary Art, New York City | Solo |
| 2013 | Burton Morris | Gerald Hartinger Gallery, Vienna, Austria | Group |
| 2012 | Burton Morris | Tagliatella Gallery, Paris, France | Group |
| 2012 | Burton Morris | Galerie Mensing, Munich, Germany | Group |
| 2012 | Burton Morris | Chelsea Piers, New York, New York | Group |
| 2011 | Burton Morris | Zimmer Children's Museum, Los Angeles, California | Group |
| 2011 | Burton Morris | The World of Coca-Cola Museum, Atlanta, Georgia | Group |
| 2010 | Burton Morris | Pop & Contemporary Fine Art, Singapore | Group |
| 2010 | Burton Morris | Samuel Lynne Gallery, Dallas, Texas | Group |
| 2009 | Burton Morris | Hofstra University Museum, West Hempstead, New York | Solo |
| 2009 | Burton Morris | Kellogg Corporation, Battle Creek, Michigan | Solo |
| 2009 | Burton Morris | Pop International Gallery, New York, New York | Group |
| 2009 | Burton Morris | Hamilton Selway Fine Arts, Los Angeles, California | Group |
| 2008 | Burton Morris | Visionnaire Gallery, Milan, Italy | Group |
| 2008 | Burton Morris | Adamar Fine Arts, Miami, Florida | Group |
| 2007 | Burton Morris | Seomi & Tuus, Seoul, Korea | Group |
| 2007 | Burton Morris | Art Statements Gallery, Central, Hong Kong | Group |
| 2006 | Burton Morris | Hamilton Selway Fine Arts, Los Angeles, California | Group |
| 2006 | Burton Morris | Galerie ID, Geneva, Switzerland | Group |
| 2006 | Burton Morris | Centre PasquArt, Bienne, Switzerland | Group |
| 2005 | Burton Morris | Hickory Museum of Art, Hickory, North Carolina | Group |
| 2005 | Burton Morris | Pop International Gallery, New York, New York | Group |
| 2004 | Burton Morris | Academy Of Motion Pictures, Los Angeles, California | Group |
| 2004 | Burton Morris | Montreux Jazz Festival, Montreux, Switzerland | Group |
| 2004 | Burton Morris | International Olympic Museum, Lausanne, Switzerland | Solo |
| 2003 | Burton Morris | Sotheby's, Amsterdam, The Netherlands | Group |
| 2003 | Burton Morris | Galerie Marguetta, Rome, Italy | Group |
| 2003 | Burton Morris | Galerie ID, Geneva, Switzerland | Group |
| 2002 | Burton Morris | Mendelson Fine Arts, Pittsburgh, Pennsylvania | Group |
| 2001 | Burton Morris | Setan Gallery, Tokyo, Japan | Group |
| 2000 | Burton Morris | Pop International Gallery, New York, New York | Group |
| 2000 | Burton Morris | Galerie ID, Geneva, Switzerland | Group |