In 1950, a Bic ballpoint pen was created. It was a birth of a pen that will soon become one of the best seller products in the industry. Swiss technology used on this project made sure to cut and shape metal down to 0.01 millimeter, producing a stainless steel, one-millimeter sphere allowing ink to flow freely. In 2009, French artist Cécile Bisciglia have discovered its enormous potential. Since then, this artist has been using the Bic ballpoint pen to create her large-scale canvases with drawings of living things, leaving behind sculpture, painting, sewing and collage.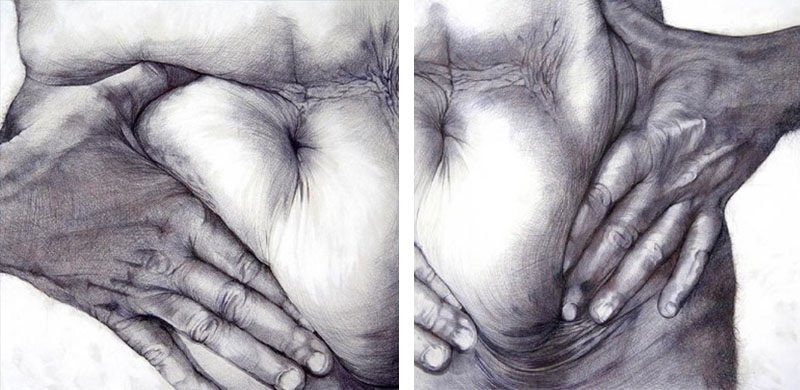 Cécile Bisciglia Discovers BIC Ballpoint Pen
Bisciglia is a graduate of the Lille Faculté d'Arts Plastiques: she earned both Bachelor's and Master's degree in visual arts. In a search for her own personal expression, this artist experimented with many different materials and techniques since an early age. However, Cécile has always been nurturing a special relationship with drawing as her personal life story was marked with illness and she was often bedridden, fulfilling her time with drawing the world seen from her perspective – closer to the core and with a great amount of tolerance and compassion. The year 2009 was a turning point for her style. Once she discovered all the wonders a plain pen can do, she declared herself a BIC-er on canvas, focusing on a drawing with a ballpoint pen on large scale canvases. The ongoing battle between the husky structure of canvas and a technical finesse of a ballpoint pen is what motivates this artist to keep creating in spite of strong arm cramps this technique produces after many hours of drawing. Different shades of gray she attains by working on the angle of incline and the pressure applied are her small victories in this battle. Their fascinating effect encourages her to continue with her BIC experiment, playing with shades and light, producing her mesmerizing patterns.
Cecile Bisciglia creates striking pieces with a ballpoint pen on large scale canvases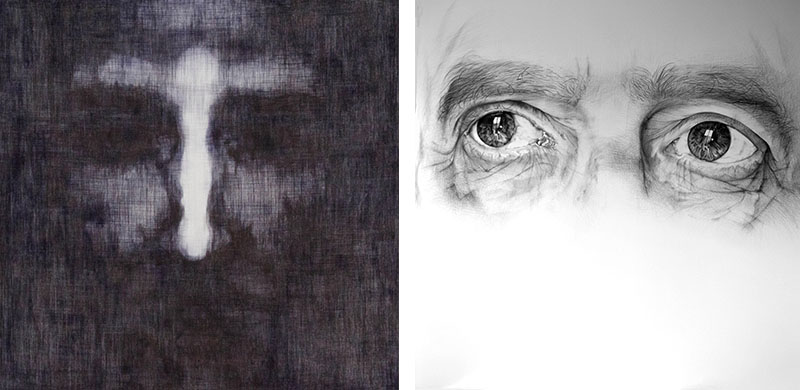 Portraits and Domestic Procession Series
Cécile Bisciglia's works from the series titled Portraits depict the eyes of people who are looking straight through as if they are observing the viewer. They follow and observe the viewers revealing the presence of the model with both mystery and intensity. Other series titled Domestic Procession is a remarkable example of the animals portrait at its best. Bisciglia's drawing mastery can be observed through her clear and precise pen strokes in which the monumental sized subjects like gorilla, dog, bird, cat or lemur are depicted.
In her Domestic Procession series, the artist explores animalistic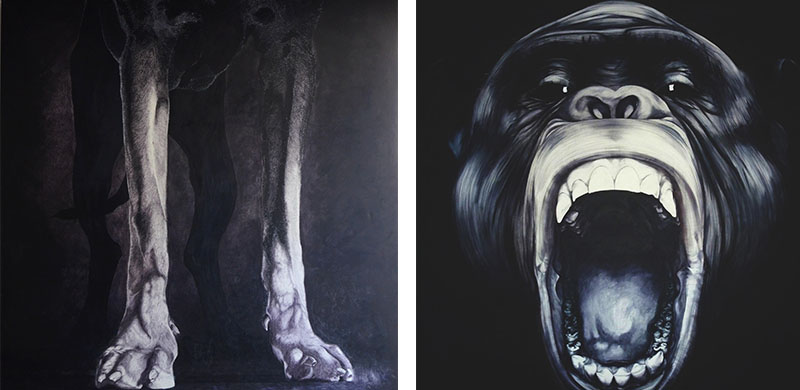 Puvis de Chavannes Prize
Besides her ballpoint pen art, Cécile works on a project which implies the creation and recreation of her own artworks. She named it Vandalized, accordingly to the method used in this project – she paints over her works, scribbles on or scratches it, corrupting her pieces with an aim to elevate the interpretations on many different levels. In 2015, Cécile Bisciglia was awarded the Puvis de Chavannes Prize, established in 1861 by Theophile Gautier and Louis Martinet to encourage art to be more liberal. She presented there her work titled Electre-Gisou, a stare in biro and acrylic. By choosing this particular artist to awarded, the jury put the spotlight on contemporary drawing, maybe announcing the bright future of this medium. Anyhow, Cécile Bisciglia's meticulous drawing on canvas by nothing less but a regular BIC pen is something that can be described as a peculiarity of the contemporary art – the freedom to experiment and create seemingly conflicting connections is what makes art forever young. In her most recent works, the artist began experimentation with an assortment of colorful pens to create even more intricate drawings.
Cécile Bisciglia lives in Sarthe, France.
All images courtesy of the artist