Charles Cham, a Malaysian painter, creates puzzlingly primitive artworks that resemble the images from the walls of prehistoric caves. His human figures and faces consist of simple geometric forms, while his use of colors is bold and temperamental, full of contrasting hues. I believe that drawing is thinking and painting is feeling. Therefore, I draw what I think and paint what I feel, says Charles Cham about his working technique. In addition to his childlike and simplistic artworks, the artist is also known as the founder of the Orangutan House, a gallery located in the historical downtown of the city of Malacca.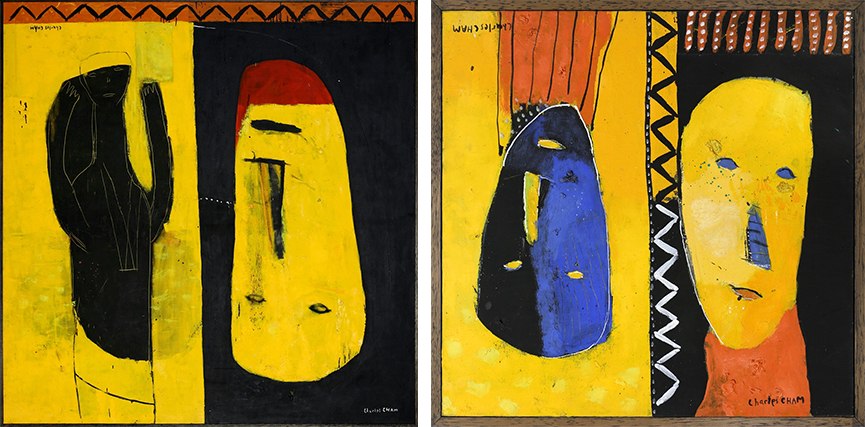 Navigation through Charles Cham's Early Childhood: Inspiration in Movies and Cake Powder
Charles Cham was born in Malaysia in 1962. He was an extremely imaginative kid – when he was just five years old, he already showed an interest in visual arts, movies and artwork. In his early work, he painted various faces he saw in movies. The artist didn't use only pencils and colors to create his childhood artworks – he also played with his mother's cake powder, using it as a paint and creating a wide range of improvised mixed-media pieces at his house. Cham followed his dreams for many years and eventually became an editorial artist in Kuala Lumpur. After a while, the artist decided to make a change in his life and relocate to France in order to further his education and training in painting. He became a member of the prestigious Association des Artistes Indépendants in Aix-en-Provence in France. Thanks to this institution located far away from his home, he exhibited his works at the Salon des Independents in 1990 and 1991.
In his earliest childhood painting with cake powder, Charles Cham used to depict various faces he saw in old movies and cartoons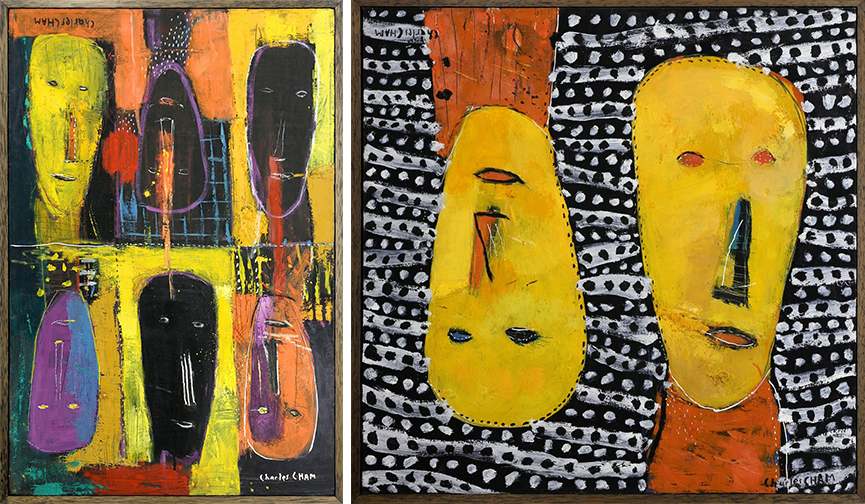 Information on the Orangutan House Gallery
In 1992, Charles Cham founded The Orangutan House in his hometown in Malaysia. This artistic haven located in the historical downtown of Malacca is both his studio and gallery. Nowadays, it also represents one of the most recognizable and most beautiful buildings in Malacca, due to its unusual architecture. Talking about the nature of Cham's artworks, it investigates the sign of duality of life and the attraction of the opposites – which is known as the Yin and Yang in Eastern philosophy and culture. The Yin and Yang paintings are actually multiple paintings. They are in fact two oil paintings on one canvas, with each other facing in the opposite direction, explain Chan the common composition of his pieces, which often contain the elements of reversed figures and contrasting colors, metaphorically representing the sign of duality and the contact of the opposites.
In 1992, Charles Chan founded The Orangutan House in his hometown of Malacca in Malaysia, which became his studio and gallery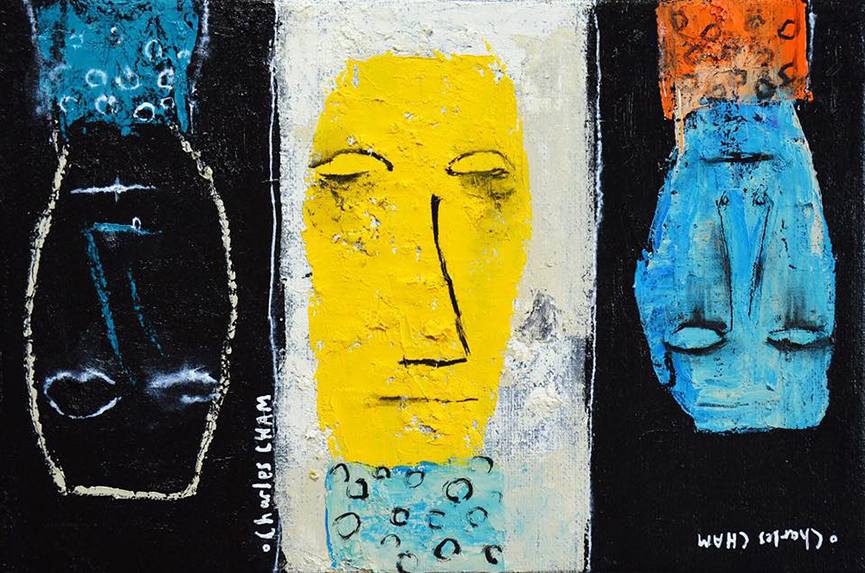 The Power of Artwork based on Childlike Vision
Charles Cham has exhibited his artworks in many Asian and European countries – in Singapore, Hong Kong, Indonesia, Australia, France, the UK, Switzerland, Portugal and of course his home country. His oil paintings can be found in the collections of various international art connoisseurs in more than 40 countries. Cham's work is highly appreciated for being evocative of the rich tribal cultures, feel and history of Southeast Asia. Also, his childlike and simplistic vision makes his work emotionally intense and comprehensible on a primal, intuitive level.
Charles Cham lives and works in Malacca, Malaysia.
Featured image: Charles Cham – Unknown Partners (Detail), 1997
All images courtesy of Addicted Art Gallery.