Inspired by the fear of death and in constant search for something that will transcend it, Chris Sedgwick is an American contemporary painter whose work mainly focuses on esotericism, occult spiritual symbolism, Cyphers, Ritual, and the Inner human condition. He began his career painting very dark color wise, highly influenced by Odd Nerdrum and Carravagio, but knew deep inside he must evolve his own style and character if he wants to be satisfied with his path and find a niche in the art world. Gold leaf has been present since the beginning, as the artist was mainly sprinkling a little on the ground or in a circle in the composition to communicate the sacred, but at one moment he decided just to go ahead and paint fully on gold leaf. Sedgwick considers this a transition from painting the mundane world where rituals were taking place to painting the spiritual world where the rituals were meant to be effecting. Another significant transition occurred when he started using what he calls "constellation" forms and using outlines of figures against ethereal like backgrounds in the same piece that there would be a realistically painted form (i.e. The Warrior). The transition to this "spiritual" plane lead him to start using glow in the dark paint and creating some works that include natural objects, such as The Last Magician, to represent a mirroring of the painting in the natural tactile world of nature by incorporating sticks and plant matter.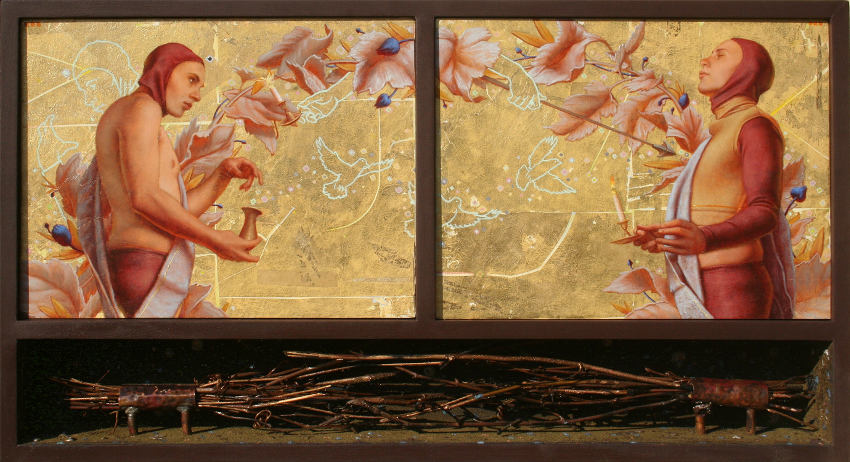 Beginnings
Sedgwick oil paintings at an early age and focused mainly on surrealism through high school, though he also had a fascination with Pop Art and of course the work of the old masters; predominantly the Dutch and Flemish schools. Motivated by himself to start an artistic career, he was supported by his family who helped put him through college, where he received a BFA in sculpture from Florida State University. He made a decision to become a professional artist back in 2003 when he was working at a foundry in Rhode Island doing piecework, bronze pouring, molding, etc. "It was incredibly taxing on my body but calmed my mind due to the repetitious nature of the work; but I knew if I ever wanted to try and become a professional artist I just needed to take a leap. So, I moved to Asheville, NC and began selling work on e-bay." At the time, he was getting small prices for his work but had a good fortune to have a serious collector come across one of his early works and she introduced him to a local gallery director, so Sedgwick began working in the gallery world. That is when he also realized that framing is the artist's worst enemy. He frames all of his pieces now since it saves an incredible amount of money.
Chris Sedgwick is trying to find new ways to express the figure in modern culture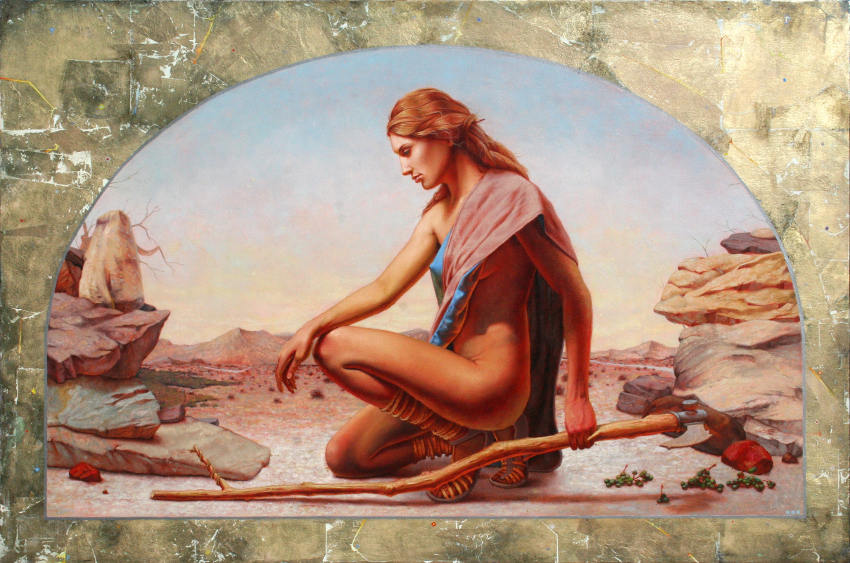 Chris Sedgwick – Style and Creative Process
Sedgwick's technique shows a reverence for the past devotion to craftsmanship, the search for esoteric knowledge, and the drive forward to find new ways to express the figure in modern culture. What sets his technique and style apart from many artists is his treatment of the gold leaf – which he stumbles over, the "constellation" forms he uses, and the repetitious nature of having the same figure in one work. "I utilized the medieval idea of depicting many figures in a single composition almost like a comic strip to show a passing of time and acts; by using the bright outlines of hands, heads, and figures that come out of figures I am calling back to the idea that one figure is doing multiple acts in the single image. This idea is also echoed in Eastern art, most popularly in the Hindu Gods Shiva and Shakti." Another distinctive feature of his work is that he uses natural materials in some of his works, including herbs, twigs, copper, and steel while also using glow in the dark paint – a decision that he knew could lead to a collision with "Kitsch" but he hoped to bypass that in his work. The painter often deals with his personal emotions and transmits them into symbols, which can be rather hard when dealing with difficult emotions. However, it is also highly rewarding, as it lends a unique quality to the work. His creative process looks a lot like he is isolated in his studio. "But to be honest, I do research on the subject at hand and then find inspiration to translate it into a visual image. For example, I was given a commission to do a piece of the three fates but I changed the traditional objects, ages, and acts associated with the original three fates- making them my own symbol for the concept behind the fates, the piece being The Three Fates."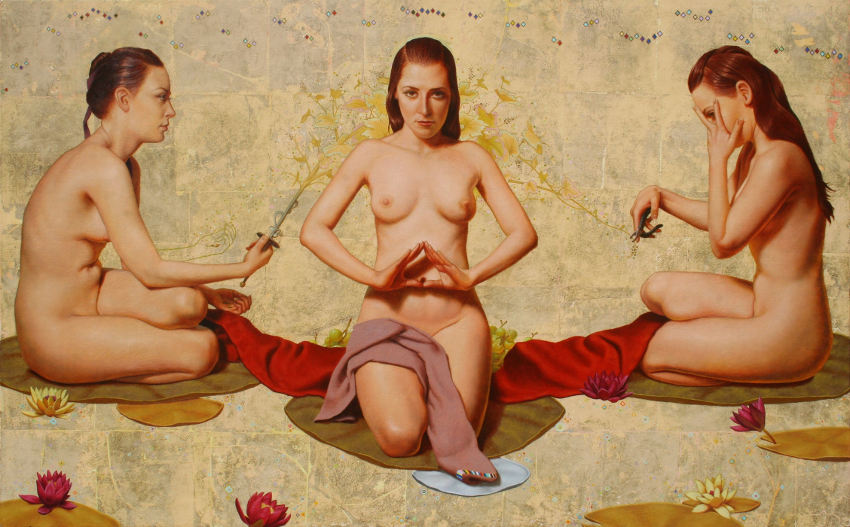 Influences and Related Artists
Sedgwick's biggest influences are the esoteric schools of the western magical traditions, cyphers, symbolic communication, atelier movements and the return to "beauty" in art. "So, needless to say, most of my biggest influences are not necessarily art movements but esoteric disciplines and the use of symbols through different cultures and times. My biggest influence is Rosicrucianism but I am beginning to get very interested in my native European roots – that of Norse and German "paganism" or what is now being revived as "Asatru". I find the reverence and magic that the Pagans/Heathens imbued in the natural world fascination. To them trees were alive with spirits, places had magic properties and the world was a place of mystery and reverence for the Gods." Artistically speaking, the Symbolists were an influence on his work as well as the early gold leafed Christian works to come out of Europe, as well as the illuminated manuscripts – many of the medieval ideas about composition he uses in his work. "As for specific artists I have been influenced by many, my favorite of which are J. Augustus Knapp, Camille Flammarion, Odd Nerdrum, Botticelli, Gustav Klimt, Sir Lawrence Alma-Tadema, Bernini, Maxfield Parrish (whom I named my son after), and Hans Memling's The Last Judgement has haunted me forever – even though I was brought up Agnostic."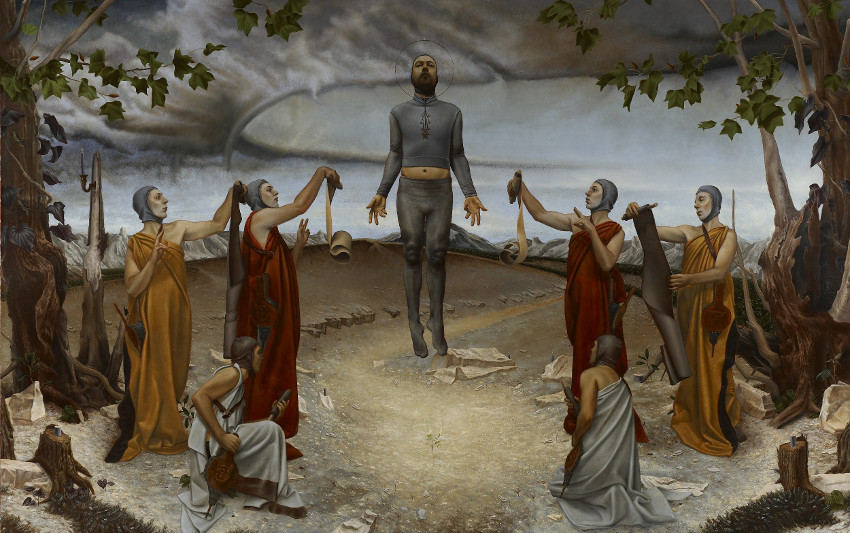 Themes
The painter tackles a wide range of themes, from personal events in his life to re-arranging and symbolically expressing esoteric/occult spiritual principles. "The personal events in my life are of interest to me because I think examining them helps me grow and understand myself and those around me better – the practicing and research of the esoteric spiritual paths I think can do the same." He has always been interested in spiritual practices being raised basically an atheist – so he began a search for why people felt the need to even have that part of humanity in their lives; as from the outside he has witnessed it do so much harm to humanity, and fairly, some good for humanity as well. Also, he has always believed in the magic of nature and was handed a book early in his art career by his biggest collector at the time; it was called The Rosicrucian Cosmo-Conception. "I found it amazing and had never really felt so in tune with the ideas presented within a philosophy or religion – so I began studying and transmuting the ideas into my paintings. Eventually the world of art and spirituality merged and I began living my art- by which sense I mean taking ideas and concepts I've learned, experiences I've gone through and representing them symbolically on the panel so as to mirror my inner emotions and still utilize the symbols and concepts that I study."
The artist never knows how people will react to his works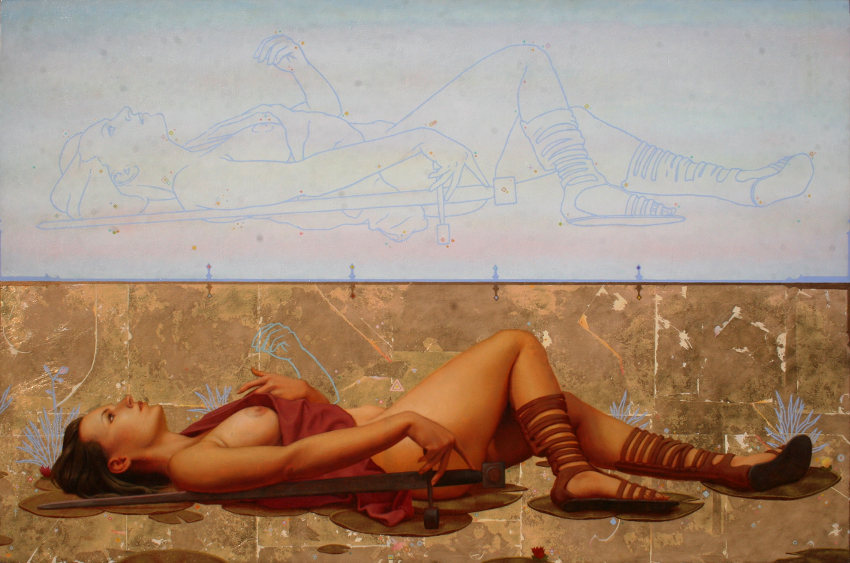 Messages the Artist is Trying to Convey and Viewers' Responses
"I send various messages to the viewer; I like to think that my viewers can be split into two categories – those that know the symbols and esoteric/occult subjects I am conveying and those that don't know them but like the paintings for their beauty, enigma, and quality of technique. I hope to provoke a sense of the spiritual in my work, a sense that through our actions we can create magic in the world around us and within our own psyche." Subsequently, people have reacted to his works in many different ways. The painter has received many letters from collectors about how it has helped change their emotional state during trying or sad times, he has received comments that were decidedly indifferent – an "I don't get this" type of reaction, and he has received feedback from gallery directors that sometimes people have cried in front of my paintings. "I remember a funny reaction occurring very early in my career when I was working at natural grocers who gave the employees the chance to exhibit their art in the dining area. One woman felt so strongly about my painting that she went to the manager and demanded that if my painting was not removed from the walls she would return all her groceries and never shop there again. I found this hilarious – the manager not so much." Chris Sedgwick never knows how viewers will react because he doesn't know their life experience, but he has been through many tough times and joyful times in his life and he has transposed these on his paintings throughout the years.
Chris Sedgwick lives and works in Colorado Springs.
Featured image: Chris Sedgwick – portrait
All images courtesy of the artist