Barcelona-based muralist and illustrator Cinta Vidal makes artworks that defy gravity and structural conventions with encapsulated scenes of intersecting perspectives. Usually painted with acrylic on wood panels, Vidal's works are often called un-gravity constructions and they have a way of making the viewer both intrigued and frightened by what's placed in front of them. The author herself explains that each piece she authors examines how a person's internal perspective of life may not always match up with the reality around them. Besides these kinds of paintings, Vidal also works on massive scale backdrops for operas, giant pieces made with a large, broomstick-sized brush.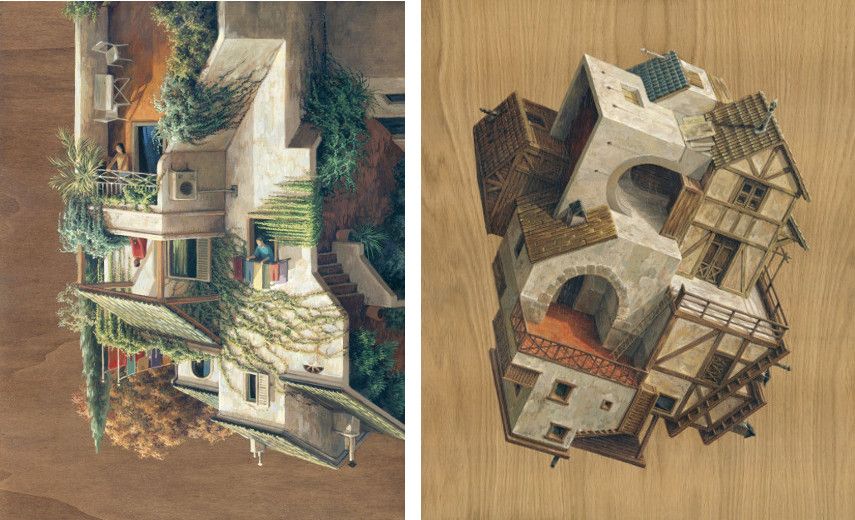 The Duality of Our Natures
Cinta Vidal has been drawing since she was a kid – she studied at Escola Massana in Barcelona and when she was around the age of 16, she started working as an apprentice in Taller de Escenografia Castells Planas in St. Agnès de Malanyanes (Castells Planas Scenography Atelier). There, she learned to love scenography and the backdrop trade, influenced by her mentors, Josep and Jordi Castells. After her artistic vocabulary was developed, Vidal has been busy creating complex acrylic paintings on wood panels that reflect how our outer realities frequently do not reflect our inner natures. Manipulating everyday objects and spaces placed in impossible forms, Vidal wants to show us that the inner dimension of each one of us does not match the mental structures within us regardless of how much we try to synchronize our emotions with our surroundings. When observed from a traditional perspective, these kinds of concepts might be logically better investigated with abstraction, but Cinta Vidal stayed true to figuration for the entirety of her career. This artist's creative ideas want to show us just how hard balancing and fitting everything that shapes our daily space is, everything from our relationships to our professions, from our ambitions to our dreams.
Often colossal in size, the work of Cinta Vidal forces the eyes of the viewers to go through a long process of navigation through all the visual elements present in the painting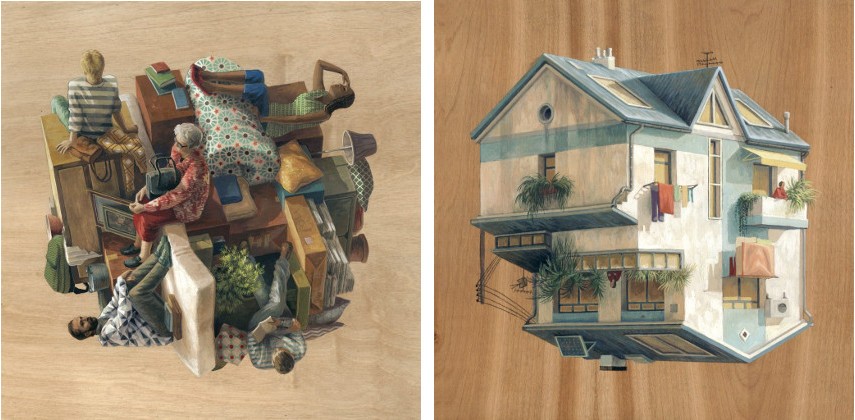 The Magic of Cinta Vidal and Her Art
In many ways, Cinta Vidal sees her work as a metaphor for the methods in which we shape our world. She also explores the frightening impossibility of completely understanding everything going on around us despite which we are still able to successfully navigate through the maze of life. And as the case usually is, the author herself is the one who explains these artistic ideas the best: I want the viewers to recognize what they are seeing, but to see it in a very different, unstructured, broken way.
Cinta Vidal lives and works in Barcelona, Catalonia, Spain.
Featured image: Cinta Vidal – Photo of the artist – Image via sourharvest.com
All images via cintavidal.com
| Year | Exhibition Title | Gallery/Museum | Solo/Group |
| --- | --- | --- | --- |
| 2015 | Gravitant | MISCELANEA Bcn, Barcelona, Spain | Solo |
| 2015 | Mental Landscapes Guzzo | Barcelona, Spain | Group |
| 2015 | LAX LHR | Stolenspace, London, United Kingdom | Group |
| 2014 | Gravitant | Pla de la Calma, Cardedeu, Spain | Solo |
| 2014 | Monstrando al mundo otros mundos | Talent Lab, Barcelona, Spain | Group |
| 2011 | Gravetats 2 | Café Salambo, Barcelona, Spain | Solo |
| 2011 | Gravetats | T art centre, St. Antoni de Vilamojor, Spain | Solo |
| 2007 | Illustrations | Olot School of Art, Olot, Catalunya, Spain | Solo |
| 2002 | Cuba | Musarana, Barcelona, Spain | Solo |
| 2002 | People Ca lAdri | Cardedeu, Spain | Solo |