Cleveland Dean is a Chicago-based multi-disciplinary artist, interested in human psychology, social media and self-reliance. Also known as Jackson Pollock of Chicago, Dean's body of work includes black on black abstract expressionist paintings, drip paintings and a range of sculptures and installation works.
Cleveland went to Illinois State University after he finished high school but had to put things on hold, as he became a father of two children. Later he attended Harrington College of Design and took a drawing class as his love for the arts invigorated. Today, Cleveland's work is his response to complex psychological topics manifested in abstract and conceptual ways, based on his studies of philosophy, sociology and psychology.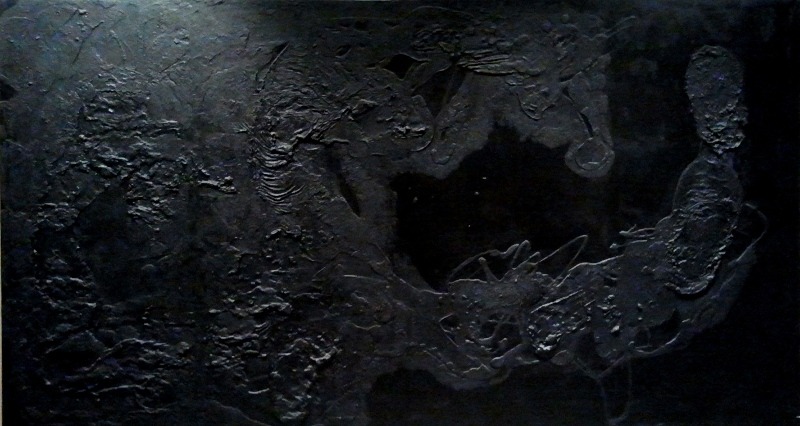 Cleveland Dean: Style and Practice
Working in various mediums, such as painting, mixed media, installation, video, sculpture and photography, self-taught artist Cleveland Dean creates artworks that explore social and psychological based issues of modern society. Digging into the realm of self-reliance, he investigates human behavior in abstract, contemporary paintings that are dense with thick textures of poured paint and lacquers, scorched and burnt from repeated applications of a heat gun, and above all layered with collage elements. Dean's unique paintings can be grouped into two bodies of work – the darker pigmented, burned paintings, and brightly colored paintings of poured paint, filled with swirls and waves of bright greens, reds, and yellows.
"My goal is to simply recondition people to think, adhere to knowledge and broaden their experience. In our society of the now, we are inundated with so much information that it makes it virtually impossible to pay attention to and gain expertise in any of it" – Cleveland Dean
In 2011 Cleveland started a philanthropic cooperation with the Union League Club of Chicago's Boys and Girls Club. Next year he rebranded the existing program (artist Matt Lamb for Umbrellas for Peace) and gave it the name Know Peace. In this project, artist is a mentor, speaker and art instructor coordinating materials, events and fundraising efforts. All of that is done with the help of volunteers. The Know Peace mission promotes peace and unity all throughout degrading neighborhoods. Cleveland's motivation is simple- he was one of those kids.
The ideology that powers Cleveland Dean is to evoke individual thought for the observer, pushing away imposed and conditioned thoughts, opinions and behaviors. Dean's art reflects his attitude – quiet and impressive, suggesting chaotic inner worlds.
#theselfproject
The Self Project, or #theselfproject, represents the artist's ongoing interest in social media, concept of identity, and a modern day phenomenon – the selfie. The idea that lies behind the project is to show that people in diverse locations, of different races, and different material statuses all have similar thoughts and can be related to each other.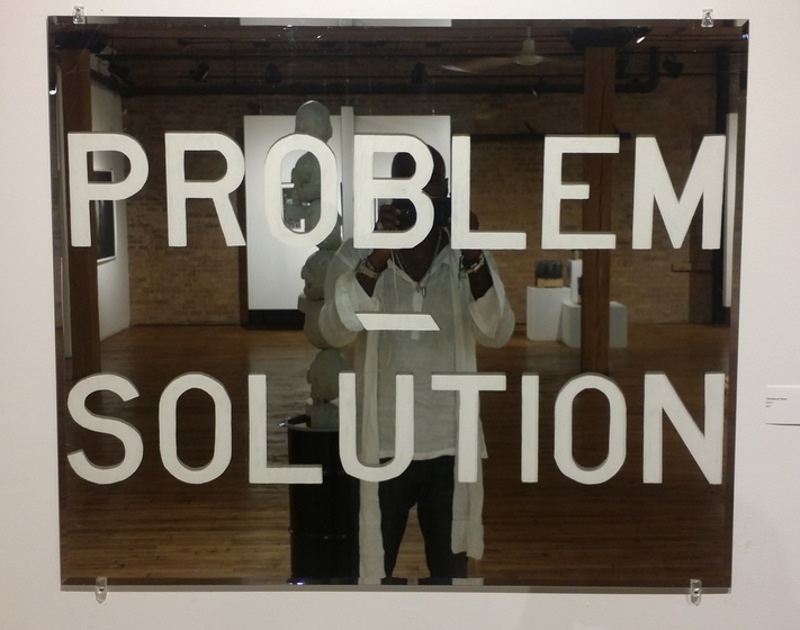 For this project, Cleveland Dean made several full body mirrors that carry various self-reflecting statements etched out of the paint, silver and copper. These universal phrases are intended to initiate introspective questions for the viewer standing in front of the mirror. This experience is then documented by one taking a selfie. Dean's intention is to make people share their taken photos by using the hashtag #theselfproject. With a help of this hashtag, the artist can have a complete look into all of the images, and order and group them by the particular phrase on each of the individual mirrors.
Apotheosis with Spencer Hutchinson
Currently showing at the Matthew Rachman Gallery, Cleveland Dean's latest works are featured in a duo exhibition titled Apotheosis, along with Spencer Hutchinson. Apotheosis will run until September 6th, showing artworks filled with coded language, created through the use of materials and techniques of varied cultural significance.
Exhibited works of Cleveland Dean are created using technique named Shou Sugi Ban – a Japanese technique of burning wood to preserve the wooden structure. In his ongoing series of paintings done with this technique, Cleveland reveals personal turmoil, the awareness of the need for improvement and the layers which one needs to shed in order to be their better self. Other materials that compose Apotheosis paintings include metal, salt, rope, and paper, all having a meaning that relates to the ideal of the series.
Apotheosis at Matthew Rachman Gallery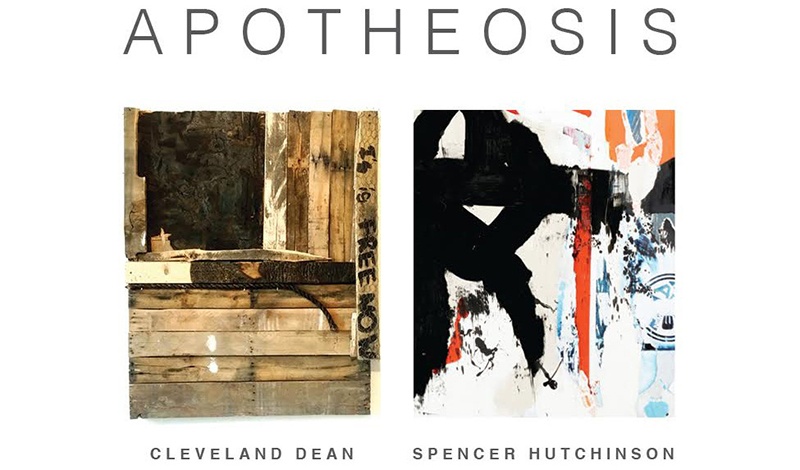 Works of Cleveland Dean are in collections of both nationally and internationally art institutions, and has been exhibited in conjunction with Leo Burnett, Puma, Red Bull, Toyota, Dick Blick and the Union League Boys and Girls Clubs of Chicago. He has more than 400 diverse shows and exhibitions under his belt. This multi-disciplined, self-taught artist has proved he does not fit into a single box.
This artist is represented by Matthew Rachman Gallery.
Dean Cleveland lives and works in Chicago, IL.
All images courtesy of Matthew Rachman Gallery and the artist