How many times did you hear that a grandmother is a driving force behind one street artist's style? Never? We thought so. Well, it's time to hear it. An American artist Col Wallnuts says loud and proud that it was his grandma' – a self-taught traditional painter herself – who gave him full support in everything he tried to achieve with his art. Born and raised in New York City, he now represents Brooklyn with his graffiti, using a unique method of mixing 3D styles and silhouettes. His career began suddenly and unexpectedly, but over time turned out to be much more then he ever dared to dream.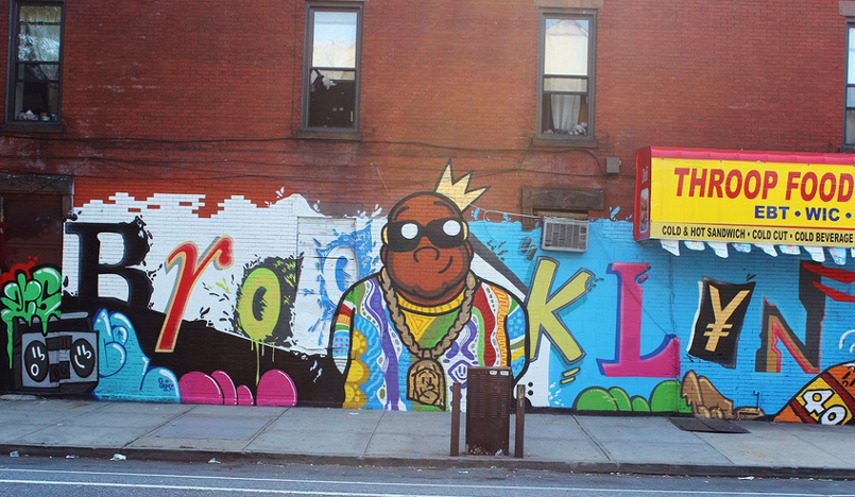 The Origins Of Wallnuts
Wallnuts's passion for street art was born in 93' when he was coming home for dinner one day and saw a writer known as SWEP bombing the side roads. He remembers how he used to wonder who might be responsible for the highway pieces that always intrigued him so much. Seeing SWEP in action woke something deep inside him and that was it, like a silent click that decided which fate Col will pursue. As it usually is, the beginning was hardest to overcome and Col was just trying to do his name in graffiti without too much spilled paint on the buildings of Staten Island. After many trials and errors, he managed to master the secrets of the craft. Practice makes perfect after all, and Wallnuts is a living proof of that statement. Since there really weren't any forms of formal education covering the graffiti as a medium back then, Wallnuts had to learn all about aerosol on his own. He did study Fine Arts and Advertising at FIT and at the Academy of Art University, which helped a lot, but these really weren't institutions that respected street art too much. When he felt confident enough with the level of skill achieved, Wallnuts decided it was time for his art to reach a grander scale. He was attracted to the ideas and potentials that the concept of murals offered, so that was the next logical step of his career. Working on murals, however, is not something easily achievable by one person, so Wallnuts started assembling a crew of similarly minded graffiti artists. The number of painters gathered around Col grew over the years – today there are over 20 members in the Wallnuts crew and they are still active in Brooklyn. As is the case with all sorts of groups gathered around ideas, this crew went through several transformations, from its members to its visual interpretations.
Wallnuts has a style that's instantly recognizable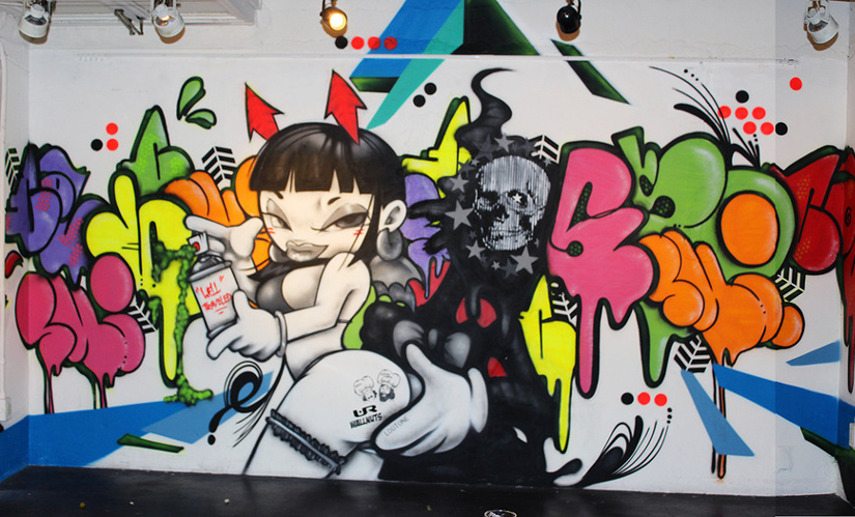 The Wallnuts Style
As far back as he can remember, Col was fond of abstract expressionism and its concepts. The sheer emotion in which paintings of that style were made was enough to evoke admiration from Wallnuts who loved seeing the movement of the artist's brush as it created alternative life. Naturally, abstract expressionism had a great deal of influence on Wallnuts and his portfolio – besides his already mentioned grandmother who was a real anchor of Col's life. Grandma stood by him when no one else did and her supportive teachings turned out to be a key segment of her grandson's success as a graffiti artist. Since his humble beginnings back in 93′, Wallnuts and his street art have evolved extensively, periodically changing in the color palette and the general form of the elements. What stayed consistent however is his trademark style of mixing 3D styles and silhouettes in Col's letters. Because he was inspired by an art movement such as abstract expressionism, it's quite logical that this street painter tries to make his work as emotional as possible. Through the usage of acrylics, spray paints, oils, papers and found objects, his artwork seems to have developed a life of their own. He also uses extremely broad strokes, much negative space and a strong affinity for the infamous dripping technique. Col and his crew don't really rely that much on quantity – in their eyes, one excellent piece is far better then thirty averagely tagged up walls. It should be noted that Col Wallnuts does not limit himself to outdoor graffiti pieces and he has been known to express himself through the medium of traditional painting as well.
As is with many graffiti artists, tagging is a big part of what Col does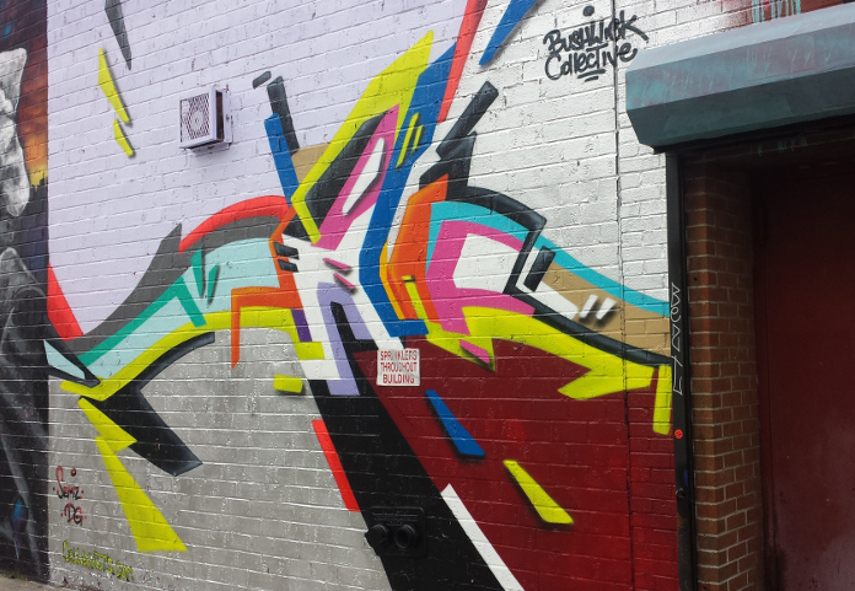 Urban Greatness
Each piece made by Wallnuts provides energy and life to the surfaces of structures and urban environments. He is simply gracing the decaying parts of modern cities with works that are desperately needed in these grayish settings. The graffiti by Wallnuts bring new life and joy to places that recently haven't seen much of either. His graffiti are a sort of front line in a war he wages against things from modern life that bother him. He even went as far as painting in Israel, by the Syrian border and right in the line of fire. This kind of fanatical bravery and dedication sends a clear, loud message – art is stronger than war. And never forget that.
This artist is represented by Street Art Anarchy.
Col Wallnuts lives and works in New York City (US).
Featured Image: Col Wallnuts – Image of the artist in action – Photo Credits Art And Fashion Salon
All Images Photo Credits Col Wallnuts